GRCC Pulls Far Away from Rest to win LPD3
November 21, 2015
By Chip Mundy
Special for Second Half
YPSILANTI – The 1-2 punch of Grand Rapids Catholic Central swimmers Riley Kishman and Susan LaGrand overwhelmed the field Saturday afternoon at the MHSAA Lower Peninsula Division 3 girls swimming and diving championships at Eastern Michigan University.
They had plenty of help, too, as Grand Rapids Catholic Central won its first MHSAA team championship In girls swimming and diving with 299 points to far outdistance runner-up St. Clair (199) and third-place Holland Christian (197).
Kishman, a junior who was named the Division 3 Swimmer of the Year by the coaches association, won two individual events and swam on two championship relays. LaGrand, a sophomore, also won two individual events in addition to contributing to a championship relay and another relay that placed second.
"It feels really good," said Kishman, who won the 100 breaststroke and the 200 freestyle. "We've been wanting this for a while, and I'm glad it finally happened.
"Coach told us if we were going in thinking that we have it, we won't have it, so we went in like we were in second place. We knew we had a target on our backs, so we tried to just keep going."
Kishman, a two-time Finals champion in the 200 individual medley, passed on the event in favor of the 200 freestyle, which she won in 1 minute, 51.01 seconds.
"I have been doing more freestyle lately, and I like the 200 free better," she said. "I thought we would have a better chance at getting more points if I did that, and I'm glad I did it."
Kishman did successfully defend her title in the 200 breaststroke in 1:03.20.
"I had my best time in that since my freshman year, so I was really happy about that," said Kishman, who also swam on the winning 200 freestyle relay and the winning 400 freestyle relay.
LaGrand had one of the more exciting victories of the day when she came from behind to win the 100 butterfly over St. Clair senior Grace Shinske. It was the second consecutive MHSAA title in the butterfly for LaGrand, who set a meet record with a time of 56.85 seconds.
"It's always better when you have somebody to race," she said. "It was really great. I could not have gone the time I did without her pushing me."
LaGrand's other individual title came in the 200 IM, which she finished in 2:06.97, better than Kishman's winning time from a year ago.
"It really feels good," she said after the win. "I have an awesome team behind me that pushes me every day in practice, so that really helps."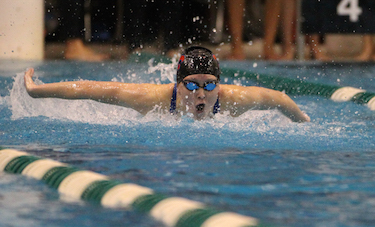 The 200 IM was just two events after the meet-opening 200 medley relay, which had LaGrand and Grand Rapids Catholic Central finishing second to St. Clair. It was a quick turnaround for LaGrand.
"It was a little stressful, but with good time management it's all right," she said. "You know what you are going into when you sign up."
As impressive as Kishman and LaGrand were, Grand Rapids Catholic Central was far from a two-girl show. Six other girls scored points, including senior Liz Rabaut and sophomores Nicole Rotelle and Elise Merucci. All three scored four times, including on one championship relay.
Lauren Lomonoco, another senior, was on two championship relays and placed in another individual event.
"It's amazing to see how far our team has come since our freshman year," she said. "We were just trying to get in the top 10 in the state that year, so it's really rewarding and overwhelming.
"It's just a great way to end my career."
Sophomores Emily Merucci and Hannah DeBoer also scored twice in individual events for Grand Rapids Catholic Central.
Kishman and LaGrand were the only defending champions to repeat in their events, and two others failed to repeat as champions. In 1-meter diving, Allegan senior Erin Isola edged reigning champion Taylor Hosein of Milan 454.40 to 435.90. Isola had a lead of less than seven points coming into Saturday but put it away with three solid dives that totaled 139.50 points.
"It really hasn't hit me yet … it's like a dream come true," she said after winning. "I'm really excited."
She said her second dive – an inward 1½ somersault – was the key dive for her.
"Normally I don't nail it as well as I did, and it got me a bunch of points to stay ahead of Taylor," she said. "Taylor is a great diver, and it really could have been either one of us who won. It was really close."
The other displaced champion was Rileigh Eding of Hamilton, who was edged by Shinske in the 100 backstroke. Shinske, who led LaGrand before finishing second in the exciting 100 butterfly, defeated Eding in the same fashion. Eding had a lead after 50 yards, but Shinske, in the final individual race of her high school career, surged back in the last 50 yards to pass her and win in 56.27.
"It was pretty exciting," Shinske said. "At one point, I was thinking I was going to finish in second place, and then I realized that I could do it and I just went for it. It feels great."
Shinske also teamed with Molly Likins, Heidi Likins and Alexis Smith to win the meet-opening 200 medley relay in 1:47.54.
Eding, who failed to repeat in the 100 backstroke, captured the 50 freestyle in 24.04 seconds. Other freestyle winners were Karlee Marsh of Tecumseh in the 100 freestyle (51.80) and sophomore Evelyn VanDeMark of Alma in the 500 freestyle (5:11.43).
Marsh, a junior, had finished third and fifth in two individual events last year.
"I'm really emotional, but it's a great feeling," she said. "It definitely helps that I was a second faster coming in, and it made me more confident. I think everybody did really good."
But the best of those were the girls from Grand Rapids Catholic Central.
"It was a team goal to establish a championship feeling, and we accomplished that," Grand Rapids Catholic Central coach Mio Vasic said. "I want to congratulate the girls on how they were able to balance their personal lives, school, academics and swimming. I'm very proud of them."
PHOTO: (Top) Grand Rapids Catholic Central's Susan LaGrand swims her winning 200 individual medley Saturday. (Middle) St. Clair's Grace Shinske works toward her butterfly championship. (Click for more from HighSchoolSportsScene.com.)