'Outside Shot' Becomes Adams' Historic Win
November 17, 2018
By Keith Dunlap
Special for Second Half
ROCHESTER – In his more than two decades as the face of the Rochester Adams swimming & diving program, Tim Hickey has seen his share of great swimmers in his school's pool, including former Olympian Peter Vanderkaay. 
But Vanderkaay and those other standout swimmers weren't able to achieve what the current Adams girls team accomplished at Saturday's Lower Peninsula Division 2 Finals at Oakland University.
For the first time in school history, girls or boys, an Adams swim team was crowned state champion in swimming after the Highlanders finished off a dream season by collecting a meet-best 250 points. 
Adams outlasted Oakland Activities Association Red rival Birmingham Seaholm, which was runner-up with 220 points. 
Grosse Pointe South was third with 214 points. 
"You can't even really put it into words," Hickey said. "Early in the season, we thought we had an outside shot. As the season progressed and as the kids started performing the way we needed them to, we knew we had a shot. We had some off swims in prelims that made it a little closer than we wanted. But this team came from behind after prelims to win our league meet, and came from behind to win this. It's just amazing for these girls to come together like they have."
Helping Adams' cause was one of the state's best overall swimmers in senior Lisa Lohner, who will continue her career next season at University of Toledo.
She won both the 200-yard freestyle (1:51.49) and 500 freestyle (4:58.17), and anchored the winning Adams 200 freestyle relay (1:36.76). 
Lohner was indeed fighting off tears when the meet ended, although it actually didn't have anything to do with helping Adams to historic success.
"I'm really sad because I'm done with high school swimming right now," Lohner said. "It's a lot right now. This is my family."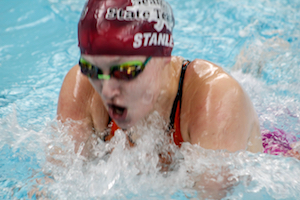 Lohner entered as the heavy favorite in the 200 and 500 freestyle events going in, but admitted there were still a lot of nerves. 
"Going into finals, I was really nervous because I knew a lot of people dropped a lot of times in prelims," Lohner said. "I didn't know what to expect. I was really nervous going in. (Coach Hickey) talked about it before today that we could be the first team to do it. We decided to not think about it today, but now it's all coming down."
While not having as much of a reason to celebrate as Adams, Seaholm head coach Karl Hodgson said his team had plenty to feel good about with its runner-up finish.
"We thought this was going to be a rebuilding year for us," Hodgson said. "I would have been happy with a top-five. Somebody had us ranked second throughout the season, and I was like, 'No, we're not that good.' But the girls swam great (Friday). Today, we just ran out of gas a bit."
Having seen Adams up close throughout the season in league action, Hodgson said it was the Highlanders' depth that separated them.
"When we swam against them in a dual meet, we swam head-to-head against them and almost pulled it off," Hodgson said. "But they took all the fifth places, and we took the sixth places. That's the main difference, their depth. They just keep coming at you."
The other individual star besides Lohner was Midland Dow junior Claire Newman, who won the 50 (23.08) and 100 freestyles (51.19). 
Fenton freshman Gracie Olsen won the 200 individual medley in a time of 2:03.19, Walled Lake Western sophomore Kamila Podsiadlo won the diving title with 414.60 points, Grosse Pointe South senior Claire Fisher won the 100 butterfly in a time of 54.86, Grosse Pointe South senior Renee Liu won the 100 backstroke with a time of 55.88, and Grand Rapids Forest Hills Central senior Jessica Schellenboom won the 100 breaststroke in a time of 1:03.88. 
Grosse Pointe South's team of Liu, Fisher, Olivia You and Hannah Blanzy won the 200 medley relay in a time of 1:46.61, while the Portage Central team of Sydney Sonday, Maggie Farrell, Audrey Vermeulen and Julia Semler won the 400 freestyle relay in 3:31.51. 
PHOTOS: (Top) Rochester Adams celebrates its first MHSAA Finals title in girls swimming & diving. (Middle) Freshman Kate Stanley helped Birmingham Seaholm to a second-place finish. (Click to see more from HighSchoolSportsScene.com.)