Performance: DeWitt's Jordyn Shipps
September 13, 2019
Jordyn Shipps
DeWitt junior – Swimming
The Panthers' standout won the 200-yard freestyle (1:56.91) and 100 butterfly (58.77) at her team's DeWitt Invitational on Saturday against a field that included ranked teams Chelsea and Grand Rapids Northview. Although the season is only a few weeks old, both times would've placed at last year's Lower Peninsula Division 2 Finals and she finished ahead of 2018 Finals placers or qualifiers in both races – earning Shipps the first MHSAA "Performance of the Week" of the 2019-20 school year.
Shipps finished fifth in the butterfly and sixth in the 200 individual medley at last year's LPD2 Finals, swimming also on the seventh-place 200 medley and 13th-place 200 freestyle relays. She was sixth in the butterfly and fourth in the IM in LPD3 as a freshman in 2017, also swimming on two placing relays along with her oldest sister Sydney. Jordyn is the third daughter and youngest sibling from this generation of one of the best-known swim families in the Lansing area; Sydney was a six-time Finals individual placer over her last three seasons of high school and competes now at Saginaw Valley State University, and their father Steve Shipps was a five-time LP Class B Finals champion from 1986-88 who went on to earn All-America honors at Michigan State University. Middle sister Ashley was a standout distance runner, graduating from DeWitt this spring, and is a freshman competing at Western Michigan University.
Jordyn changed up her swim training this summer from sprint-based to more middle distance to "branch out a bit," she said, and the 200 free is among races she's also considering swimming at this season's Finals in November. She'll no doubt have an opportunity in two years to follow her sisters and compete at the college level in addition to shining academically – Jordyn carries a 4.0 GPA and ranks among the top 10 percent of her graduating class academically. She's considering engineering and pre-medical studies as possible options when that time comes – she enjoys the math and process of engineering, and the opportunity to impact people's lives in medicine. For now, she's making another giant impact on a DeWitt swimming & diving team that finished fourth Saturday coming off a 12th-place LPD2 Finals finish a year ago – and doesn't have a senior this fall.
Coach Gregg Brace said: "Jordyn sets high standards for herself. She is frequently the first person in the water at practice. She works hard all the time and doesn't back off when practice gets hard. She expects to be challenged in practice, and if she feels she isn't getting challenged she will let me know. … Having a student like Jordyn on the team helps to build our positive team culture. Win or lose she always reaches out to her opponents to congratulate them after every race. She encourages her teammates and leads by example. She is the first to start on setup and cleanup before and after meets. Her attitude really helps build our team-first focus."
Performance Point: "Early this season we started to create a very positive and fun environment within our team, so that's helped me swim faster – it's easy to swim faster when you're having fun," Shipps said. "So now that we've created that positive and fun environment, I feel more motivated to go fast and wanting to go fast because I have the most supportive team ever. And the other thing that helps with the invitational and going fast was Coach Brace – we've been doing some different training this year, just those tough sets that he always gives us to challenge us have really been helpful. … I really wasn't expecting to swim that fast last weekend. We had great competition there – we never get to see Northview or Chelsea or places like that, so it was just nice to have competition like that. To have those people to race against I think really helped me to pace off of them and try to go fast."
On a mission: "This year we have a pretty young team. We're not graduating any seniors, so everyone on the team will be coming back next year. I think (Coach Brace) sees a lot of potential with us. We have some freshmen with a lot of potential (and) they have a background in club swimming. I think he's trying to make a base for us, so we can continue it throughout the year and continue to do good this year and next year."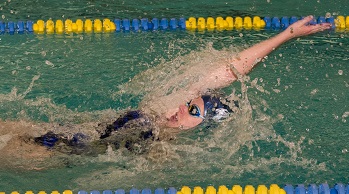 No seniors, but many leaders: "Our junior class has seven or eight kids in it, so all seven or eight are stepping up to leadership roles. We all play a part in how we lead the team and in showing the underclassmen what to do in certain situations. It's been nice to not only have captains step up but have everyone in the junior class help the underclassmen to get into a routine with training and school. The balance is always hard between school and swimming, and our junior class is very helpful with helping other people, which is good."
Shipps sail together: "I really wasn't going to join swimming until my older sisters did – they kinda pushed me to join the sport. I saw them at practice and meets and said I was like, 'Wow, I want to do that. That's looks fun.' (My dad) was the head of our club, so he guided me into program, but it was really my older sisters that made me want to do the sport. … It's super fun and supportive. As a family we always have that competitive edge. So it helps to have people guide me through different situations, and it's just nice to have people there for me who know what it's like to be in that stressful situation and that stressful race and what to do. They've been super helpful and supportive toward me. I couldn't imagine it any other way."
Ready to race: "I'm super confident about where I'm at right now this year, especially with the way Coach Brace has been training us. I'm very confident leading up to the state finals. I have different goals this year: I'm trying to be at the top of the state of course; first place or second place is where I'm aiming now, (and I have) a lot of best times I'm hoping for. I think this might be the year where I have those breakthrough swims."
– Geoff Kimmerly
Second Half editor
PHOTOS: (Top) DeWitt's Jordyn Shipps races in the 100 freestyle during a dual last season against St. Johns. (Middle) Shipps swims the backstroke; she won both events at that meet. (Photos by TCP Photography.)