Performance of the Week: Plainwell's Riley Nugent
Riley Nugent ♦ Senior
Plainwell ♦ Swimming
Most seasons, a freshman or few leave their first MHSAA Girls Swimming & Diving Finals as champions. Repeat individual title winners are a frequent occurrence. But what Nugent accomplished last weekend at Calvin University – finishing a career-long domination of an event – is much more rare.
Nugent on Saturday won the 500-yard freestyle for the fourth time at the Lower Peninsula Division 3 Finals – this time in 5:04.35, clearing the field by 2.51 seconds. She also won the 200 freestyle in 1:52.83, by just over eight tenths of a second, and swam on the 12th-place 200 freestyle and 13th-place 400 freestyle relays. Plainwell as a team finished ninth.
Nugent will continue her academic and swimming careers next season at James Madison University in Virginia.
Follow the MHSAA on TikTok.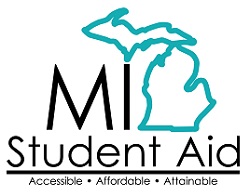 Second Half's "Performance of the Week" features are powered by MI Student Aid, a part of the Office of Postsecondary Financial Planning located within the Michigan Department of Treasury. MI Student Aid encourages students to pursue postsecondary education by providing access to student financial resources and information. MI Student Aid administers the state's 529 college savings programs (MET/MESP), as well as scholarship and grant programs that help make college Accessible, Affordable and Attainable for you. Connect with MI Student Aid at www.michigan.gov/mistudentaid and find more information on Facebook and Twitter @mistudentaid.
2021-22 Honorees
Nov. 18: Harper Murray, Ann Arbor Skyline - Report
Nov. 11: Abby VanderKooi, Muskegon Western Michigan Christian - Report
Nov. 4: Arianne Olson, Holland West Ottawa cross country - Report
Oct. 28: Jack Guggemos, Okemos soccer - Report
Oct. 21: Sachiv Kumar, Northville tennis - Report
Oct. 14: Kate Brody, Grand Blanc golf - Report
Oct. 7: Lilly Nelson, Negaunee tennis - Report
Sept. 30: Stella Chapman, Ann Arbor Pioneer swimming - Report
Sept. 23: Riley Hough, Hartland cross country - Report
Sept. 16: Josie Bloom, Pontiac Notre Dame Prep volleyball - Report
PHOTOS courtesy of the Nugent family.