Pioneer Seniors Leave Legacy with 2nd-Straight Finals Win
HOLLAND – Ann Arbor Pioneer boasts one of the deepest traditions in MHSAA girls swimming & diving history.
It goes back to the days of legendary coach Dennis Hill, who guided the Pioneers to their first state title in 1979 and retired with 16 championships in Lower Peninsula Class A or Division 1.
The latest wave of talent was determined to carry on that tradition and leave its mark. Led by a strong group of seven seniors, Pioneer overwhelmed the competition in capturing a second-straight Division 1 title Saturday at Holland Aquatic Center.
The Pioneers claimed first place in five of 12 events, including all three relays, and showed off their superior depth in a runaway victory. They totaled a whopping 405.5 points to leave the rest of the pack far behind. Saline was runner-up with 247 points, followed by Brighton in third place with 217.5.
"We just had to take care of ourselves all season," Pioneer sixth-year coach Stefanie Kerska said. "As nice as it may seem to be out so far in front, we made it a point to not get complacent, to not cut corners and, like I said, to not take our foot off the gas. 
"So, that was really the challenge of the year, to just stay motivated, still being as dominant as we were this year."
Last season, Pioneer captured the 17th Finals championship in program history in similarly dominant fashion. Pioneer racked up 368 points, ahead of Farmington Hills Mercy (184), which edged the Pioneers by only half a point for the 2019 Division 1 title.
Last year, and especially this weekend, the Pioneers were essentially competing against themselves. In five events, they had two top-six finishers, and three in another event.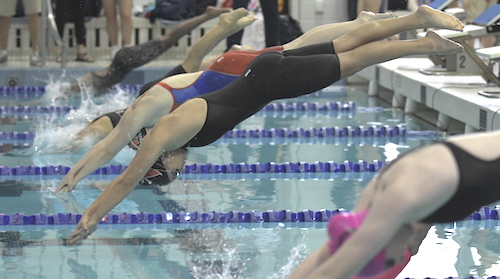 Among the 19 all-state finishes (top eight in each event) for Pioneer, 15 placed in the top four of their respective races. 
"It means everything. Last year was our first time winning a state championship in our four years," Pioneer senior Vivian VanRenterghem said. "Obviously, with COVID, the experience was a little bit different – we didn't get to do it until January. 
"So, getting to do it here – prelims, finals, the real deal – definitely meant more, and I think to come out the other end of last year was everything for us."
Senior Lily Cramer led the way for Pioneer with a first-place finish in the 200-yard free (1:48.95), plus she swam legs on winning 200 free relay and 400 free relay teams and took second in the 100 breaststroke. Sophomore Stella Chapman won the 200 IM (2:01.98), swam legs on first-place 200 medley relay and 400 relay teams, and placed second in the 100 backstroke.
VanRenterghem and senior Holly Pringle both swam legs on the Pioneers' winning 200 free relay and 400 free relay teams. Senior Edwina Jalet swam a leg on the Pioneers' first-place 200 medley relay, while senior Amelia Weyhing and junior Sophia Guo swam as part of the victorious 200 free relay.
Cramer said that the intrasquad competition pushes everybody to be better.
"Everyone wants to do well, and I think that makes everybody a little nervous, but also we knew what we were able to do and we were able to execute that to the best of our ability," Cramer said.
"We do everything together, so to be able to win together is a really good feeling."
Plymouth senior Brady Kendall was the lone two-event individual winner for the two-day competition. She swam to first place in the 50 free in 22.63 seconds and captured first in the 100 butterfly in 53.35.
Rockford sophomore Megan Jolly finished at the top in 1-meter diving with 419.20 points. Grand Haven sophomore Rosalee Springer captured first in the 100 free (50.55). Brighton junior Victoria Schreiber was first in the 500 free (4:57.27). Middleville Thornapple Kellogg senior Abby Marcukaitis took the top honor in the 100 backstroke (55.07). Livonia Stevenson junior McKenzie Siroky was first in the 100 breaststroke (1:00.85).
In addition to the seven seniors, Pioneer's team featured two juniors, two sophomores and two freshmen.
"I've got a lot of seniors, and luckily they've been able to really leave their mark on this team over the last few years, and so those underclassmen sort of know what the expectations and requirements are to continue this," Kerska said. "It's definitely going to be a challenge from here on out. Those seven seniors have really built this program back up."
Kerska wanted the senior group to leave a legacy, and those seven swimmers did just that. They carried on the rich Pioneer tradition and started another Finals-title string with their back-to-back achievement.
The Pioneers won four Class A championships in a row under Hill from 1989-92, and nine straight for the Hall of Fame coach from 2000-08. They also collected titles in 1985 and 1987.
Pioneer's seniors did not lose a single dual meet in their high school careers, and five of them are headed to swim at the Division I collegiate level.
VanRenterghem and Cramer have been swimming together since fourth grade.
"This sport is a lot of work, but it's always been worth it," VanRenterghem said. "I think a lot of us have a really exciting next four years, but I think we're never going to forget where we came from and I'll always be cheering for Pioneer."
Said Cramer: "We started this together and we ended this together, and I think it's a really good way to go out."
PHOTOS by High School Sports Scene.