Pioneers' Title 21 Comes with EGR 1st
November 18, 2017
By Butch Harmon
Special for Second Half 
HOLLAND – During his career as head coach of the East Grand Rapids girls swimming & diving team, Butch Briggs has led the Pioneers to 21 MHSAA Finals championships.
Briggs and his Pioneers brought home number 21 from the Holland Aquatic Center on Saturday, and it happened to be unique as it was East's first-ever in Lower Peninsula Division 2.
East Grand Rapids totaled 396 points, followed by Dexter with 241 and Rochester Adams in third with 205.
"This one is special because it's the first one our program (boys and girls) has ever won in Division 2," Briggs said. "I have a lot of respect for the Division 2 schools, and winning this is special."
The title also meant plenty to East's senior class. East Grand Rapids graduated a special class of seniors last spring, and this year's class stepped up to fill the leadership roles.
"We graduated a lot of seniors last year, so we had to step up to the plate," said East Grand Rapids senior captain Ashley Ward. "We are all super supportive of each other and have such great energy together. To win this title is awesome. It's the first time our team has ever won Division 2, and it is real special."
A total team effort played a big role in East Grand Rapids' title. East won two of the three relays and placed second in the lone relay it did not win.
East's 200 medley relay started the Finals with a win as the team, comprised of seniors Sophia Layton, Ileah Doctor, Marie Lehman and Ward turned in a time of 1:44.76. East Grand Rapids also captured the 200 freestyle relay as the team of Lehman, Eve Doctor, Laura Levine and Ileah Doctor touched the wall in 1:33.40, establishing a new Division 2 meet record.
Ileah Doctor, a senior, also claimed a pair of individual titles. She won the 50-yard freestyle in a meet record time of 22.19 and won the 100 freestyle in a record time of 49.59.
Plenty of work in the preseason put Doctor, who will be swimming at the Indiana University, in position to claim the two titles.
"I did a lot of sprints in the pool and lots of weight training, which was something I didn't start until last year," Doctor said. "I think I was at my best today. We also did our best as a team. This team just doesn't like to lose."
East Grand Rapids senior Marie Lehman, who was part of the two relays wins, claimed an individual title. Lehman won the 100 breaststroke in a time of 1:04.50, adding to the list of titles won by this year's senior class.
"We lost a great senior class last year," Briggs said, "but this year's group of seniors have stepped up. It's been another great senior class, and to win a Division 2 state title is very special for this group."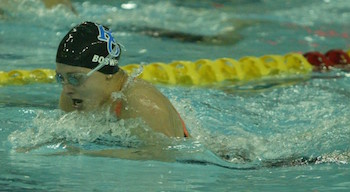 Dexter, winner of the 2015 Division 2 title and runner-up last year, was led by a talented senior of its own. Annette Schultz won the 200-yard freestyle for a third straight season with a time of 1:49.30.
"It's definitely exciting to win it a third time," Schultz said, "and it's so exciting to be here with our team. This is something I've trained for, and it means a lot."
Schultz, who will be swimming at the University of Louisville, teamed up with fellow seniors Sarah Zofchak, Grace Kacmarek and Amelia Kinnard to win the 400 free relay in a time of 3:31.09.
Royal Oak senior Julia Boswell took first place in the 200 IM. Boswell, who will swim at (SUNY) University at Buffalo, had never placed in the 200 IM before but turned in a time of 2:04.86 to take first place this year.
"Winning it this year is a huge accomplishment for me," Boswell said. "I won the 500 last year, but I've never placed in the 200. It's very special. I had a lot of family here supporting me, and this feels real good."
Grand Rapids Forest Hills Central, the fifth-place team, had a pair of individual champions.
In the diving competition, senior Colleen Kramer capped a successful high school diving career with her first Finals title. Kramer, who was a gymnast for 10 years, first began diving as a freshman. After placing eighth her freshman year, Kramer took second as a sophomore and third as a junior before winning this year with a score of 424.25.
"My final dive was the last competitive dive I will ever do because I'm not going to dive in college," Kramer said. "I was glad to go out with a dive like that. I'm going through so many emotions right now. My last dive was one of my best all season, and I was very happy with it. It's been an incredible four years. I needed to be golden on all 11 of my dives this weekend, and I did it."
Forest Hills Central senior Felicity Buchmaier also captured a title, in the 100 butterfly with a time of 54.80, winning that race for the third time at the Finals.
"This one was definitely special," Buchmaier said. "Any time you win a state title is a surprise and special. This was just as exciting as the first time I won it."
Buchmaier, who will be continuing her swimming career at North Carolina State, also took first place in the 100 backstroke with a time of 55.90.
For third-place Rochester Adams, junior Lisa Lohner led the way as she won the 500 freestyle in a time of 4:59.78. Lohner trailed for most of the race before coming on strong in the final 50 yards to edge Boswell by less than one second.
"I usually start out that way," Lohner said. "I usually start my kick in the final 50 yards and catch people. I knew I could catch her."
PHOTOS: (Top) East Grand Rapids' Marie Lehman pushes through on the way to winning the 100 breaststroke. (Middle) Royal Oak's Julia Boswell won the 200 individual medley this season after winning the 500 freestyle title in 2016. (Click to see more from HighSchoolSportsScene.com.)