'Powerhouse' Gladstone Girls Take Back Title
February 17, 2018
By Ryan Stieg
Special for Second Half
MARQUETTE – It takes a team effort to win an Upper Peninsula swimming & diving title, and that was definitely true for the Gladstone girls team Saturday.
The Braves were facing some stiff competition from Marquette and reigning champion Houghton. But Gladstone got a record-breaking time from its 200-yard medley relay and a win in the 200 freestyle relay to push it over the top.
The Braves finished with 303 points, well ahead of the Redettes (273) and Gremlins (237).
"I'm really proud of the girls," Gladstone coach Tom Desy said. "The girls swam very well today. The 200 medley relay set a U.P. (Finals) record by over two seconds, so that was a great start for us. That was pretty awesome, then the 200 free relay, we missed (a U.P. Finals record) by a tenth of a second. So it was just a great day."
Desy also led the Braves to a championship in 2016, but said this one meant more because he didn't anticipate it happening.
"This one is better because this one was kind of unexpected," he said. "They swam great, so this was a good surprise."
The Redettes did everything they could to win. Marquette took first in six of the 12 events including the 400-yard freestyle relay.
"I think they did amazing," Marquette coach Nathan McFarren said. "It was heartbreaking to have one of our top swimmers out with the flu. We can't be upset with it either because wherever I needed them, they performed.
"They also had a great taper and some amazing swims. Gladstone is a powerhouse this year, and Tom did a great job with that crew. Their first relay breaking the record was incredible. I'm proud of U.P. swimming in that sense because without that competition, without those things happening, my swimmers don't get better either."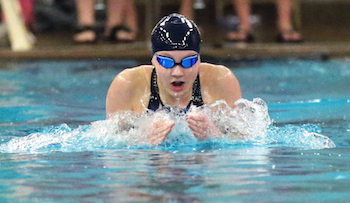 Mollie Kilpela won both the 50 and 100 freestyles for Marquette, while Erin Vanderschaaf took home titles in the 500 free and 200 individual medley. Lexi LaCombe was the last Redettes champion, as she finished first in the 100 backstroke.
Houghton won only one event with Samantha Olson finishing first in the 200 free, but Gremlins coach Erik Johnson liked what he saw from his team.
"I thought the girls did really well," he said. "They had a lot of great swims and everybody, for the most part, dropped their times. That's all you can really ask for. Gladstone was loaded this year, and Tom does a great job with his team. Marquette also had a good team. I'm really happy that they were able to finish third this year."
Kingsford finished fourth overall with 121 points, and Sault Ste. Marie took fifth at 100. The Blue Devils' Aliah Robertson won the 100 butterfly (59.27) and 100 breaststroke (1:06.31) and set U.P. Finals records in both events.
"Our freshman, Ali, really stepped up today with two U.P. records," Sault Ste. Marie coach Steve Habusta said. "That doesn't happen often. For her to beat two of the oldest records on the board by almost two seconds is just unheard of."
PHOTOS: (Top) Marquette and Gladstone swimmers launch during a race at Saturday's Upper Peninsula Finals. (Middle) Sault Ste. Marie's Aliah Robertson completes her record swim in the 100 breaststroke. (Photos by Daryl Jarvinen/Jarvinen Photos.)