Practice Makes Champion for Saline
By Chip Mundy
Special to Second Half 
YPSILANTI – Saline swimming coach Todd Brunty often ends practice the same way, setting up a relay with the atmosphere of a race that would decide the outcome of a meet.
Practice became reality Saturday afternoon at the Michael H. Jones Natatorium on the campus of Eastern Michigan University. 
But this time, the final race – the 400-yard freestyle relay - didn't decide a normal meet; it decided the MHSAA Lower Peninsula Division 1 swimming and diving championship.
"Every single time we finish practice, Todd always says, 'Swim like it's coming down to the last relay,' and that's exactly what we did," said Saline senior Alex McPherson, who swam the second leg on the relay as Saline won it in 3 minutes, 28.13 seconds. 
Farmington Hills Mercy, which led the meet by a half-point coming into the final event, was second in the relay in 3:31.26. Saline won the championship by a margin of 267.5-262.
Junior Amelia Armstrong-Grant swam the first leg for Saline, followed by McPherson, junior Allison Eppinga and freshman Lizzy Spears. 
Brunty said he had no reservations about having a freshman swim the last leg in such an important race.
"She had a tough meet. It was her first year here, but we stuck with her," he said of Spears. "She got a baptism by fire right there. 
"She did a job, and that's part of this team. We have expectations here, and no matter who you are, at any given time you have to be willing to swim."
The girls made a point to say they were swimming more for each other than for themselves. 
"When I was on the blocks, I just thought, 'This is it. Swim for them, not for yourself,'" McPherson said. "I love these girls more than anything, and I just wanted to win for them. I consider all of those girls my sisters, and I'm not going to let down my family."
McPherson was the only senior on the relay, and Spears – the freshman who swam the last leg – said winning for McPherson was important.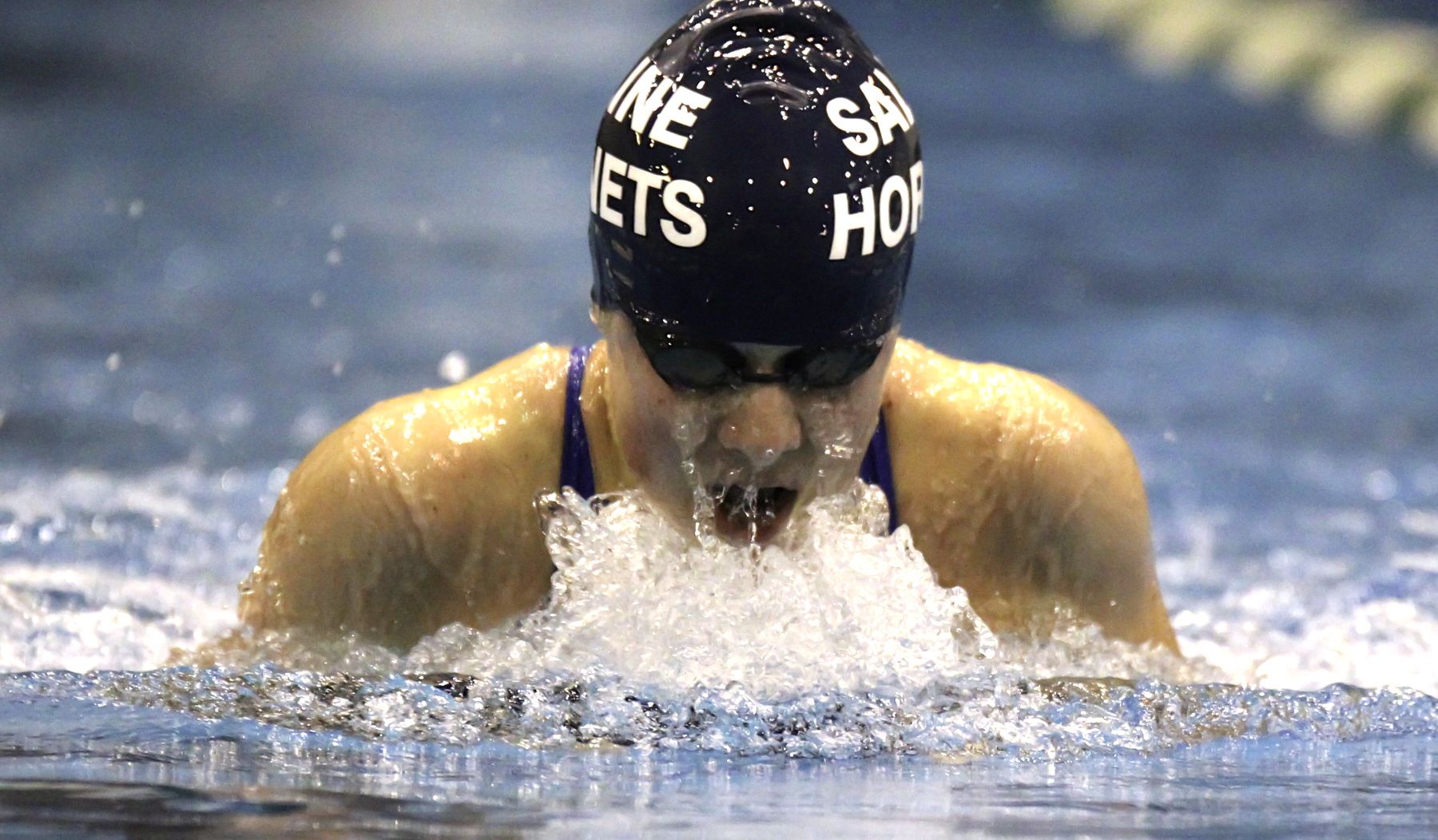 "I had to do it for Alex because it's her senior year, and I had to do it for the rest of the team," she said. "It's such an honor to swim the last leg. All I was thinking was that I had to be the first one to the wall, and the team was counting on that." 
Saline had roughly a 3-second lead when Spears entered the water for her final leg, and the winning margin was roughly 3 seconds.
"I told them all I needed was a lead," she said.
It was the third MHSAA team championship for Saline, and like the two previous ones, it came without an individual champion on the swimming side. 
However, Saline did have a champion in diving, and it dominated the event with four divers finishing among the top 15. Sophomore Amy Stevens defended her title and won with 488.20 points – an LP Division 1 Final record – while Camryn McPherson was second, Miranda Eberle seventh and Emmi Ruela 15th.
Stevens had roughly a 10-point lead over McPherson after the semifinal and maintained that edge throughout the final. McPherson had won the Regional title by 19 points. 
"You always want your teammates to do good, but you don't want them to do better than you," Stevens said. "It's great competing with them because it's a fun environment, and when you are having fun you always dive well."
Brunty made a point to single out the divers for their contribution to the overall championship. 
"The divers were paramount to our win," he said, pointing to the trophy. "It does say swimming and diving, and a lot of people think it's something else, but we're going to make sure people understand that we are a program that believes in everything.
"We support diving. A lot of coaches sometimes forget how important it can be, but I think we proved today that diving is an integral part of the sport. It is a swimming and diving state championship, and we are the state champs." 
Armstrong-Grant finished second in the 200 freestyle and third in the 100 freestyle, while McPherson was runner-up in the 500 freestyle and fifth in the 200 freestyle. Eppinga also tied for fifth in the 100 freestyle and took sixth in the 100 backstroke.
Saline also was third in both the 200 medley relay and the 200 freestyle relay, and the meet took a dramatic turn in the latter. Farmington Hills Mercy was disqualified when its leadoff swimmer moved in the blocks before the race began. The Marlins finished third but had to forfeit their 32 points from that event. 
"Everybody drops the ball every now and then," Mercy coach Shannon Dunworth said. "Our girl flinched on the blocks. You have to remain motionless, and she twitched.
"The kids did marvelous. I think they've got their heads up, and my hat's off to Saline for sure." 
Mercy won the meet-opening 200 medley relay in 1:45 with Katie Minnich, Maddie Loniewski, Alaina Skellett and Roxanne Griffore making up the team. Minnich, a freshman, later won the 100 backstroke in 55.06 for Mercy's only individual championship.
The meet also was highlighted by record-breaking efforts by two Waterford swimmers who successfully defended their 2013 championships. 
Senior Miranda Tucker, who plans to swim at Indiana University next year, broke her all-division record set last year in the 200 IM (1:59.14). She also broke her all-division record in the 100 breaststroke in the prelims on Friday (1:00.58) and again in the final (1:00.56).
Tucker admitted she was a little disappointed that she was not able to take her breaststroke time under 1 minute. 
"I was pretty mad that I didn't break that minute barrier that I've been hoping for all this time," she said. "But I got to thinking it over. I'm just enjoying myself. I'm going all out to see what I can do. There's always another chance.
"I felt like I could have done better, but I'll take what I can get. I gave it my all." 
Waterford senior Maddie Wright closed out her high school career with her seventh and eighth Finals championships. She repeated in the 200 freestyle in 1:49.30 and had to come from behind to edge Morgan Bullock of Zeeland in the 100 butterfly with a time of 54.51.
"Morgan has incredible underwaters, and she was just beating me on all of those," Wright said. "For a while, I was thinking maybe it's someone else's turn to be the champion, and then on the last turn I just saw her and said, 'I know I can make that up. I know I can do it.' It was very close. 
"I loved every second of it."
Another successful defense was turned in by Northville sophomore Laura Westphal in the 500 freestyle. She won in 4:54.46, less than a second ahead of Saline's Alex McPherson. 
"It was really fun," Westphal said. "I enjoyed it. I was a little concerned as they were gaining on me the last bit. I think we all went faster because we had better competition. I'm glad how it turned out."
Grand Blanc sophomore Emma Curtis took the 50 freestyle in exciting fashion as she out-touched Erin Hudson of Rockford to win by one hundredth of a second in 23.60. 
"Honestly, I didn't know if I had won," Curtis said. "I had no idea. As it was getting close to the end, I took a breath and saw her. She was right next to me, so I knew it could have went either way."
Hudson was part of Rockford's winning 200 freestyle relay team that finished in 1:35.88. Other members of that relay were Meegan Snyman, Dakota Noble and Peyton Rayburn. 
Brighton sophomore Taylor Seaman won the 100 freestyle in 51.16, while Rockford won the 200 freestyle relay in 1:35.88.
But the day belonged to Saline. 
"I'm just proud of the girls and the resolve they showed throughout the day," Brunty said. "We didn't swim our best, but we swam good enough to be state champs, so we'll take it."
PHOTOS: (Top) Saline's Amy Stevens performs a dive en route to repeating as champion of the Lower Peninsula Division 1 Final on Saturday. (Middle) A Saline swimmer competes for the eventual team champion at Eastern Michigan University. (Click to see more from HighSchoolSportsScene.com.)