Redettes Make It 12 for 13 in 2014
February 15, 2014
MARQUETTE — Coach Nate McFerrin had every reason to be excited after the Marquette girls gained their 12th Upper Peninsula swimming and diving title in 13 years Saturday.
The Redettes collected 335 points, followed by defending champion Houghton with 277 and Rudyard with 195 at the Marquette High School pool.
"I didn't think the girls would do this well," McFerrin said with a smile. "We thought it'd be close. I'm just surprised by the margin of victory."
Marquette junior Logan Vear won the 200-yard freestyle race in two minutes, 8.52 seconds, edging classmate Janelle Carroll by slightly more than two seconds.
Carroll then won the 500 freestyle (5:53) and freshman Lyndsey Welch added a first in the 100 backstroke (1:06.06).
Vear, Carroll and Welch joined freshman Lauren Clement on the winning 400 freestyle relay. Welch and Carroll also helped the Redettes take the 200 freestyle event, with Welch a part of the winning 200 medley relay.
Senior Lani Belton, who also helped the 200 medley and freestyle relays, was runner-up in the 100 freestyle in a personal-best 1:00.29 and fourth in the 50 freestyle (27.17).
"I thought I would do well in 50 freestyle, but I didn't think I would do as well as I did in the 100," said Belton, who will attend Northern Michigan University this fall. "For me, it's all part of the mental game. I just focused on what I needed to do."
Junior Lauren Jackson gave Houghton its lone first in diving with 166.95 points.
"I think we had a couple girls who really stepped up," Houghton coach Roger Wood said. "This was a real good experience for us. We got contributions from all four of our classes. We felt we had a chance coming in, but Marquette swam real well.
"This was little bit of a reversal from last year. Runner-up is not too shabby against a tough opponent. We lost a lot of points from last year."
Coach Patty Meehan also was pleased with Rudyard's third-place finish.
"Our girls did awesome," said Meehan, who jumped into the pool with the school's nine swimmers after the meet. "We couldn't ask for much better. All of them got on the podium."
Rudyard senior Amy Knapp won the 100 freestyle in a school-record 56.87 seconds and the 100 breaststroke (1:14.54) and helped the Bulldogs place second in the 200 medley and 400 freestyle relays. 
"I definitely had a lot of help from our coaches," said Knapp, who plans to attend Lake Superior State University this fall to major in physical therapy. "They were with me every step of the way. Today, I certainly had good starts, which is the key. Our whole team did well this year."
Meehan says Knapp has been very valuable to the team.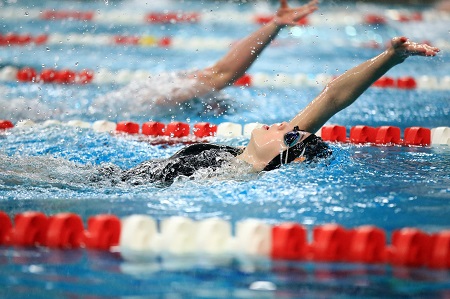 "Amy has become a very strong leader," she added. "She has certainly been a major contributor.
"We have some very young, talented swimmers coming up. The future looks good, but it's all about numbers. We're looking forward to next year." 
Freshman teammate Trista McDowell, who also helped both relays, captured the 50 freestyle in a school-record 26.12 seconds and was runner-up in the 100 backstroke (1:08.54).
"I had a real good start in the 50 (freestyle), which definitely set the tone," said McDowell. "Our coaches and my teammates have pushed me real hard. If I can continue to progress the way I've been, it could get me into a good college. One thing I definitely need to work on is my stroke speed. I just need to keep fine-tuning everything. 
"We're doing better as a team this year. We lost only one meet prior to today. Marquette and Houghton have real good teams."
Hancock senior Olivia Rouleau won the 200 individual medley for the fourth straight time in a school-record 2:20.28. She set another school record while winning the 100 butterfly (1:03.7), shattering the old mark by more than three seconds. 
"It was a little bit stressful going after my fourth straight title in IM," Rouleau said. "But once I got into it, I was confident. I felt the rhythm.
"I definitely had a real good start in butterfly, although the last 50 yards is always the hardest. Much of it is so mental. This is a great way to end my senior year and high school career. I'm looking for a college and hope to continue swimming, although I'm undecided on where I'll be going." 
Rouleau also helped two relays place among the top five for the co-op program, which includes student-athletes from Calumet and Painesdale-Jeffers.
PHOTOS (Top) Marquette swimmers and divers celebrate Saturday's 12th MHSAA Finals championship in 13 seasons. (Middle) Rudyard freshman Trista McDowell set a school record and posted two top-two finishes in her first Finals. (Photos courtesy of Jarvinen Photos.)