Rising Harper Creek Reaping Rewards
October 17, 2017
BATTLE CREEK — With a reward dangling in front of them, the Harper Creek swimmers had extra motivation at the All-City Girls Swimming & Diving Meet two weeks ago.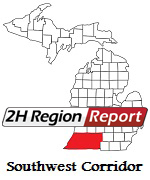 They turned in one of their best performances of the season and captured the title for the first time in school history, earning an opportunity to toss coach Corrin Buck into the pool to kick off the celebration.
"We had a team discussion and planned it ahead of time," senior captain Jena Wager said. "It's like when a team wins a league or state meet pouring Gatorade over the coach."
Harper Creek finished ahead of perennial power Battle Creek Lakeview, 476-452. Lakeview had won the previous 14 All-City championships.
Buck was prepared for the dip.
"In 22 years (as Harper Creek's coach), it's only the second time I was dunked," she said. "I told them going in, this is a very big deal. If we actually do win, I will let you throw me in. My assistants and I brought extra clothes just in case.
"One of the things for us is that we'd never beat (Lakeview)."
The Beavers now have their sights set on another first: Winning the Interstate 8 Athletic Conference in two weeks.
"We've never won a league championship yet," Buck said.
Meanwhile, her athletes continue to qualify for the MHSAA Lower Peninsula Division 3 Swimming & Diving Finals to be held Nov. 17-18 at Eastern Michigan University.
To date, seven girls have qualified individually or as part of relays.
Sophomore Alysa Wager has qualified in three individual events (100-yard butterfly, 100 breaststroke, 50 freestyle) and three relays (200 medley, 200 free, 400 free).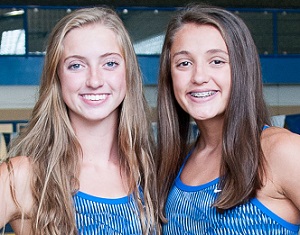 As a freshman, she swam a school record 58.75 in the 100 fly, already reaching one of her goals.
"It was one of the oldest records on the board," she said. "That was one of my big goals last year, to get on the board.
"We (junior Elizabeth Wolfe, the Wagers and senior Taylor Root) also set the 200 free relay record (1:42.51) last year."
Jena will compete in the 200 individual medley and 100 backstroke as well as on the three relays.
The other Finals qualifiers are Wolfe (100 free, three relays), junior Madeleine Brown (400 free relay), freshman Sarah Thompson (500 free, 200 free relay), senior Kelsea Popps (200 medley, 200 free relay) and senior Megan Kusler (diving).
Family ties
Both Wagers have MHSAA Finals experience, Alysa getting hers as a freshman and Jena all three years to date.
"I learned don't be scared," Alysa Wager said. "Just race your race and a good outcome will happen. I was top 16 (12th in fly, 16th in 50 free).
"It wasn't one of my best swims, but I think it was because I let some of the other guys get in my head. This year it's gonna be different."
Jena said she learned it takes more discipline than she thought.
"I had a couple years hit or miss with my goals, and it made me realize you have to have discipline: eating, sleeping and training to keep your body in shape."
The Wagers are among four pairs of sisters on the team. The others are Madeleine and freshman Megan Brown, seniors Taylor and Sabriya Root, and Elisabeth and freshman Hanna Wolfe.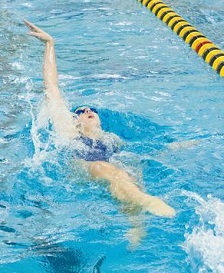 "I had to talk to all these girls that once you walk in the door, you are no longer sisters, you are teammates," Buck said. "No bickering.
"You can't take this stuff home, either. You have to make sure you are good teammates, and I think they all do that well."
Buck has experience dealing with siblings. Her daughters Kelsea and Kara Popps also were on the team together. Kara is now a junior on Saginaw Valley State's team.
"It was very exciting to be able to share that part of mom and coach, as much as it was very difficult," Buck said. "Kelsea is doing a great job of handling that pressure.
"They've both had to deal with some tough things. Kara always said 'I'm going to make sure everyone knows I earned this spot.' She worked her tail off and so does Kelsea."
Kelsea Popps, who started swimming at age 4, said she likes having her mother as her coach.
"I've never known anything different. It's my favorite thing. I get to know what's for dinner in the middle of practice. I never have to come home to a surprise," Popps said.
"There are times when it kind of combines. If I'm having a bad day she's like, 'Which role do I play right now?' For the most part it's coach in the pool, mom at home."
Popps also said one of her goals was to beat her sister's records.
"Kara was always faster than me, so we never swam in the same lanes," she said. "It was fun having a sister as a leader on the team. It helped me a lot.
"She has some (school) records and I wanted to take them down, but it's not looking like that will happen."
Learning from a Master
Buck, who also is a physical education teacher at the school, provides a wealth of experience to the Harper Creek program.
She was a 12-time All-American at Slippery Rock University in Pennsylvania, swimming the breaststroke and individual medley.

She said she was surprised when she came to Battle Creek that so many people had already heard of Slippery Rock, then discovered the school's football scores were often announced at University of Michigan home football games.
She still swims both races in United States Masters Swimming events and has competed in numerous national meets.
"I don't have much time to swim right now," she said. "I joke that these are my four months of being a putz.
"As soon as we wind down here, I get in the water and start training. I'm definitely very involved in my swimming."
She also does aquatic bicycling and lake open water swimming.
"When I talk to the kids about a drill or a stroke or a set, I can say a lot of times, I did that this summer so zip it, you can handle it. Let's go," she said.
When Buck was hired at Harper Creek in 1995, she had some work to do.
"We had very few kids, and the work ethic wasn't there," she said. "All the kids were like, 'What? We're gonna like swim all the time?' It was definitely an adjustment, and some kids were like they didn't want to do it, they just wanted to have fun.
"In those 22 years, we really went from having nothing and being in the bottom of the league to being in the top one or two."
She said one of the biggest boosts is having a middle school program.
"The group I have right now has a lot of good experience. They're coming out of our middle school if they're freshmen," she said. "Back in the day, I used to have to teach kids how to swim, how to dive, how to breathe to the side, how to blow bubbles.
"Lately, I think because of our middle school program and our club program, most of the kids come in with the ability to swim. I very rarely have a brand new person."
Jena Wager said one of Buck's best traits is "she's really good at being able to determine what's best for each person. She finds each person's strengths and works with that."
Others on the team are seniors Kennedy Lewis, Shereelyn Reed and Inga Sprengel, juniors Marie Luedtke and Haley VanScoder, sophomore Kennedy Kreger and freshman Maddie Piper.

Pam Shebest served as a sportswriter at the Kalamazoo Gazette from 1985-2009 after 11 years part-time with the Gazette while teaching French and English at White Pigeon High School. She can be reached at pamkzoo@aol.com with story ideas for Calhoun, Kalamazoo and Van Buren counties.
PHOTOS: (Top) Battle Creek Harper Creek celebrates its first All-City championship Sept. 30. (Middle top) Sisters Jena, left, and Alysa Wager. (Middle below) Jena Wager swims the backstroke at the All-City meet, winning the event in 1:04.13. (Below) Harper Creek coach Corrin Buck, top, and Kelsea Popps. (Celebration and action photos courtesy of the Battle Creek Enquirer; Wagers head shots courtesy of Harper Creek's athletic department, and Buck and Popps by Pam Shebest.)