Rockford Rises to Edge East-Side Powers
December 7, 2016
By Geoff Kimmerly
Second Half editor
Those who follow high schools swimming & diving closely can appreciate even more what Rockford accomplished this fall.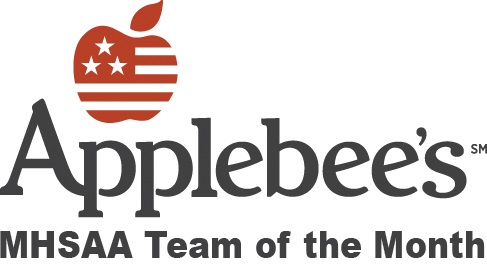 The Rams won their first MHSAA team championship, a big deal on its own. But consider this as well:
Over the previous 40 Lower Peninsula Division 1 or Class A Finals in the sport, 37 had been won by teams from the southeast region of the state that traditionally draw from powerful feeder programs in the Ann Arbor (Club Wolverine) and Oakland County (Oakland Live Y'ers) areas.
Rockford – the Applebee's Team of the Month for November – this fall joined Holland West Ottawa in 2012 and the Grand Rapids Forest Hills Central teams of 1993 and 1994 in breaking that hold on the MHSAA's largest-schools championship.
The Rams edged eight-time title-winner Farmington Hills Mercy 249-239 to take the top spot Nov. 19 at Oakland University.
"We just have so much respect for what they've built," said Rockford coach Tom Parks of the southeast Michigan powers. "It just seemed to me a long time ago, how is anybody going to upset that balance?
"We've had depth for a long time, and I think we could've done well against those teams in a dual meet. But at the state meet, it's only the top-end kids. We've always had one or two top-end kids, but this year we had three very legit All-American kids and a diver who did extremely well, and a bunch of other kids that just filled in spots really well and made our relays strong."
Senior Sydney McDowell was the team's lone individual champion at the Division 1 meet, finishing first in the 100-yard breaststroke in 1:01.94 – the fourth-fastest time in the event in MHSAA Finals history.
McDowell teamed with seniors Hunter Ignasiak and Meegan Snyman and junior Peyton Rayburn to win the 200 freestyle relay in 1:34.37 – a full second faster than their preliminary time from the day before and two seconds faster than their seed time in the event. Their time also was the fourth-fastest in MHSAA Finals history, all divisions and classes combined, and set an LP Division 1 Finals record. (Girls swimming & diving switched to divisions from classes in 2002.)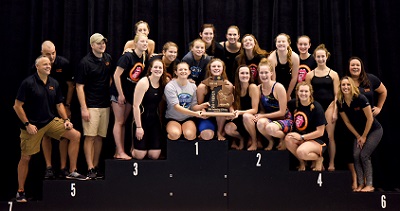 As a team, Rockford broke nine school swim records and both diving records this fall. McDowell's breaststroke time qualified for All-America honors automatically from the National Interscholastic Swim Coaches Association, and she also set the Rams' record with a 2:04.36 in the 200 individual medley, finishing fifth in that event at the MHSAA Final. Rayburn earned All-America with her Finals runner-up time of 50.19 seconds in the 100 freestyle (10th-fastest in Finals history) and also set a school record of 1:49.88 in finishing third in the 200 freestyle. Sophomore Morgan Kraus earned All-America honors with both her third-place finish in the backstroke (55.42) and her best time this season in the butterfly (54.40); she finished runner-up in the latter race at Oakland. 
Freshman Masy Folcik swam a 1:04.36 in the breaststroke prelim to earn All-America consideration and went on to finish seventh in that event, and sophomore diver Elise Jendritz earned the same consideration with her top 11-dive score this season (a school-record 460.75) and went on to finish seventh at Oakland as well.
In addition to those individual standouts, the 200 freestyle relay earned All-America honors, as did the 400 freestyle relay of Ignasiak, Kraus, senior Sara Fredricks and Rayburn (second at the Final in 3:26.55) and the 200 medley relay of senior Kallen Wolfer, McDowell, Kraus and Snyman (fourth at the Final, with a prelim time 1:45.25). The 400 relay time was the ninth-fastest in Finals history.
"We knew the 500 and the backstroke, we knew that's where Mercy was going to hurt us. Scoring out from the prelims, we were about 12 points down from being able to tie them (at that point), and we had a conversation about that," Parks said. "We gained some, we lost some … but if we did get to that point, (we told our girls) if we want a shot at this we have to win the 200 free relay. … They swam out of their heads … and then the momentum just changed. Our backstroker went nuts, our two breaststrokers did well, and our 400 relay – we considered that our weak relay all year of the three, and their 3:31 (in the prelims) was the fastest we've ever been – and they dropped five seconds from the prelims to the Finals."
Parks, who took over the program in 2000 and also previously coached the Rockford boys, will graduate four seniors who set individual school records or were part of record-setting relays this fall. But he thinks this year's momentum combined with improvement from his community's age group program as well could lead to more title contention to come.
Leading to this fall's championship, Rockford improved this decade from 14th in 2011, to sixth in 2012, fifth in 2013 and third in 2014 before dropping back only slightly to fourth in 2015.
"Knowing the ins and outs of our sport," Parks said, "it was such an accomplishment, what we were able to do."
Past Teams of the Month, 2016-17
October: Rochester girls golf - Report
September: Breckenridge football - Report
PHOTOS: (Top) Rockford's Sydney McDowell swims the breaststroke during the MHSAA Lower Peninsula Division 1 Final last month. (Middle) The Rams pose with their first MHSAA team championship trophy in the sport. (Click to see more from HighSchoolSportsScene.com.)