Rockford Wins 1st Finals on Last Event
November 19, 2016
By Ed Wright
Special for Second Half
ROCHESTER – During the final climactic moments of Saturday's drama-saturated MHSAA Lower Peninsula Division 1 Girls Swimming and Diving Championship Meet, possibly the coolest customer in the jam-packed Oakland University natatorium was the one bearing the most pressure – Rockford's 400-yard freestyle relay anchor Peyton Rayburn.
With her team clinging to a precarious four-point lead over Farmington Hills Mercy heading into the final event and needing to finish ahead of the Marlins in the race to capture its first MHSAA girls swimming and diving title, Rayburn proved to be Ram tough, overcoming a fraction-of-a-second deficit to push past her Mercy counterpart and spark a joyful orange-and-black victory explosion on the nearby deck.
"Relays are the most fun part of the meets for me so, honestly, I was more excited than nervous," Rayburn said, reflecting on the seconds leading up to her exclamation-point performance. "My mindset was, 'Hey, I've been training and practicing for this for a long time; now it's time to let the hard work pay off, give it everything I have, and hope it's good enough.'
"This is the best team in the history of Rockford swimming, so it feels great to be able to contribute. It probably won't totally set in for me though until the drive home when I'm eating my ice cream."
Setting the stage for Rayburn's last-leg heroics were her three 400 relay teammates: Hunter Ignasiak, Morgan Kraus and Sara Fredricks. The foursome's time of 3 minutes, 26.55 seconds placed it behind first-place Saline, but comfortably ahead of Mercy (3:28.21).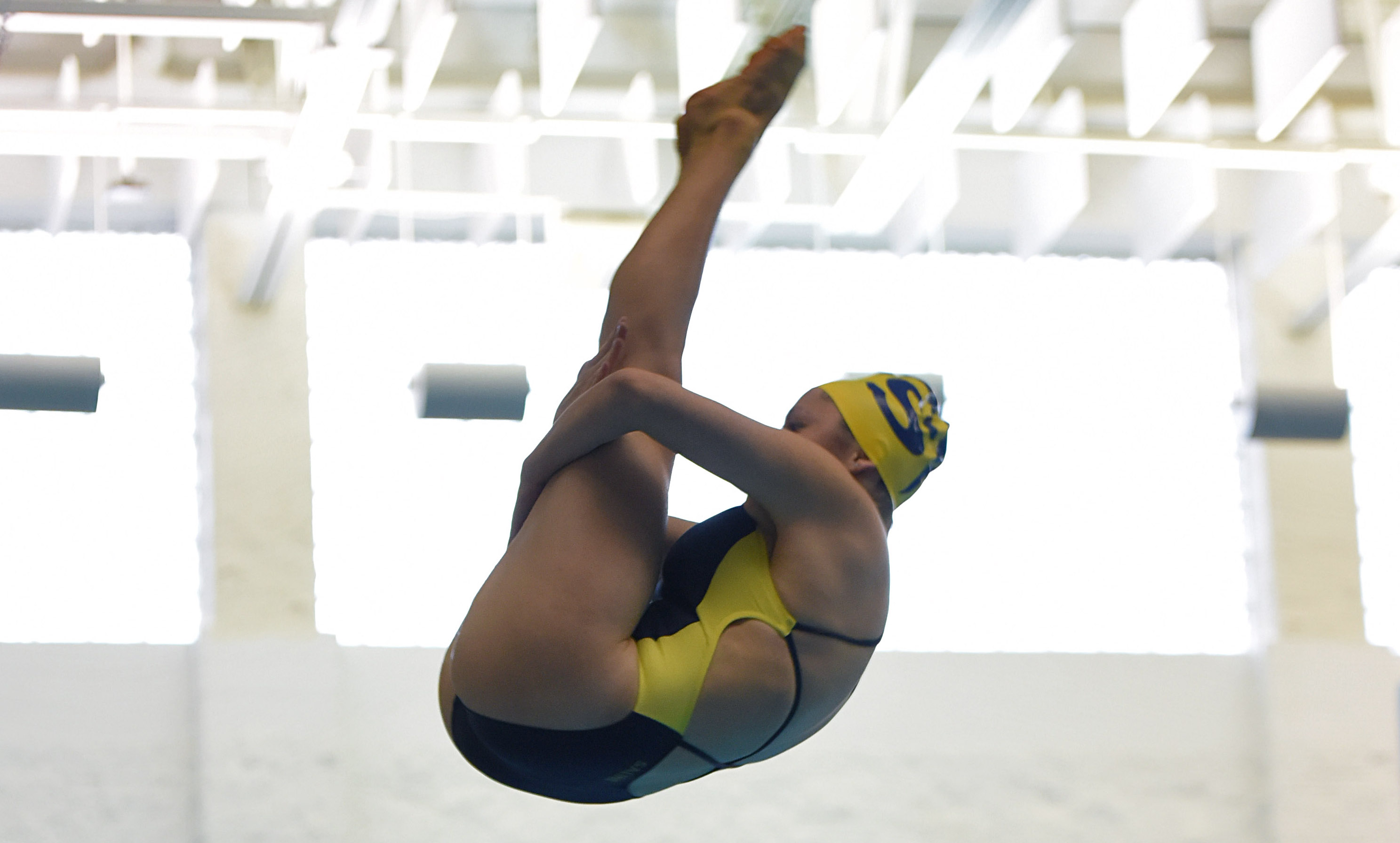 The Rams, who joined their coaches in a celebratory dip in one of the warm-up pools after receiving their trophy, piled up 249 points, 10 more than the runner-up Marlins.
Also in the hunt throughout the day were third-place Saline (231.5 points) and fourth-place Ann Arbor Skyline (221).
Sealing the deal
After three straight years of knocking on the door of an MHSAA Finals title, it felt good to finally break the door down, noted Rockford coach Tom Parks.
"Even though we finished in the top four the last three years, we didn't really have a shot at winning it," said Parks. "This year, though, the girls knew it was possible. They knew they belonged here and they knew what they were capable of.
"I really didn't think about us winning today until the 400 relay. The three girls in front of Peyton swam out of their minds. Peyton is a 49-second swimmer in the 100, so I felt pretty good when she hit the water."
The Marlins reached the threshold of a championship with a team that included seven freshmen and a solid nucleus of upperclassman, including champion backstroker Katie Minnich.
"There is nothing better than for a state championship meet to come down to the last event like it did today," said first-year Mercy coach Mike Venos. "I was very proud of the way our girls stepped up – not just today, but throughout the entire season."
The meet was peppered with several LPD1 Finals record performances, including Saline senior diver Camryn McPherson's monumental effort on the board.
The reigning D1 champion, McPherson rang up 509.50 points to out-distance runner-up Zain Smith of Skyline by nearly 34.
"I was nervous coming into today, but once it's my turn to compete, I focus on doing well for my team and having fun," said McPherson, an Ohio State University commit. "My favorite dive is my last one, so once I hit it, I felt pretty good."
Taylor-made sweep
Brighton senior freestyler Taylor Seaman capped her brilliant high school career with a golden sweep of the 50- and 100-yard freestyle races.
The top seed in the 50 following Friday's preliminaries, Seaman edged Farmington Hills Harrison's Ashley Turak, 22.86 seconds to 23.08. Seaman then delivered a 49.64 effort in the 100 to edge runner-up Rayburn by an eyelash.
"Last year, I wasn't able to cut my time from the conference meet to the state meet, so that was my main goal coming into this weekend," Seaman said.
Headed to Brown University next year, Seaman revealed that a solid suggestion from her parents helped put her in a good frame of mind for Saturday's success.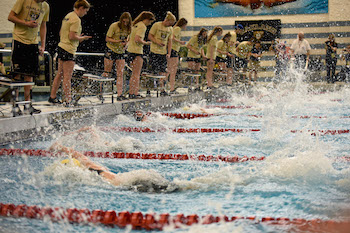 "A lot of my teammates stayed in hotels around here (following Friday's preliminaries), but my parents thought it would be better if I slept in my own bed and went through my normal routine, since it was only a 45-minute drive (from Brighton)," Seaman said. "It was nice being able to wake up and cuddle with my dog (Murphy), eat breakfast like I always do, and then drive out here. I got to meet (U.S. Olympic Swimmer and Canton native) Allison Schmitt, too, so that was cool."
Skyline's strong showing was fueled by double-winner Emma Cleason, who touched first in both the 200 individual medley (2:00.86) and the 100 butterfly (54.28).
While Rayburn's last-race heroics were huge, the Rams won with depth, Parks emphasized.
Among the winners' sterling standouts was Sydney McDowell, a senior who will be returning to Oakland next fall to swim for the Grizzlies.
McDowell won the 100 breaststroke in addition to contributing fifth-place points in the 200 IM.
"We knew we'd be in the mix this year, but we knew it would take a total-team effort," said McDowell, who celebrated her final high school meet by consuming a package of Nutella. "Everybody did their part today, which makes it even more special."
With his team flashing 100-watt smiles around him, Parks said he was proud to bring Rockford – and the western side of the state – a long-awaited Division 1 championship.
"Since 1975, with the exceptions of a couple of years, the Ann Arbor schools and the teams from the Oly Swim Club have pretty much dominated the state meet," he said. "The fact we were able to break through this year is truly amazing and a reflection of how hard these girls worked."
PHOTOS: (Top) Rockford celebrates its Division 1 championship from atop the medal podium. (Middle) Saline diver Camryn McPherson competes Saturday on the way to a repeat title. (Below) Swimmers fill the pool at Oakland University. (Click to see more from HighSchoolSportsScene.com.