Saline Diver Twists and Turns to the Top
By Chip Mundy
Special for Second Half
SALINE – Camryn McPherson is just a junior at Saline High School, and already her athletic life has been filled with twists and turns.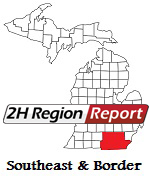 That suits her just fine.
McPherson, possibly the favorite to win the 1-meter diving portion of the MHSAA Lower Peninsula Division 1 Finals this weekend at the Holland Community Aquatic Center, got her start in athletics spinning, jumping and balancing her way in gymnastics. However, the sport eventually took a toll on McPherson's back, and the injury forced her to make the tough decision to quit the sport she loved.
"I really didn't want to quit gymnastics, and I didn't know what I was going to do with myself," McPherson said. "I had to find something else."
McPherson was connected to gymnastics. She had been a typical young girl, dancing and spinning and jumping her way through the day. Her parents, Brad and Jen McPherson, were not sure what they had on their hands, but they saw something in her.
"We weren't gymnastics coaches, but we could tell she was good," Brad McPherson said. "She got involved in gymnastics at a young age, and it just went on from there."

It was the sport of choice for young Camryn, but it wasn't the sport of destiny. Apparently, that was diving, and soon after giving up gymnastics, McPherson spent a summer diving at a local country club. She not only found that she was pretty good at it, but she discovered that having a background in gymnastics was beneficial to her approach in diving.
"A lot of the spins and moves are the same, so that helped a lot," she said.
Standing on the diving board might feel similar to standing on the balance beam to a certain extent, but the obvious difference of diving into the water made McPherson a little apprehensive at first.
"I was more uncomfortable on platform diving, and I still don't do that," she said. "But the diving doesn't bother me now."
That is obvious, judging by her scores. Last year as a sophomore, McPherson finished second in the MHSAA Division 1 meet at Eastern Michigan University. Her score of 478.10 was better than the previous division record. However, it wasn't good enough to beat Saline teammate Amy Stevens, who won the event for the second consecutive year with 488.20.
Stevens is not diving for Saline this year, so McPherson enters Friday as the highest finisher from last year. Also, she beat Stevens in the Regional a year ago and repeated as regional champion this year, stamping her as a favorite and definitely someone to watch this weekend.
Winning the MHSAA championship is the only thing missing on McPherson's resume from high school diving.
"I do feel a little pressure going into it," McPherson said. "I did OK at the Regional, but I know I could have done better."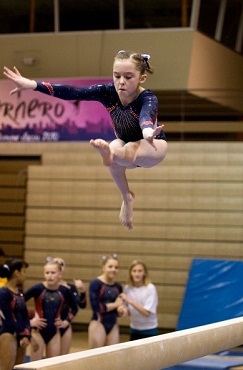 Competing with Stevens the past few years was beneficial to both divers.
"Amy pushed me, and I always wanted to be as good as she is," McPherson said. "I think we were able to push each other, and I learned a lot from her."
The friendly rivalry with Stevens was not the only thing that has worked well for McPherson during her career on the Saline swimming and diving team. Last year, when the Hornets won the LP Division 1 championship in thrilling fashion, McPherson was able to share the joy with her older sister Alex, who now attends the University of Connecticut and is on the women's swimming team.
Alex swam on the 400 freestyle relay, which won last year's LPD1 Finals championship. The victory came in the final event of the meet, and that race clinched the team championship for Saline.
"Being able to be on the same team as her was one of the big reasons why I wanted to join the swimming team," McPherson said. "And then being able to win the state championship with her was really exciting."
McPherson also is a part of the Legacy Diving team under coach Buck Smith, who also coaches men's and women's diving at Eastern Michigan University. This spring, McPherson, competing with Legacy, finished in the top two in both the 1-meter and 3-meter events in the 16-18 girls USA Diving Junior Region 5 championships in Columbus, Ohio.
McPherson won the 1-meter with 406.50 points and was runner-up in the 3-meter with 452 points. Her top scores in the 1-meter came on an inward 1½ somersault in the pike position and a forward 2½ somersault in the tuck position. She received more than 50 points for each dive.
McPherson moved on to the USA Diving National Preliminary Zone C championships at the University of Indiana and finished fourth in the 1-meter and fifth in the 3-meter.
While it is still a way off, McPherson dreams of joining her sister at Connecticut, but the college process is still working its way out.
"We are hearing from colleges, and we went through it with her sister," Brad McPherson said. "We'll see how it works out."
One would guess there could be a few more twists and turns along the way.

Chip Mundy served as sports editor at the Brooklyn Exponent and Albion Recorder from 1980-86, and then as a reporter and later copy editor at the Jackson Citizen-Patriot from 1986-2011. He also co-authored Michigan Sports Trivia. E-mail him at chipmundy@comcast.net with story ideas for Jackson, Washtenaw, Hillsdale, Lenawee and Monroe counties.
PHOTOS: (Top) Camryn McPherson dives during last season's Lower Peninsula Division 1 Finals. (Middle) McPherson was an aspiring gymnast before taking up diving. (Middle photo and head shot courtesy of the McPherson family.)