Seaholm Finds Next Gear After Fast Start
November 19, 2016
By Chip Mundy
Special for Second Half

YPSILANTI – Four events into the preliminaries Friday, Birmingham Seaholm girls swimming coach Karl Hodgson knew something special was brewing.
On Saturday, his pot boiled over as the Maples won the MHSAA Lower Peninsula Division 2 championship at Michael H. Jones Natatorium on the campus of Eastern Michigan University. Seaholm finished with 287.5 points to outdistance runner-up and reigning champion Dexter, which had 250. Grand Rapids Forest Hills Central was third with 215.
It was the first MHSAA team title in girls swimming and diving for Seaholm since it ran off three in a row from 1995-97. Hodgson was an assistant coach on those teams.
"In the first four events on Friday, the medley relay did well and Allie (Russell) dropped two seconds in her I.M. to qualify first," said Hodgson, who was named the Coach of the Meet by LPD2 coaches. "I had a 200 swimmer Hannah Erickson do her lifetime best, and in the 50 (Haley) Dolan and (Linnea) Anderson had lifetime bests."
So, with that kind of performance Friday, it would seem Hodgson was relaxed and slept well Friday night.
"Not a chance," he said with a chuckle. "Not with Dexter hanging around.
Actually, Hodgson said the start of this quest began last year when the Maples finished fifth as Dexter captured the title.
"That was when the girls realized that they had the talent to do it and that they could do it," he said.
With the excellent performances from Friday behind them, the Maples began the finals portion of the meet in style Saturday by winning the 200 medley relay. The foursome of Nichole McMaster, Russell, Anderson and Dolan finished in 1 minute, 43.98 seconds to win by nearly 3 seconds.
"That was huge," Hodgson said. "It told me that I had four kids who were on. We set a school record on Friday and came back and crushed it on Saturday. That really set the tone. It was a big deal."
The swimmers agreed that the first event was a tone-setter.
"After that, everyone's adrenaline was so up, and that's when we knew we had a chance of winning," said McMaster, a senior.
Russell, another senior, also felt the medley relay was the key.
"Our medley relay has always been kind of our strong suit," she said. "So to lead off the meet with a win, I think that sort of set in motion what could happen."
Dolan, a junior, had the only individual title for Seaholm. She won the 50 freestyle in 23.56 seconds. As a sophomore, she made it to the MHSAA Final but failed to qualify for the championship heat in the 50.
"This year I've been doing a lot of outside training with a trainer, and we worked with a lot of weights, and I think that helped a lot," she said. "Karl is an amazing coach too, and last year I think I just had an off race."
Dolan, who also was fifth in the 100 freestyle, was the only three-time Finals champion for Seaholm, which also won the 200 freestyle relay in 1:35.49 with a team of Anderson, Russell, Erickson and Dolan.
The Maples surrounded the three race victories with plenty of depth in the scoring. Russell had the lone runner-up finish as she was second in the 200 I.M.
"I couldn't be happier," she said. "I would rather win the state title with my team than as an individual.
"Our freshman year, the state meet was here and got it started for us without really knowing what we were doing, so to finish it off here in my senior year is great."
Erickson chipped in with a third place in the 200 freestyle and fourth in the 100 freestyle, while Anderson was third in the 50 freestyle and fourth in the 100 butterfly.
"This is amazing; there is nothing like it," Anderson said. "We knew we had a chance, and we knew we all had to do our best to win it."
Runner-up Dexter was led by junior Annette Schultz, the swimmer of the meet a year ago when the Dreadnaughts won the title. She was no less spectacular Saturday as she repeated as champion in the 100 freestyle and 200 freestyle and also swam the anchor leg on the 400 freestyle relay team that finished first.
Schultz came close to breaking the Division 2 Finals records in both the 100 and 200 freestyles. Her time of 50.30 seconds in the 100 was just short of the record (49.87), and her 1:48.27 in the 200 threatened the record mark of 1:47.88. Schutz was joined by teammates Amelia Kinnard, Grace Kacmarek and Sarah Zofchak in the 400 freestyle relay, which won in 3:31.14.
Schultz was not too disappointed in failing to break a Finals record.
"I'm just hoping that next year I can improve on them and get a state record," she said. "I dropped my time in the 100, and that was what I was looking for.
"I just wanted to get some best times, and I did. I got a best time."
Olympic swimmer Allison Schmitt, who still holds two all-class Finals records, including in the 200 freestyle, attended the meet and was thrilled to watch the competition.
"Swimming for four years at the state meet was a great experience, and coming back and seeing these girls doing the same thing that I did eight years ago is great," Schmitt said. "It's great to be back.
"These girls were little girls when I was in high school, so to see them succeed doing what they are doing is amazing, and I'm cheering for my records to be broken just like everyone else."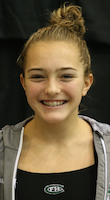 Felicity Buchmaier of Grand Rapids Forest Hills Central was named the swimmer of the meet by the LPD2 coaches. Buchmaier, a junior, won the 100 butterfly in 54.04, and she added the 100 backstroke in 55.30.
"It's a big relief," she said. "I felt like I had a lot of expectations from both myself and from other people."
Buchmaier repeated as champion in the 100 butterfly.
 "It was just as exciting as the last time," she said. "I tried to block out as much emotion as possible, but my body started to hurt – as usual – and I had to get it in my head that it was just another race."
Forest Hills Central also had the champion in diving, and it might have been the best finish of the meet. Anna Hansen, a sophomore who moved to Grand Rapids from Chicago last year, trailed by three points going into the final dive of the meet. She nailed a forward 2½ somersault in the tuck position – 2.4 degree of difficulty – to score 50.40 points and pass Taylor Shegos of Fenton.
"I was really nervous," Hansen said, "but I just focused on what I needed to do and nothing else.
"That is my favorite dive, so I was confident with it."
Hansen's victory extended the dominance in diving by Forest Hills Central. It was without two-time champion Erin Neely, who missed this season with an injury, but still had four of the top seven finishers.
"Erin is such a big supporter of the team," Hansen said. "She really has pushed us, so it means a lot to take her place."
Seaholm, Dexter and Forest Hills Central combined to win nine of the 12 events. The other three were won by Vicki Postmus of Byron Center in the 200 I.M., Charlotte Pierce of Birmingham Groves in the breaststroke and Julia Boswell of Royal Oak in the 500 freestyle.
But the day belonged to Seaholm.
"It's so surreal I can't believe it," Doan said. "It's so exciting. I think it has sunk in a little but later it's really going to hit me. It's crazy."
PHOTOS: (Top) Birmingham Seaholm poses with its Division 2 championship trophy. (Middle) Anna Hansen of Grand Rapids Forest Hills Central. (Click to see more from HighSchoolSportsScene.com.)