Senior Standouts Lead Cranbrook Surge
January 16, 2021
LAKE ORION – The Bloomfield Hills Cranbrook Kingswood girls swimming & diving team had waited nearly a year for a chance to make amends. 
So, what was another two months of waiting? 
Cranbrook came oh-so-close at the last Lower Peninsula Division 3 Finals in November of 2019, finishing just 11 points behind East Grand Rapids for the top spot.
Cranbrook's wait for redemption was only at six days before a state-mandated pause in November due to the COVID-19 pandemic forced a stoppage in the season and Cranbrook to wait longer. 
But after an additional two months of wondering, waiting and training, the season was able to resume and Cranbrook finally finished its path to avenging what happened at the previous year's meet. 
This time, Cranbrook took home the bigger championship trophy, scoring 379 points to easily best the field at Lake Orion High School. 
Hamilton was second with 199 points, while Bloomfield Hills Marian was third with 192.
Marian was swimming with heavy hearts after it was announced Thursday night that longtime athletic director David Feldman had died from COVID-19.
Reigning champion East Grand Rapids opted out of the Finals, but was slated to compete in Division 2 regardless. 
It was Cranbrook's second Finals title in four seasons after it last won in 2017.
All in all, it wasn't a bad way for Cranbrook head coach Paul Ellis to break into the program in his first year at the helm. 
"It's phenomenal, Ellis said. "It makes me so incredibly happy as a coach. The credit goes back to all the girls on the team. Every single girl that was there today scored. Every girl contributed. That says everything about the character of the girls, their tenacity and dedication to what we have been doing." 
Cranbrook had the perfect blend of first-place star power and depth to amass their points.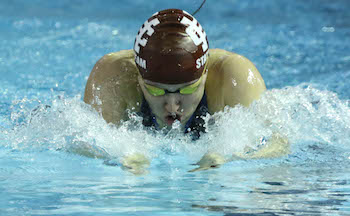 The star power was provided by the tandem of Justine Murdock and Gwen Woodbury, who both will swim collegiately in the Big Ten.
Headed to Northwestern, Murdock won the 200-yard individual medley (2:08.19) and 100 backstroke events (55.04), setting pool records in both events. 
Murdock won the backstroke for a third year in a row and the individual medley for a second-straight season in finishing with five career Finals titles. 
"It was really hard not only for me and my team, but for everyone in Michigan," Murdock said. "Pool space has been hard to come by this fall. We've had our set of roadblocks. To be here and to be able to be putting up the times I've been able to put up and our team has been able to put up, it shows how dedicated we were to finish the season and finish what we started in August."
Signed with Ohio State, Woodbury won the 100 freestyle (1:48.31) and 200 freestyle (50.29) events to also finish with five career individual titles.
Woodbury won the 100 freestyle as a freshman and junior and the 200 freestyle as a freshman. 
As was the case with Murdock, her times were pool records. 
"It just feels really good," Woodbury said. "The whole waiting and wondering if we would have a state meet and then waiting again, it makes it all worth it. It's so exciting to see all my teammates swim fast as well. It's the best feeling in the world."
The twosome helped Cranbrook sweep all three relays as well, so essentially Murdock and Woodbury had a hand in Cranbrook winning seven of the meet's 12 events. 
"I'm really proud to finish it off with these girls in my senior year," Murdock said. "It's so rewarding and super exciting."
Other event winners were Williamston junior Gwen Eisenbeis in the 50 freestyle (23.87), Otsego junior Abie Sullivan in diving (455.50), Flint Powers Catholic senior Lara Wujciak in the 100 butterfly (56.77), Plainwell junior Riley Nugent in the 500 freestyle (5:06.47) and Grosse Pointe Woods University Liggett junior Ginger McMahon in the 100 breaststroke (1:03.31).
PHOTOS: (Top) Cranbrook Kingswood's Justine Murdock swims to one of her two championships Saturday at Lake Orion. (Middle) A Holland Christian swimmer competes. (Click to see more from HighSchoolSportsScene.com.)