Standish-Sterling Builds on Early Investment
November 19, 2019
Shawn Maison said he started to see things turn around for Standish-Sterling's girls swimming & diving team when athletes who had come up through the youth program began to populate his team.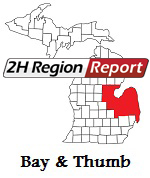 Now he's doing what he can to make sure that keeps happening.
"Whenever we get these successes, I have all these posters on the wall with the conference championships. And the little kids see that, and maybe then they aspire to want to swim at that level and enjoy that success," said Maison, who is in his seventh year leading the Panthers varsity. 
"We gave the kids a picture and had all the girls sign it. We have a swim buddies thing, where they all write to each other back and forth, so all the different levels encourage each other. That's just kind of the connection we want the youth to have with us, so they don't forget about us."
The Panthers recently wrapped up a second-straight perfect dual-meet season in the Independent Swim Conference and won their second straight conference meet. On Friday, they will send a school record five swimmers to the Lower Peninsula Division 3 Finals at Oakland University, where they'll look to put an exclamation point on an already historic season.
"It's been so much fun to be a part of all these girls coming up, and each year we've been getting better," said sophomore Sierra Maison, Shawn's daughter. "We've shot through so many barriers that haven't ever been broken before by our swim team. Like winning our ISC conference two times in a row – before, the girls team was just struggling to even win a dual meet."
Maison will be joined at the MHSAA Finals by Mady Ahleman, Savanna Kurchak, Sareena Kurchak and Emily Ratajczak. Maison, Ahleman and Ratajczak will swim with Savanna Kurchak in the 200-yard medley relay, and Sareena Kurchak in the 400 freestyle relay. Ratajczak also qualified for the 100 breaststroke, while Ahleman qualified for the 100 backstroke.
Sierra Maison – who has now been named ISC Swimmer of the Year in each of her first two seasons – qualified in the 200 freestyle, 200 individual medley, 100 butterfly, 100 freestyle, 500 freestyle, 100 breaststroke and 100 backstroke. She will swim the IM and breaststroke at the Finals.
A year ago, Maison advanced to the consolation "B" final in the 200 IM, finishing 13th after placing 11th in the preliminary round. That was the highest ever finish for a Standish-Sterling swimmer, but she plans to break that record this year.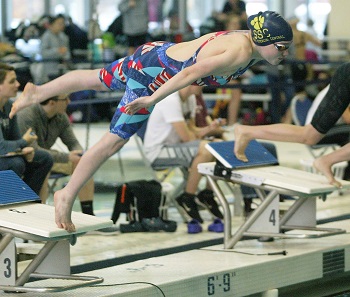 "Nobody has ever made it to the finals at the state meet," she said. "Last year was a rough meet for me. This year, I'm hoping to redeem myself a little bit and get into that A final. It would be awesome. I'm really going for top three here. Training has been amazing so far."
Maison is one of those swimmers who came up through the youth program. But while her arrival has helped take the Panthers to new heights, the rise didn't start there.
"When some of the girls that had been with the youth program started to come up to the varsity level and had that structure at practice at all different levels," Shawn Maison said of when he began to see the program turning a corner. "The first one was Emily Ratajczak (now a senior), then Mady Ahleman (now a junior), then Sierra. Really in the last three to four years we started to see long-term swimmers who had taken swimming seriously starting to show up on varsity. Now, 70 to 80 percent of the team is like that."
Shawn Maison makes it abundantly clear that while those swimmers may have changed the direction of the program, all his athletes are playing a major part in the team's success.
That goes beyond coach speak, as the ISC meet sees all swimmers score, making each race for each swimmer vital. This year's meet came down to the final event (400 freestyle relay), and while the Standish-Sterling A team came out on top, it was the B team finishing among the top eight that clinched the meet.
"We cut the conference pretty close this year," Shawn Maison said. "It's come down to the last relay both years. I always say we would have lost if we wouldn't have had any one of our team members. The beauty about a school our size is that kids know they're valued by the team, and they can see that in the score at the end of the year."
The future looks bright, said Maison, who mentioned there are several strong swimmers coming up through the youth ranks. Thanks to seven years of hard work put in by those before them, they'll be strengthening an already solid core, and not having to pave their own way.
"I've gotten to be with him through the whole journey," Sierra Maison said. "It's been super cool to see how much the numbers have grown. It went from maybe five people when he first started to now a 20-member team."

Paul Costanzo served as a sportswriter at The Port Huron Times Herald from 2006-15, including three years as lead sportswriter, and prior to that as sports editor at the Hillsdale Daily News from 2005-06. He can be reached at paulcostanzo3@gmail.com with story ideas for Genesee, Lapeer, St. Clair, Sanilac, Huron, Tuscola, Saginaw, Bay, Arenac, Midland and Gladwin counties.
PHOTOS: (Top) The Standish-Sterling girls swimming & diving team huddles up during a meet this fall. (Middle) Sierra Maison launches at the start of the 200 IM consolation final during last season's Lower Peninsula Division 3 Finals at Holland Aquatic Center. (Top photo courtesy of the Standish-Sterling girls swimming & diving program; middle by HighSchoolSportsScene.com.)