Team Effort Earns Mercy Team Title
By Keith Dunlap
Special for Second Half
ROCHESTER – Farmington Hills Mercy certainly perfected the notion during Saturday's MHSAA Lower Peninsula Division 1 Finals that you don't have to win events to become a swimming & diving champion.
The Marlins didn't have an individual finish first in any event and had runner-up finishes in just two, but they still left Oakland University happier than anyone.
For the first time since 2013 and eighth time in school history, Mercy won an MHSAA Finals championship after collecting a meet-best 277 points, 29 ahead of runner-up Saline's total of 248.
Farmington/Harrison was third with 192, Ann Arbor Skyline was fourth at 191 and Rockford rounded out the top five with 156.
"I tried to get them to believe that you can win a state meet without winning a single event," Mercy head coach Mike Venos said. "We had the team that could do that. We knew Saline was going to run with their top-end kids. We just had to offset that with our depth."
Depth indeed prevailed for Mercy, which had a finisher in the top 10 in 10 of the 12 events.
The best for the Marlins were a second-place finish in the 100-yard backstroke by senior Katie Minnich and a second-place finish by the 400 freestyle relay in the meet's final race.
The Marlins also had two third-place finishers, two fourth-place finishers, a fifth and a sixth-place finish.
It was the first time guiding a girls team to an MHSAA title for Venos, the longtime head coach at Brother Rice who has led the Warriors to the last four championships in LP Division 1 and six overall.
Venos is in his second year as head coach at Mercy.
While his team ended a four-year title drought, Saline fell just short in an attempt to win its first title since 2014.
The Hornets saw their 200 medley relay win the title with a time of 1:43.60 and junior Maddie Luther win the 200 freestyle in 1:47.69, but Saline couldn't win another event to further negate the depth Mercy showcased.
It was the fourth runner-up finish for Saline since 2011.
"They had more swimmers and everywhere you looked, they had somebody," Saline head coach Todd Brunty said. "We just keep knocking on that door trying to stay relevant. Every year, we try to make sure we stay in the conversation."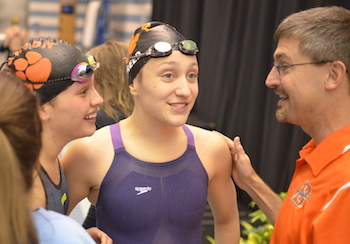 The individual star of the Finals was Farmington/Harrison junior Ashley Turak, who found herself at the top of the podium in all four events in which she competed.
Going into the day, it was a repeat scenario for Turak, who like last year was seeded second in both the 50 and 100 freestyles.
Instead of finishing second in the 50 and fourth in the 100 like she did last year, Turak was first in those events this time.
Turak won the 50 freestyle in a meet record time of 22.38, and then won the 100 freestyle with a time of 49.79.
Turak then served as the first leg of Farmington/Harrison's team that won the 200 freestyle relay with a time of 1:34.67.
In the final event of the day, Turak swam the anchor leg for the 400 freestyle relay team that also finished first with a time of 3:26.35.
"The mood I had going in as a junior was that I had some college offers, so I wanted to prove to everyone I could do it," Turak said. "I don't know where I want to go yet."
Turak will have the coming months to sort through what should be plenty of college offers while also being a member of Farmington Hills Harrison's last graduating class.
Harrison is set to close its doors following the 2018-19 school year.
"I love representing my school," Turak said. "I get great academics and it has great sports there. Our football is going to the state finals next week, so that amps me up too. It's a great atmosphere."
In addition to Turak's performance in the 50 freestyle, there were other record-setting performances.
Grand Haven sophomore Kathryn Ackerman set a meet record in the 200 individual medley, winning with a time of 1:57.92.
Rockford junior Morgan Kraus set a meet record with a time of 53.73 in winning the 100 butterfly. Grand Ledge sophomore Lola Mull set a meet record in the 500 with a time of 4:47.32.
PHOTOS: (Top) A pair of Farmington Hills Mercy swimmers dominate an awards podium in helping the Mustangs win the team title Saturday. (Middle) Brighton celebrates a relay runner-up finish. (Click to see more from HighSchoolSportsScene.com.)