Tested West Ottawa Prepped for Finals
November 14, 2018
By Dean Holzwarth
Special for Second Half
HOLLAND – The West Ottawa girls swimming & diving team always is prepared when postseason time comes around.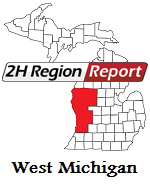 The rigors of competing in a competitive Ottawa-Kent Conference Red have their benefits.
West Ottawa recently claimed an outright O-K Red title with a victory at the final conference meet. The Panthers ousted a trio of top-10 Division 1 teams, including runner-up Rockford, en route to the victory.
The Panthers will enter this weekend's Lower Peninsula Division 1 Finals at Eastern Michigan University tied for the No. 10 spot in the final rankings with league rivals Hudsonville and Grand Haven, and just behind the No. 8 Rams.
 "We're very blessed to swim in a very talented conference," said West Ottawa coach Steve Bowyer, who has guided the program since 2006.
"Rockford, Hudsonville and Grand Haven are all ranked in the top 10, and to win the O-K Red you need an incredible amount of depth. That's one thing our team had this year."
Senior Ayisha Afrik, one of West Ottawa's top performers, said the O-K Red provides a grueling test.
"I think the O-K Red is super competitive," she said. "The east side of the state has a lot of fast swimmers, but I definitely think the O-K Red has some pretty fast swimmers, too. It's nice to have that there during the conference dual season because you understand the competition and what you are in for when state rolls around."
It was the second straight O-K Red championship for the program. The Panthers also swept the league dual meets.
"That was a great time, and it was kind of a surprise," Afrik said. "We knew some of the teams were pretty evenly matched, but after prelims we felt pretty secure – and to win it twice in a row out of my four years was really great."
The Panthers hope to carry the momentum from their conference success into this weekend's Finals. They will send 11 athletes – 10 swimmers and a diver – and have aspirations of finishing among the top 10.
West Ottawa finished eighth in 2017, but just a point out of seventh and 29 out of fifth.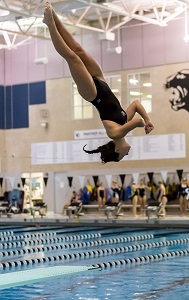 "Coming into the meet, our goal as a program each year is to try and be in the top 10," Bowyer said. "We feel like if we can consistently be a top-10 team at the Division 1 meet, then we're doing some good things and we're moving in the right direction.
"We know that we have our work cut out for us because there are a lot of great teams this year and a lot of fast relays. The key to finishing in the top 10 is to score three relays, and that's our goal."
West Ottawa won the LP Division 1 title in 2012 and has placed among the top 10 consistently over the past decade.
Bowyer attributes the team's ability to maintain consistency at the Finals to a dedicated group.
"We have a lot of kids who are very committed to the sport, and we've been fortunate to have a number of kids come through the program who have been committed to swimming in-season and out of season," Bowyer said. "And you get a few of those coming through, and then they pull a few kids along with them and it's been really cool to see the program grow the last 10 years."
Afrik will be the catalyst this weekend and has the potential to finish among the top 10 in the 50 and 100-yard freestyles. She finished eighth in the 50 and 14th in the 100, and helped two relays to fifth-place finishes last season.
"Hopefully we can get some individual PRs (personal records) and get top eight in two of our relays," Afrik said. "I would like to get the school record individually, and that would be nice to have. I just want to have a great last meet with my team."
Sophomore Lilly Brandt is expected to swim well in the 200 and 500 freestyles, while senior Kasey Westenbroek is strong in the 100 backstroke. Brandt placed 13th in the 200 and 15th in the 100 last season, while Westenbroek just missed qualifying for the championship heats in backstroke.
Junior Ryann Harper will attempt to help her team in the diving portion of the meet after also competing at the Finals as a sophomore.

Dean Holzwarth covered primarily high school sports for the Grand Rapids Press and MLive for 16 years and more recently served as sports editor of the Ionia Sentinel and as a sports photojournalist for WZZM. Contact him at dream100@comcast.net with story ideas for Allegan, Kent and Ottawa counties.
PHOTOS: (Top) West Ottawa's Ayisha Afrik will look to finish her high school career with another strong performance at the MHSAA Finals. (Middle) Ryann Harper performs a dive during competition. (Photos courtesy of the Holland West Ottawa athletic department.)