Boven-Built Mattawan Serving Up Success
April 23, 2018
MATTAWAN — When Matt Boven first started coaching the Mattawan girls tennis team, he was "an 18-year-old coaching 18-year-olds," he laughed.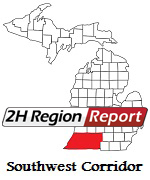 Twenty years, a wife and two daughters later, Boven is still leading the Wildcats and racking up some impressive numbers.
During his tenure, Mattawan has eight top-10 finishes at the MHSAA Finals, including a ninth in Lower Peninsula Division 2 last year.
The Wildcats' best Finals finish was a third-place tie with Grand Rapids Forest Hills Northern, Holly and North Farmington in 2004.
The team also has six Regional titles and own eight outright Southwestern Michigan Athletic Conference titles and 12 divisional championships. Boven was named Division 2 Coach of the Year for girls tennis in 2011 by the Michigan High School Tennis Coaches Association.
Their record over 20 years is 141-30-23. So far this year, the Mattawan girls are 3-1-1.
"In 20 years, we've never had a losing season," Boven said. "For six years, we didn't lose a dual match."
Program building
Boven is relying on upperclassmen to lead the team this season after graduating eight a year ago. 
His roster includes five freshmen and three others who played junior varsity last year.

"I think that we're actually pretty good for all the players we lost," said sophomore Kate Novak. "We've done well in most of our matches."
Junior Meredith Smola, who plays No. 2 singles, agreed.
"We have a lot of incoming freshmen who are actually good," she said. "We will do well if we stay focused and work hard."
One reason for the Wildcats' success over the last two decades has been the summer program Boven started.
"Last summer we had 240 participants," he said. "Forty-five kids are also in the middle school program."
The summer program runs from the end of June to the beginning of August, with former Wildcats players helping out.
"I think a part of the story is about the program that (Boven) is creating," Mattawan High School principal Tim Eastman said. "He is working tirelessly at all levels.
"His camps are full each summer. His JV team is huge, and kids genuinely like him."
Liking and respecting the coach is a key to the team's success.
"He is so much fun," Smola said. "He's a combination of working and bringing fun to the team.
"When I'm playing matches and losing, he'll come to the fence to help me. If it's a long match, he brings fruit and granola."
Novak said Boven is good at getting the team pumped for matches.
"He's really fun and does a really good job of getting everybody excited for the matches," she said. "He'll give us a pep talk before matches and tell us we can win. No matter what, if we work hard, he'll still be proud of us."
Boven held a variety of jobs before settling in as an English and digital media teacher at Mattawan.
A multi-sport athlete at Mattawan High School, he played varsity tennis all four years but did not really focus on tennis until he was 17 years old.
He played two years of tennis for coach Darrell Davies at Kalamazoo Valley Community College before transferring to Western Michigan University, where he focused on academics instead of sports.
He also has coached the Kalamazoo College women's tennis team and Hackett Catholic boys team, leading the Irish to a share of the LPD4 title in 2005, and was a teaching pro at the Portage Y and Battle Creek's Mingus Creek.
All the while, he continued as Mattawan's girls coach.
"I've always loved Mattawan, the school, the community, the people," he said.
Stowe in sights
Qualifying for the Division 2 tournament to be played June 1-2 would be even sweeter this year.
Kalamazoo College's Stowe Stadium is just down the road from Mattawan.
Novak, who has been playing tennis since age 3, made it to the No. 1 singles semifinals last year as a freshman and knows what to expect.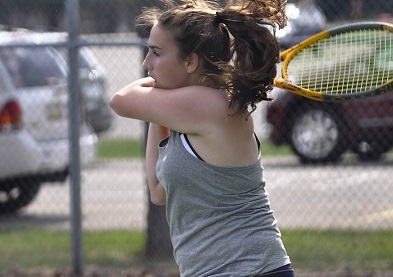 "That was really exciting," she said. "I learned that no matter how old you are or how good you think you are, you can beat anybody or lose to anybody any day."
Smola also learned an important lesson.
"It was really, really hot and I learned you have to bring lots of water and stay hydrated," she said. "I had to default my second-round match because of heat stroke."
Tennis is in her genes. "I started tennis at 7 or 8 years old," Smola said. "My four older brothers played, so do my aunts, uncles, grandparents, mother. It runs in family."
It is the same for Novak, whose father played at University of Iowa on a tennis scholarship. He is also an assistant coach for the Mattawan girls team along with Davies and Steven Norton, the school's junior varsity boys team coach.
Boven said one advantage he enjoys while coaching girls is "they seem to really listen and seem to be much kinder. They have the ability to appreciate the moment and people around them. They realize that it's more about relationships than winning."
Two girls he is not coaching yet are he and his wife Valerie's daughters, Olive, 4, and Penny, 1.
"I would love them to play tennis so I could hang out with them more, but right now Olive is more interested in princesses and Penny is more into Play-Doh," he said.
Two freshmen round out the singles flights, with Camryn Baney at No. 3 and Lily Ross No. 4.
In doubles, senior Eleri Irish and freshman Juliette Langlinais compete at No. 1, while junior Grace Bonnema and freshman Olivia Eubank are at No. 2.
Senior Aubrey Hayward and junior Lilia Farrugia partner at No. 3 doubles.
Junior Payton Brinks and freshman Natalie Muresan round out the lineup, with juniors Alison Weems and Allison Thorpe available to sub.

Pam Shebest served as a sportswriter at the Kalamazoo Gazette from 1985-2009 after 11 years part-time with the Gazette while teaching French and English at White Pigeon High School. She can be reached at pamkzoo@aol.com with story ideas for Calhoun, Kalamazoo and Van Buren counties.
PHOTOS: (Top) Mattawan's Kate Novak attempts to return a volley during last season's Lower Peninsula Division 2 Finals. (Middle) From top, Mattawan coach Matt Boven, sophomore Novak and senior Aubrey Hayward. (Below) Meredith Smola follows through on a swing. (Top action photo by HighSchoolSportsScene.com; head shots by Pam Shebest; bottom action photo courtesy of Mattawan athletic department.)