Country Day Reign Continues with 3-Peat
June 2, 2018
By Jeff Febus
Special for Second Half
HOLLAND – The Detroit Country Day dominance continues in MHSAA girls tennis.
The Yellowjackets captured their third consecutive Lower Peninsula Division 3 championship Saturday afternoon at Hope College, posting a final team score of 38 points. Bloomfield Hills Cranbrook Kingswood – an eight-time Division 3 girls tennis title winner – was second with 22 points followed by Ada Forest Hills Eastern with 21.
A year after claiming 39 out of a possible 40 points at the Finals, Country Day reverted to near-perfect form as it claimed all four singles flights and three of the four doubles flights.
Country Day entered the day owning only one of the top seeds in the four doubles flights, but pulled upsets at No. 1 and No. 4. Seeded second, Heather Zimmerman and Nina Khaghany pulled off the upset win at No. 1 doubles, defeating the top-seeded tandem of Kate Cao and Amelia Smith of Cranbrook Kingswood 5-7, 6-4, 6-1. 
At No. 4 doubles, the second-seeded duo of Anushri Radhakrishnan and Maria Sicilia from Country Day topped Cranbrook Kingswood's top- seeded team of Simrin Nagaraju and Mia Inakage 3-6, 6-2, 6-2. Country Day also won at No. 3 doubles as its team of Maya Nassif and Ruhi Nayak downed Allegan's team of Delaney Heckman and Maddy Layton 6-4, 6-2 in the final.
"I thought our doubles teams really rose to the occasion today," said Country Day head coach Jessica Stencel. "We had a couple of two seeds and a four seed, and the two seeds came up with the upsets."
Stencel noted that the upset at No. 1 doubles was filled with emotion. "We had lost to them two times in straight sets during the regular season, so it was a really emotional match for (our No. 1 doubles)," said Stencel. "They knew they had to play really well to win. They rose to the occasion and didn't look back. We're really proud of them because it was the best tennis they played all year."
In singles action, the Yellow Jackets came in with the top seed in all four flights and held serve. "In singles we had a few obstacles today, but our singles players fought like they have all year," Stencel said. They're really talented girls, so it wasn't a surprise that we came out on top there."
Leading the charge was freshman Julia Fleigner, who did not drop a set during the weekend and cruised to a 6-3, 6-1 victory over third-seeded Claire Danko of Grand Rapids Catholic Central in the championship final.  "She's a great leader and a top-20 player individually in the country," said Stencel. "She's such a great girl, and we're really lucky to have her."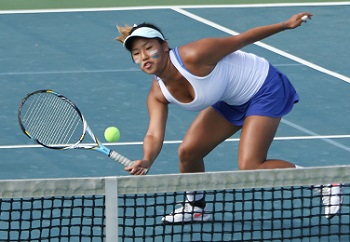 According to Fleigner, playing in front of teammates made a difference. "It was great. It's amazing to work with this team and be state champions together," she said. "It's the best feeling. There were definitely some nerves today. There's a little bit of pressure being here on the big stage, but it's better to be out here with the team and feeling the support."
Fleigner's championship at No. 1 singles came a year after current teammate Monique Karoub won the No. 1 singles crown. The emergence of Fleigner provided Country Day greater firepower but also bumped the reigning No. 1 singles champion down a flight. A junior, Karoub won the No. 2 singles title with a 6-0, 6-3 win over Deena Haddad of Flint Powers Catholic. 
"She's a competitor. No one is going to be happy from going from No. 1 to No. 2 when they're that much of a competitor," said Stencel of her junior captain. "Monique also has a lot of respect for Julia. They know each other well off the court. When Julia took that number one spot, she was happy for her but she knew that she still had a big position on the team. No. 1 singles doesn't get more points than No. 2 singles. She's a very good sport about things. She's a team captain. She's well respected by her teammates. I can't speak enough positive things about her."
Despite playing at the No 1 singles spot before, Karoub felt nerves of her own Saturday. "I was really nervous," said Karoub. "I get nervous coming out here every year. There was a lot more pressure knowing that since I won (No. 1 singles) last year I should be able to win it at a lower spot, but I was able to use that pressure to help me. I just used what my coaches were telling me. We're a close-knit team, and the support of my teammates really helps. 
Also claiming singles titles for Country Day were Elle Hartje and Alexis Nardicchio. Hartje was a 6-0, 6-0 winner over Claire VerBrugge of Forest Hills Eastern at No. 3 singles, while Nardicchio was a 6-0, 6-0 winner over Avneet Deol of Forest Hills Eastern at No. 4.
Cranbrook Kingswood was the lone school to break through the Country Day brigade, winning the title at No. 2 doubles. The Cranbrook Kingswood team of Sophia Moustakas and Abby Foltyn won a spirited 7-6 (4), 6-4 match over Allegan's tandem of Emma Phillippus and Nicole Galloway. The victory allowed Cranbrook Kingswood to seal second place in the final team standings.
"It's always tough to beat a team with an all-star lineup like Country Day, but I thought we competed extremely well," said Cranbrook Kingswood head coach Steve Herdoiza. "I am happy with our performance. All in all the weekend was a great success. It gives us confidence for next year. We came together as a group and really peaked at this tournament. I think we played some of our best tennis here. We are a junior-laden team, so I think next year we will be full of confidence."
PHOTOS: (Top) Detroit Country Day's Julia Fleigner returns a volley during a No. 1 singles match Saturday at Hope College. (Middle) Cranbrook Kingswood's Kate Cao returns a low shot at No. 1 doubles. (Click to see more from HighSchoolSportsScene.com.)