GP South, Pioneer's Miller Take Back Titles
June 1, 2019
By Perry A. Farrell
Special for Second Half
MIDLAND – After disposing of reigning No. 1 singles champion Tia Mukherjee of Bloomfield Hills in the semifinals Saturday afternoon at the Greater Midland Tennis Center, 2017 champ Kari Miller of Ann Arbor Pioneer had to refocus her energy to take on Lily Jones of Grosse Pointe South.
Stunned in the first set 5-7, Miller regrouped and wore down Jones, winning the next sets 6-1 and 6-0, to claim her second Lower Peninsula Division 1 Finals title at the top flight in three years.
"I knew she had gone through a tough three-set match in the semifinal,'' said Miller. "In the first set she just ran everything down and hit some great shots. I tried to keep her running in the second set.
"This is just as special as my freshman year. I was glad my teammates stuck around, and some even came down to watch.''
It's rare that champions face off, but that was the case when Mukherjee faced Miller in the semifinals. Miller had defeated Mukherjee in the 2017 championship match, and in Saturday's rematch prevailed again, 6-2, 6-4.
Miller didn't play high school tennis last year, and Mukherjee assumed the role as the most dominant player in Division 1, winning 6-0, 6-0 in the 2018 final against Northville's Shanoli Kumar. Miller spent her sophomore year playing in elite tournaments across the country, including in Palm Springs, Calif., Atlanta and Grand Rapids.
She fared well in those three events, finishing in the top five at all three venues.
"I've had some great ones," said longtime Pioneer girls and boys head coach Tom Pullen. "It's special for her to come back and play high school tennis because she didn't have to do it. She's special.''
Since Miller had already determined that University of Michigan would be her college choice, coming back to play high school tennis at Pioneer became appealing.
"Since she has already committed to Michigan, I think it was a no-brainer that she came back to play for the team this year,'' said Pioneer assistant coach Dan Goldberg. "This is a totally different dynamic from the national USTA scene. There were some nerves in her first match today. She wasn't really used to this environment and everybody yelling and screaming. It affected her a little bit. She had to settle in and go about her business like this was any other tournament.''
The third-seeded Jones may have fell just a set short of closing out the title at No. 1 singles, but her point from a three-set win over Plymouth's second-seeded Jessica Braun in the semifinal played a significant role in deciding a tight team race.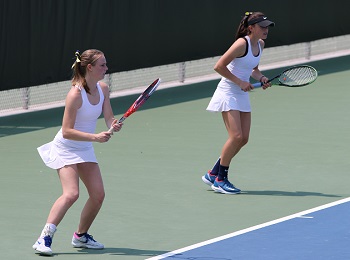 Jones eventually won the match over Braun, 6-3, 6-7, 6-4 to face Miller in the final. South, ranked No. 1 coming into the tournament, won the team title just ahead of Bloomfield Hills, 30-28.
"She's getting tired now, but that was a big point for us,'' said coach Mark Sobieralski during her match with Miller.
The championship was South's first since 2014 and third this decade.
"It's all about the mental,'' he said. "We didn't talk about where we were ranked. We try to keep things in small terms. (Friday) was phase 1. Today was phase 2. We had to take care of business today.''
Top seed Miriam Gandham of Ann Arbor Huron dominated Savannah Matuszewski of Midland Dow, 6-0, 6-0 to clinch the No. 2 singles title.
Midland Dow's Laura Leiti, the top seed at No. 3 singles, defeated Jenna Silverman of Bloomfield Hills, 6-2, 6-2 in that final.
"I had played her before so that helped, but states is so hectic,'' said Leiti. "I just went out there and hit the best I could. I tried to adapt to her game, but it was a matter of me moving my feet and going for shots.''
At No. 4 singles, top seed Moira Hix kept South in the running for the team title with a 6-2, 6-2 victory over three-seed Claire Earley of Midland Dow.
The No. 1 doubles title went to the Bloomfield Hills duo of Madison Narens and Hannah Tomina with a 6-3, 6-4 victory over Northville's Maya Mulchandani and Sophie Zhuang.
South claimed the No. 2 doubles title as Anna Dietz and Claire Beardslee defeated Northville's Madison DeYoung and Andrea Nam, 5-7, 7-5, 6-3.
Northville's No. 3 doubles team of Connie Gao and Michelle Tong defeated South's Kaitlin Ifkovits and Mairin Heimbuch, 6-4, 4-6, 6-1 to claim the crown.
At No. 4 doubles Bloomfield Hills' top seeds Susan Baenen and Emma Gray knocked off Troy's Lana Rihawi and Julia Macri, 6-0, 6-4.
PHOTOS: (Top) Ann Arbor Pioneer's Kari Miller lines up to return a volley during Friday's rounds at Greater Midland Tennis Center. (Middle) Grosse Pointe South's No. 1 doubles pair of Kate Beardslee and Maddie Hurley earned their team key points by reaching the semifinals. (Click for more from HighSchoolSportsScene.com.)