Johnston Tips Title to Birmingham Seaholm
May 30, 2015
KALAMAZOO — Lisa Johnston was stunned when her Birmingham Seaholm teammates mobbed her on the court following her No. 3 singles win at Kalamazoo College's Markin Racquet Center.
Johnston's 6-3, 3-6, 6-4 win against Okemos sophomore Monika Francsics was the clincher that gave Seaholm the MHSAA Lower Peninsula Division 2 championship with 29 points, one better than Grand Rapids Forest Hills Northern.
Last year, the two teams shared the title.
Bloomfield Hills Marian finished third with 23 points and Okemos fourth with 21.
"When everyone came rushing in, I was so surprised and so happy," Johnston said. "I'm glad I didn't lose. It helped not knowing (hers was the clincher)."
At No. 1 singles, Okemos senior Emily Struble finished her high school career with four MHSAA Finals titles, including a 6-3, 6-3, win against Northern senior Claire Aleck.
In the final match on court, Northern senior Madeline Bisset avenged her only loss in two seasons with a 6-0, 4-6, 7-6 (1) win against Portage Central senior Carly Pratt at No. 2 singles.
Northern senior Sydney Whitfield, the top seed at No. 4 singles, defeated second-seeded Kylie Wilkenson, a junior from Okemos, 6-4, 6-3.
Seaholm coach Scot Ransome and the players knew Johnston represented the title-clinching point.
"I certainly didn't emphasize that to her," Ransome. "Enough pressure playing in the finals of the state championship without also know it's the tipping point for the team.
"The focal point this year was, interestingly enough, I challenged the girls just last week. We have a number of plaques on the wall that say State Champions and Finalists, but none say repeated State Champ.
"Playing into the second day and the pressures of it, the girls stayed focused. We played probably the top six teams in D-1 (during the season) and that certainly helped prepare us for the success we enjoy today."
Northern coach David Sukup said losing is tough, especially with seniors playing all four singles and two doubles flights.
"We had our chances," he said. "It's our own fault. We had flights where we could have won one more match and we didn't.
"It's all part of the game. Second's better than third, but not as good as first."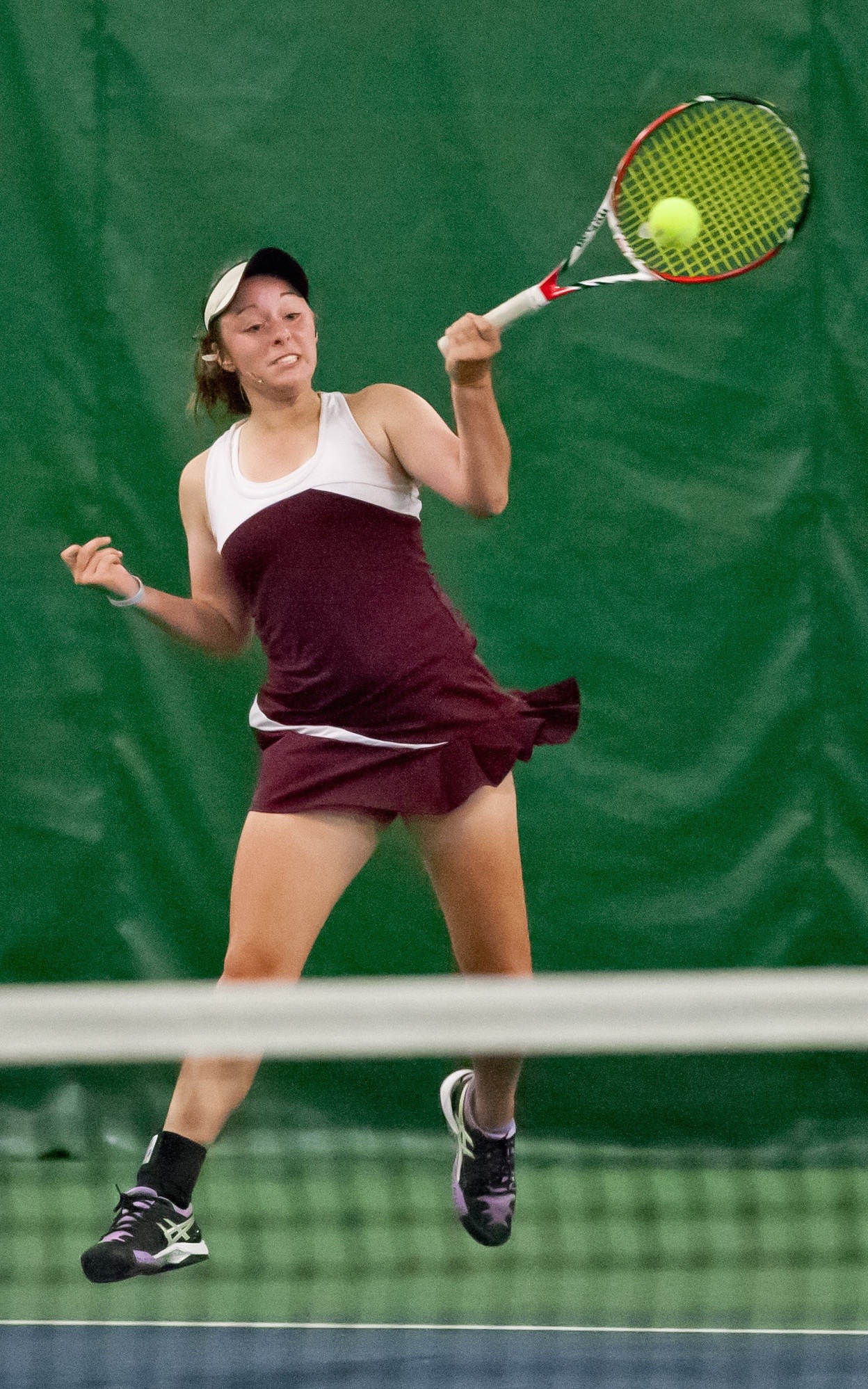 Johnston won the title at No. 4 doubles last year and moved up to No. 3 singles because, "I just worked really hard. I was determined," she said.
Francsics was gracious in defeat.
"She was really consistent, she really was," Francsics said. "She never let down. She tried really hard the entire time, not to say I didn't try. She was really focused the entire time and never gave me a chance to really dominate the match."
Struble, the top seed, won titles at No. 2 singles her freshman and sophomore seasons and at No. 1 her final two years.
That experience "definitely helped because it was really loud in there and it was really easy to get distracted, but I kept my composure because I've been in those positions before for four years," she said.
"I know both of my (semis and finals) opponents really well and I knew they were both going to be really hard matches. I played (Aleck) last year in the finals and it went to three sets. This year, earlier in the season I beat her in three sets, so I really knew it would be a hard match."
Aleck, seeded third, said her slow start made a difference.
"She came out hot right from the start," she said. "I guess it just didn't go my way today.
"We definitely had some long points, and I think she just kinda outplayed me on most of them. I think I was on the defense a lot and she was on the offense, so I had to work harder to get balls back. Emily's a tough opponent."
Competition between the two isn't over yet. Both are headed to Mid-American Conference schools; Struble to Miami University of Ohio and Aleck to University of Toledo.
Bisset, the top seed at No. 2, said defeating second-seeded Pratt was extra special, avenging her only loss in two seasons.
After winning the first set at love, "For me, it's all nerves," Bisset said. "I came out really confident and ready to go. Then in the second set I got a little tentative, and that doesn't really help me much. It didn't go well, but I managed to pull it out."
Although the two were playing on Court 4, the farthest from the bleachers, the Northern crowd certainly made themselves heard on each winner.
"The energy from the crowd helped me so much," Bisset said. "I don't think I would have been able to do it without everybody cheering."
Pratt said she wasn't ready to give up after the first set.
"I wanted to win," she said. "I rushed in the first set and didn't play smart. I said I wanted to do this and I almost did."
In spite of the loss, Pratt tied a school mark, according to coach Peter Militzer.
"That's the second time in school history that a female tennis player made the state finals," he said. "The first time was 10, 11, 12 years ago, the 4 doubles made the state finals but didn't win."
Whitfield, the top seed at No. 4, has improved one step in the tournament each season.
A lefty, "For me, it's an advantage because it spins differently with the serve, so it spins out," she said.
Wilkenson said playing a lefty didn't really bother her.
"It wasn't the lefty that really threw me off; it was the fact that her ball didn't have much pace and I couldn't relax throughout a lot of my match because I was nervous," she said. 
Seaholm won two doubles titles. At No. 2, juniors Caity Buechner and Meaghan Flynn, the second seeds, defeated Northern's top seeds, sophomores Felicia Zhang and Maansi Dalmia, 6-2, 7-5.
At No. 3, top seeds Sam Lareau and Emily McDermott, both juniors, defeated No. 2 senior Marta Colosimo and junior Shannon Flynn, of Marian, 6-3, 6-4.
Marian's top seeds, senior Bianca Emde and junior McKenna Landis, defeated the second seeds, Seaholm seniors Rachel Fenberg and Laine Boitos, 6-2, 7-5, at No. 1 doubles.
At No. 4 doubles, after upsetting the top seeds in the semifinals, Grand Rapids Forest Hills Central's fifth-seeded senior Taylor Schermers and sophomore Alexis Bonner defeated senior Emily Benderoff and junior Jessica Morganroth, the third seeds from Seaholm, 6-4, 6-2. 
PHOTO: Lisa Johnston returns a shot during her championship match at No. 3 singles Saturday which ended up deciding the MHSAA title in favor of Birmingham Seaholm. (Middle) Okemos' Emily Struble follows through on a shot during the No. 1 championship match; she finished as a four-time singles title winner. (Click to see more from HighSchoolSportsScene.com).