Next Negaunee Standouts Take Title Turn
October 5, 2018
KINGSFORD — The Negaunee girls continued their winning ways at Thursday's Upper Peninsula Division 1 Tennis Finals, earning their fifth straight championship with 15 points.
They were followed by Marquette with 13, Menominee nine, Kingsford eight, Gladstone six and Escanaba with two.
"We knew coming in that Marquette and Menominee would push us," said Negaunee coach Kyle Saari. "We needed to get a number of our flights into the finals, and we got 6-of-8, which put us in good position. You just have to focus on the job ahead of you once you get in."
The Miners clinched the title with senior Maci Aho's 6-4, 6-1 victory over Marquette's Mollie Kilpela in No. 2 singles. 
"I didn't know our match was going to decide it," said Aho, who won at No. 4 singles the past two seasons. "I tried not to worry about the team standings and focused on doing my job. I just sprinted to every ball, and Mollie did the same. She's a very good player. I don't have a special shot. I just do what I do."
Negaunee sophomores Morgan Carlson and Katelyn Lammi completed a perfect season (21-0) with a 6-3, 6-3 victory over Menominee's Abbie Anglehart and Meghan Francour in No. 3 doubles for their first title on a sunny and seasonably cool day in Dickinson County.
"I think it went pretty well," said Lammi. "We didn't play at our best, but we did well at the net. Winning here for the first time is a pretty big confidence boost."
Both girls believe Thursday's championship will be a major motivator going forward.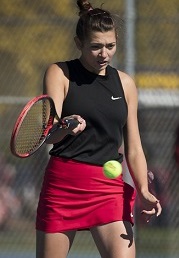 "We know where our strengths are and what we need to work on," said Carlson. "I felt we moved around pretty well, which is what our coaches wanted us to do. Only, you have to know when to attack and when to back off."
The Miners were facing the possibility of rebuilding after graduating seven from last year's team. 
"We're pretty sophomore heavy, but every girl stepped up," said Saari. "We just hope to keep it going as long as we can. This has been a fun year in the U.P. Each team presented a different challenge. The most important thing is the girls didn't get complacent. They were able to stay focused."
Marquette junior Elysa Olivier won No. 1 singles with a 7-5, 7-6 (7-5) triumph over Gladstone junior Andie Belanger. 
"She's a real good player," said Olivier, who won at No. 2 singles a year ago. "Andie has gotten so much better since the first time I played her. I was real nervous coming into the finals. There were times when I lost my focus. We both hit some great shots. 
"The other players really stay on their game (in No. 1 singles). Next year won't be a picnic, but I'm really looking forward to it. I'm definitely going to play over the summer."
Olivier was also happy with how the season went overall. 
" I'm really proud of our team," she added. "We're losing a lot of good players and friends, but I'm looking forward to playing with the new girls next year."
Negaunee, Marquette and Menominee won two flights apiece. Gladstone and Kingsford took one each.
PHOTOS: (Top) Negaunee won its fifth straight MHSAA Finals championship Thursday. (Middle) Marquette's Elysa Olivier returns a volley on the way to claiming the No. 1 singles title. (Photos by Adam Niemi.)