Powers Continue Run with Shared D2 Title
May 31, 2014
By Mark DeHaan
Special to Second Half
HOLLAND – Been there, done that.
For the past 11 years, one of three teams has won the MHSAA Lower Peninsula Division 2 girls tennis championship: Birmingham Seaholm, Bloomfield Hills Marian, or Grand Rapids Forest Hills Northern. And, on Saturday, those teams again finished 1-2-3.
Actually, it was 1-1-3.
For the second time in those 11 seasons, team co-champions were crowned as Forest Hills Northern and Seaholm tied with 31 points. Marian finished third with 24 points while East Grand Rapids was fourth with 22.
Early in the day, Seaholm led as junior Claire Markley earned the first individual title of the day at No. 3 singles, defeating Catherine Wingrove of Okemos 6-2, 6-2.
It was Markley's third appearance in a Finals title match, and her first win.
"This year I was really excited to make it to the finals and win," Markley said. "I just played my hardest, and I am really excited to play so well."
Seaholm won its second flight title at No.4 doubles. Freshmen Sophie Dixon and Lisa Johnson beat Katie Champion and Marta Colisimo from Marian 7-5, 6-0. It was the third time this season that the two teams had met.
"We've played them two other times this season, so playing them again we were familiar with their style of play," Johnston said. "We just stayed focused to win it."
In a two-point hole, the Huskies began to rally and get back into the thick of the championship race.
A win at No. 2 doubles for Forest Hills Northern seniors Hailey Jones and Stephanie Nguyen by a score of 6-3, 4-6, 6-0 gave the Huskies their first flight title of the day.
Forest Hills Northern then secured another win at No.2 singles from junior Madeline Bisset, who won an important matchup against Seaholm's Lauren Frazier 7-5, 6-1.
"I just knew that our team really needed that point, especially again Seaholm," said Bisset. "I went for every single ball, and just fought through the heat."
Marian took its lone flight title of the day at No.4 singles as Sophia Belardo won 6-3, 6-1 over Sydney Whitfield of Forest Hills Northern.
Sophomores Emily Mcdermott and Meagen Flynn then won at No.3 doubles for Seaholm. The Maples defeated their opponents from East Grand Rapids 6-4, 4-6, 7-5.
"All season long the assistant coaches and I have really been trying to emphasize that there's a pedigree that goes with playing at Seaholm, and we see results in a match-by-match basis that the girls buy into, and do so legitimately," Seaholm coach Scott Ransome said. "We place plenty of emphasis on playing up to our seeds, but certainly playing up to the expectations that we have; this is Seaholm tennis that we play, and it's quality tennis."
The Huskies continued to rally late. With only two matches left on the court, Forest Hills Northern remained down a point.
At No. 1 doubles, the third-seeded Pioneers of East Grand Rapids took the first set 6-4. Down 5-2 in set two, the Huskies mounted a comeback. The No. 1 doubles team of senior Victoria Minzlaff and junior Jessie Stevens responded by winning five straight games to take the second set 7-5, then won the third 6-4 to take the match.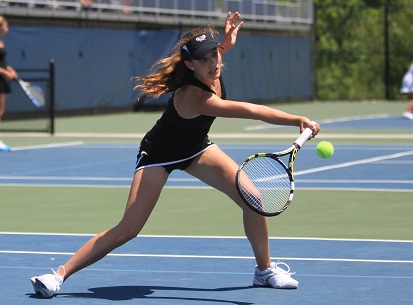 "I remember looking at my partner and saying, 'Vic, will you fight with me?', and after that, we just worked so hard to make it to three sets," Stevens said.
Every year, the Huskies write the word 'FIGHT' on their forearms for the MHSAA tournament as a reminder. Forest Hills Northern did exactly that, and it nearly led them to a sole claim of the championship.
At No. 1 singles, Forest Hills Northern junior Claire Aleck earned a three-set 6-4, 3-6, 7-5 semifinal win to earn a berth in the final against back-to-back No. 2 singles champion Emily Struble of Okemos, who moved up to No.1 singles for her junior season.
In the No. 1 singles final, the last match left on court, Aleck won the second set 6-2 after losing the first 6-1. But the Forest Hills Northern junior ran out of gas, and Struble, who came in seeded fifth in the No. 1 singles flight, completed her third individual title run with a 6-1, 2-6, 6-2 victory.
"Coming in as the five seed, I knew that I would have to upset higher seeds in order to win. But I knew that the people that were ahead of me, I could at least compete with," Struble said. "My last match, I knew she would be a little bit worn out from her last match, so I wanted to keep her on the run as much as possible."
Said Aleck: "Emily's a great opponent and she deserves it. I'm not disappointed with the way I played, I went out there, gave it my all and fought hard."
"Claire Aleck is probably one of the hardest workers I've ever had," said Forest Hills Northern coach David Sukup. "She just works hard every day, every minute, all the time. She had a hard three-set match in the semis, and we didn't think she'd have as much energy back. But she fought all the way into the third set."
Likewise, Okemos coach Lisa Semerly praised her junior for her toughness.
"(Emily) did fantastic. She remained composed throughout her matches, and we knew that the five seed was a little understated," Semerly said. "She's just a strong competitor."
The team co-championship marked the ninth MHSAA title for Forest Hills Northern in the last 12 years, while Seaholm has won three championships during that span.
PHOTOS: The Forest Hills Northern No. 1 doubles pair of senior Victoria Minzlaff (left) and junior Jessie Stevens battled back to win their flight championship Saturday. (Middle) Birmingham Seaholm's Caity Buechner sends back a shot during a No. 2 doubles semifinal. (Click to see more at HighSchoolsSportsScene.com.)