Sacred Heart, Moyer Cap Familiar Climb
By Keith Dunlap
Special for Second Half
NOVI – This might have been the third time in her four-year high school career that Kalamazoo Hackett senior Natalie Moyer was in this spot.
But that doesn't mean nerves still weren't a factor when she advanced to the No. 1 singles championship match at the MHSAA Division 4 Finals on Saturday.
"At first I was a little nervous and was playing like I was nervous," Moyer said. "I just kind of calmed down and played with confidence. Just played my game."
Moyer definitely did that against Taylor Smith of Jackson Lumen Christi, surviving the first set with a 6-4 win before rolling to a 6-0 win in the second to claim her second Finals championship.
As a sophomore, Moyer won the title at No. 2 singles, but it was another match that was most on her mind Saturday.
Last season, Moyer lost in the championship match at No. 1 singles to Smith by scores of 6-2, 6-2, something that fueled Moyer all offseason and throughout an unbeaten regular season that saw her enter this weekend as the No. 1 seed at the flight (Smith was No. 2).
"I was really motivated to get the state title this year," said Moyer, who will play in college at Xavier University. "That's what I wanted all season."
While Moyer ruled the day individually, the team portion of the tournament belonged to a traditional power.
It felt weird for Bloomfield Hills Academy of the Sacred Heart to not win the crown last season after winning it all four of the previous five years. But Sacred Heart easily returned to the top perch in the state.
The Gazelles scored 32 points, seven ahead of Traverse City St. Francis and 12 ahead of Jackson Lumen Christi, the top-ranked team heading into the tournament.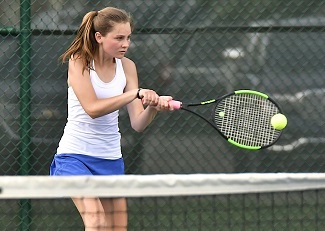 Sacred Heart entered the postseason ranked No. 2, but coach Judy Hehs said that didn't provide her team any extra motivation.
"We don't talk about the rankings," Hehs said. "We play a really tough schedule, and we don't understand what it means to play Division 4 schools. They know the Catholic League and they know the independent schools. When we get here, 50 percent of the teams, they don't know. We don't talk about rankings."
Sacred Heart saw Reagan Beatty win the flight title at No. 3 singles with a 4-6, 6-4, 6-0 win over Taylor Kennedy of Monroe St. Mary Catholic Central, and the Gazelles dominated the doubles portion of the competition winning all four flights.
Sara Gerard and Annie Keating at No. 1 doubles, Nolwenn Crosnier and Kelleigh Keating at No. 2, Kathryn Monahan and Serena Seneker at No. 3 and the team of Hannah Kakos and Kate Myers and No. 4 doubles all brought home flight championships.
"Every flight on this team this year did what they had to do," Hehs said. "Everyone contributed."
Maggie Ketels of Hackett won the title at No. 2 singles with a 6-0, 6-0 win over Oriana Gulvesan of Ann Arbor Greenhills, and Paige Davies of St. Francis won the No. 4 singles title with a 6-0, 6-2 win over Hannah Hodgson of Monroe St. Mary.
In search of its first MHSAA Finals team title in this sport, St. Francis finished as the runner-up for the third time in four years – but this year had a more uplifting feel to it than the others.
"We feel really good about it," Gladiators coach Paul Bandrowski said. "We were 16th last year, and we lost a lot of seniors. We came back and jumped from 16th all the way back to second. We have a lot of young players."
PHOTOS: (Top) Kalamazoo Hackett's Natalie Moyer fires a shot during her No. 1 singles Quarterfinal. (Middle) Academy of the Sacred Heart's Reagan Beatty volleys during a No. 3 singles match for the eventual team champion. (Click to see more from HighSchoolSportsScene.com.)