KINGSFORD — A trio of Upper Peninsula wheelchair athletes were among five statewide who concluded their seasons June 4 competing in first-time adaptive events at MHSAA Finals.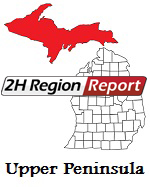 This spring, the MHSAA Track & Field Regionals and Finals included its first adaptive 100, 200 and 400-meter dashes and shot put.
"Learning the technique and staying motivated is very challenging," Houghton senior Maria Valet said after the Western Peninsula Athletic Conference meet May 31 at Calumet. "I go to regional competition downstate and in Indiana and Wisconsin. I also do little bit of weight training, but practice mostly on the track. I also work a little bit with Dean Juntunen (a longtime wheelchair racer from Ontonagon), who gives me some pointers. It's good to have something to work for and see other people do it."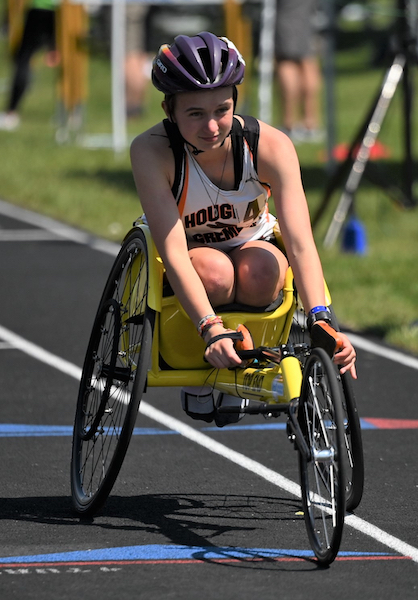 Joining Velat at the Upper Peninsula Finals in Kingsford were Marquette freshman Jim Bennett and Sault Ste. Marie freshman Johnny Osborn.
Velat covered the 100 in 26.56 seconds, 200 (51.15) and 400 (1:35.96) and recorded a 10-foot toss in shot put.
Her effort in the 400 at the Finals was nearly a personal-best.
"My best time in the 100 is 25.7 and I've done the 200 in approximately 48 seconds," she said. "I think the 100 is my hardest event because it's harder to gain momentum."
Velat will attend the University of Michigan and major in biology. She will also be on the track team.
Bennett shattered his previous best time in the 200 by more than 2½ seconds was clocked at 24.31 in the 100 and 1:39.74 in the 400.
"It feels real good to race against other people," he said. "I haven't had the opportunity to do this before. There are so many opportunities available. Colleges are looking for wheelchair racers.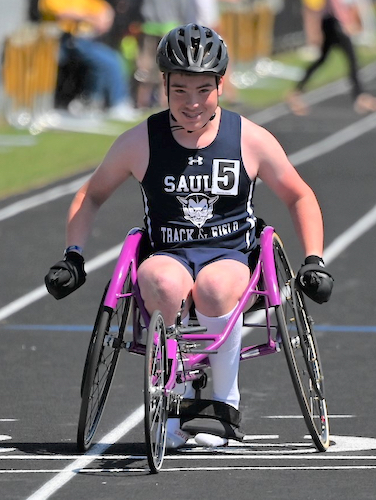 "Today was my best time in the 200 (47.52). It feels great to do that. I had my best time in the 100 (23.15) in Marquette. The longer distances are more challenging for me. Right now I'm building up."
Osborn threw the shot 13-4 at Kingsford, missing his personal best by just two inches.
"It means a lot to me to get a chance to compete," he said. "This helps bring out the competitive spirit. I do cross country, which gives me more endurance and definitely helps me for track. I also manage the basketball team at our school."
Osborn finished the 100 in 33.18, 200 in 1:17.95 and 400 in 2:21.03.
In the Lower Peninsula, Chelsea junior Jacob Nelson competed in the Division 2 100 meters, and Grosse Pointe Woods University Liggett junior Jacob Juip competed in the Division 3 100 and 200.

John Vrancic has covered high school sports in the Upper Peninsula since joining the Escanaba Daily Press staff in 1985. He is known most prominently across the peninsula for his extensive coverage of cross country and track & field that frequently appears in newspapers from the Wisconsin border to Lake Huron. He received the James Trethewey Award for Distinguished Service in 2015 from the Upper Peninsula Sportswriters and Sportscasters Association.
PHOTOS (Top) Marquette's Jim Bennett races during the UP Finals on June 4. (Middle) Houghton's Maria Velat competed in all four adaptive Finals events in UPD1. (Below) Sault Ste. Marie's Johnny Osborn also competed in all four events at Kingsford. (Photos by Cara Kamps/Run Michigan.)