By Wes Morgan
Special for Second Half
For anyone complaining about not having enough hours in the day, meet Three Rivers sophomore Hadley Miller, whose productivity within a 24-hour span is nothing short of stunning.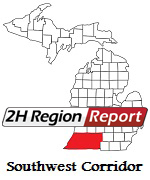 She's one of those rare student-athletes who, as if there aren't enough games to play, seemingly makes it a competition with herself to see how much she can pack into a given day.
After completing varsity seasons with the Three Rivers volleyball and basketball teams, Miller will now start a spring regimen that begins at 4:30 a.m. each day and includes a taxing weight-room workout, a full day of school, track practice, soccer practice, homework, sustenance crammed in between, and then a few hours of sleep to recharge the battery.

Miller is coming off an all-Wolverine Conference first-team performance in basketball after guiding the Wildcats to a 19-4 record this season, which ended in a Class B District Final loss to Edwardsburg last week. 
Miller averaged 18.6 points, 3.0 assists, 8.1 rebounds and 3.6 steals per game, leading the team in scoring for a second straight year. The Wildcats were 17-3 during the regular season and finished second to Edwardsburg in the Wolverine Conference South.
She's one of the latest in a line of underclassmen at Three Rivers to emerge as a big-time playmaker, particularly at the guard/point guard positions. Teammate Kali Heivilin, a freshman, earned an all-conference second-team nod.
"I think it's a combination of things," Three Rivers girls basketball coach Jason Bingaman said. "Some is the system we play and our focus at the defensive end that can make the transition easier (for younger players). Specifically, from the individual though, (Miller's) skill set, basketball IQ, and then how hard a player works has a lot to do with their performance, and I have been very fortunate to coach some players that are individually dedicated to basketball and have families that have invested time in their daughters' development."
Both Bingaman and Miller landed on team chemistry as the most important variable when it comes to youngsters integrating well at the varsity level. 
"If upperclassmen understand how the younger player can help us be successful and are great teammates, it makes it an easier transition," Bingaman explained. "Every player isn't going to progress at the same rate, and each player is not brought up for the same reason as the next, but if the aforementioned things are in place, it makes it more likely for a player to be successful."
Miller's humility and dedication to all four of her teams at Three Rivers is unquestioned, which makes the process of gaining respect from the upperclassmen that much easier. In terms of hoops, she said the team's success really was a matter of player rapport after losing five seniors from 2016-17.
"We all clicked well," Miller said. "Since we played a year together and know how we like to play, going into next year we are going to be even more confident."
Bingaman said confidence is where Miller made a big leap from her freshman year to her sophomore campaign.
"The big thing in general is her confidence level and mental approach," he said. "I believe she felt she could have an impact last year, but there was an adjustment period, and as she became more comfortable last season, we became better as a team. She has found out how to deal with teams being physical with her and being patient.
"This year I have thrown a lot at her in terms of what she is responsible for. I moved her from the wing to running our offense as the point guard over Christmas break due to injuries and she has run with it, all while increasing her minutes on the floor."
Miller has proven she can do plenty in a matter of minutes with a mastery of time management. This month she transitions to soccer as a defender for the Wildcats, and to the track & field team, where she hopes to make a return trip to the Lower Peninsula Division 2 Finals. Miller was part of the 1,600-meter relay team with Stephanie McLochlin, Shelby Krawczak and Arionne Fowlkes that placed 17th overall in 2017.
Throw in club basketball in April and Miller will be constantly on the move well into the summer.
"I like to keep in shape and keep busy," she said. "I really like to do sports. So why not? It all fits in there somewhere."

Wes Morgan has reported for the Kalamazoo Gazette, ESPN and ESPNChicago.com, 247Sports and Blue & Gold Illustrated over the last 12 years and is the publisher of JoeInsider.com. He can be reached at wmorgan@joeinsider.com with story ideas for Berrien, Cass, St. Joseph and Branch counties.
PHOTOS: (Top) Three Rivers' Hadley Miller, right, hands off the baton during a track relay last season. (Middle) Miller, far left, readies for a pass during a volleyball match at Vicksburg in the fall. (Photos courtesy of JoeInsider.com.)