Coach Predicts Title, Ithaca Girls Answer
June 13, 2016
By Geoff Kimmerly
Second Half editor
There's a clear difference between prediction and expectation. But the Ithaca girls track & field team had to decide which way coach Gene Lebron was leaning when he told his athletes they'd win an MHSAA championship this spring.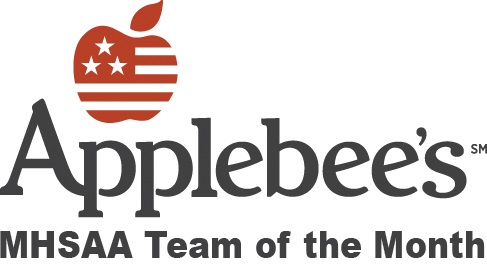 Erica Sheahan knew it was more than a pep talk.
Lebron had called his cross country team's 2014 championship as well – and that gave this spring's Yellowjackets plenty of faith in their coach's fearless forecast.
Ithaca's girls track & field team – the Applebee's Team of the Month for May – dominated its Tri-Valley Conference West competition at last month's league meet and also won its Division 3 Regional for the second straight year – and second time total in program history.
and it's impossible to overlook what the Yellowjackets then accomplished four days after May ended – win the first MHSAA Finals championship in program history, scoring 57½ points to edge Adrian Madison by 3½ at the Lower Peninsula Division 3 meet at Comstock Park.  
"This group of seniors, we accomplished a lot together and we set our goals high," said Sheahan, who repeated as LP Division 3 long jump champion. "Coach told us this would be the year, and we stuck to it and did the best we could to make it happen." 
At the MHSAA postseason level, that first step came at the May 20 Regional at Shepherd, which Ithaca won by 52 points over the runner-up Bluejays. The Yellowjackets then won their league meet on May 25 with 215 points, doubling up the field while finishing first in seven individual races, two field events and all four relays.
Ithaca also started May with a 12½-point win at the Shepherd Invitational over Cadillac, which went on to tie for 17th in LP Division 2 this month, and third-place Fowler, which won the LP Division 4 championship. Ithaca also won the Division 3 portion of the Alma College Scottie Classic on May 14.
By the end of this season, Ithaca had broken school records in every relay, long jump, the 200, 800, 1,600 and 300 hurdles. Lebron said the relay records might not be approached for some time.
"Those records were already set really high, and these girls really performed at a high level this year," Lebron said. "They really took a stride.They fed off that (2014) championship in cross country. We sent 10 girls to the MHSAA state meet, and six of those girls ran at the (cross country) state meet when we won. When we won in 2014 in cross country, we came back that track season and placed fourth. They kinda knew the writing was on the wall.
"They were disappointed with the state meet in cross country this year; they finished fifth and I thought they should've been higher, and they did too. They felt they let one get away, but they came in more motivated than ever for track."
Sheahan was the only Ithaca girl to win a Finals championship. But she also won the 100 and 200 at the Regional, where junior Courtney Allen won the 800, junior Emily Foster won the 300 hurdles, and some combination of Sheahan, Foster, Allen, Mikayla Fairchild, Kara Kindel, Morgan Most, Blaire Showers, Amelia Freestone, Kurstin Kalisek and Alyssa Mankey won all four relays.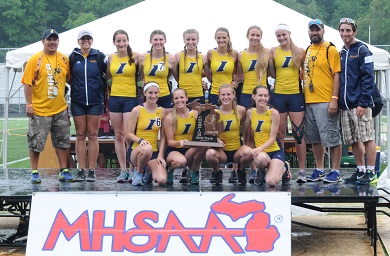 Counting every team Ithaca finished ahead of at an invitational or postseason event, the Yellowjackets were an incredible 145-2 this season, finishing third at the Michigan Interscholastic Track Coaches Association meet but winning every other time they competed.
Lebron has been around plenty of championship teams. In addition to his, Ithaca is best-known for its football team that's won five of the last six Division 6 titles. He sees every day the sacrifices made by athletes hoping to reach the highest level.
But to him, the level of commitment by the girls on this spring's team still stood out. Some played volleyball in the past, but switched the cross country to better prepare for track season. As a team, they lifted weights during the offseason three times a week at 6:30 a.m., and informally the distance runners and some sprinters would get together every Sunday for a long run.
Equally "extraordinary," the Yellowjackets have a cumulative grade-point average of 3.755.
Indeed, football does enjoy most of the statewide shine for the community of 3,000 about 45 miles north of Lansing. But the girls running program has made a reputation as well the last two school years.
"They're diehard with football. They're all friends with those guys. But they want their own success," Lebron said of his athletes. "Every team at Ithaca lives in the shadow of Ithaca football. But I don't think that's a negative thing all together. I think our girls are motivated by them. We're going to cast our own shadow. 
"Football is football; it's America. But these girls have done a good job making a name for themselves."
Past Teams of the Month, 2015-16:
April: Lake Orion boys lacrosse – Report
March: Hancock ice hockey – Report
February: Petoskey boys skiing – Report
January: Spring Lake boys swimming & diving – Report
December: Saginaw Heritage girls basketball – Report
November: Ann Arbor Gabriel Richard volleyball – Report
October: Benton Harbor football – Report
September: Mason and Okemos boys soccer – Report

PHOTOS: (Top) A pair of Ithaca runners complete a handoff during their Regional meet May 20 at Shepherd. (Middle) The Yellowjackets pose with the first MHSAA Finals championship trophy won in program history. (Click to see more from HighSchoolSportsScene.com.)