Ishpeming Finds Right Combination in D2
June 5, 2016
KINGSFORD — The Ishpeming girls carried a heavy workload this season and were rewarded with their second straight Division 2 title at Saturday's Upper Peninsula Finals.
Ishpeming scored 127 points, followed by Hancock with 104 and St. Ignace 81.
"The girls got more points than I thought they would," said Ishpeming coach P.J. Pruett. "When we started the season in the (Superior) Dome meet, we got beat by West Iron County and Hancock. We were able to put kids in the right spots, which was huge. We didn't have a lot of girls come out for track. Most of them were doing four events."
Junior Khora Swanson retained her 800-meter title in 2 minutes, 34.15 seconds and won the 1,600 (6:02.99) and 3,200 (13:21.21). She also helped the Hematites take the 3,200 relay (11:09.24).
"The weather was kind of tough early in the meet, and it effected my breathing," Swanson said. "Although it's the same for everybody. I think running with the D-1 kids (in the 1,600 and 3,200; both divisions ran together) may have thrown me off a little.
"We're excited about being U.P. champions again. We've all been working hard. St. Ignace kind of hung with us in the Regional. We're always worried about them."
Hancock's Madisyn Wright was runner-up in the 1,600 (6:08.81) and 3,200 (13:33.96).
"Khora used to anchor our 1,600 relay, then we moved her to the (open) 3,200 for points," said Pruett. "This was the second two-mile race she ran all year."
Ishpeming junior Marissa Maino repeated as champion in discus with a school-record toss of 115 feet, 5 inches and shot put at 35 feet. Teammate Libbie Doney won pole vault for the second time in three years with a leap of 8-6.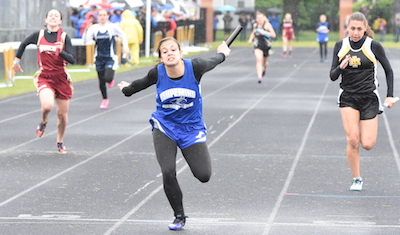 The Hematites also won the 400 relay (55.64) and took second in the 800 (1:55.8) and 1,600 (4:33.59).
Hancock senior Mary Jarvis defended her crowns in the 100 hurdles (16.74) and 300s (48.85) and helped the winning 800 relay (1:54.89). Teammate Julie Heinonen was runner-up in the 100s (16.97).
St. Ignace sophomore Linnee Gustafson was a repeat winner in high jump (5-0, she won Division 3 last season) and helped the Saints take third in the 800 relay (2:00.24).
The Saints captured the 1,600 relay in a season-best 4:27.18.
"All of our handoffs were good," said freshman Emily Coveyou, who placed second in the 400 (1:04.75) and third in the 200 (27.97). "We're just happy we won the last race. Unfortunately, I false started in the 100. But this kind of takes the sting out of that."
Gwinn sophomore Emlly McDonald set the U.P. meet record in long jump (16-10), topping the previous best (16-8¼) by Dani Gagne of Norway in 2011.
West Iron County had a triple-winner in junior Emmy Kinner, who captured the 400 (1:02.76) for the third consecutive year, retained her 100 (13.33) and 200 (27.53) titles and placed third in long jump (15-3).
"The girl from Gwinn is good," Kinner said. "She really gets high in the air. After taking third in long jump, taking first in my other three events was nice. My starts weren't bad, but your legs aren't as loose when you run in the rain. It takes longer to get warmed up."
PHOTOS: (Top) Ishpeming's Khora Swanson carries the baton during the 3,200 relay. (Middle) The Hematites' Anna Terres stretches across the finish at the end of the 400 relay. (Photos by Cara Kamps.)