Many Do Their Parts to Drive Lakes 3-Peat
June 1, 2019
By Adam Niemi
Special for Second Half
KINGSFORD – Lake Linden-Hubbell cruised to its third straight MHSAA Division 3 UP Finals championship Saturday.
The Lakes scored 112 points, well ahead of runner-up Felch North Dickinson's 62.
"It's just unbelievable. We knew where we were on paper; we had the most points from our seeding. We know that that never works out," Lake Linden-Hubbell head coach Gary Guisfredi said. "We talked to the girls about how important it was to work for our personal bests, which we got a lot of those today. We also talked about how important it is to, if we're seeded fifth, to get to fourth and bump up. We had that today. We had multiple girls who were not seeded one through six, came out of other heats and actually placed. It really was just an amazing day."
Rock Mid-Peninsula was third (56), followed by Brimley (45) and Stephenson (42) to round out the top five.
The Lakes' third straight title came on the strength of gritty determination and hard work, embodied by Sienna Anderson's comeback from an ACL injury a year ago. She took second in the 100 hurdles behind Brimley's Hayley Gamberdella.
The Lakes took five firsts including wins in the 400 meter and 1,600-meter relays. Mariah Willmer won the 800 run. Jamie Hendrickson won the high jump, and Camaryn Crouch won the pole vault.
Lake Linden-Hubbell's biggest calling card was getting multiple girls piling points in the same event. Three Lakes took the top three places and 24 points in the pole vault, led by Crouch. It was around then that the Lakes padded the lead.
"All of a sudden we went from close, to not so close anymore," Guisfredi said. "I'm just really, really blessed with this group. I'm so happy for them because they've just worked so hard. All the kids work hard, but this has been a fun group."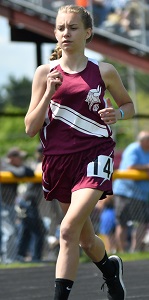 Masyn Alexa's big day helped North Dickinson's small team to a runner-up finish.
The Nordics sent just six girls to the UP Finals. Lake Linden-Hubbell had 16.
"We really competed well today. Hats off to Lake Linden. They had a great day," North Dickinson head coach Mike Roell said. "We got beat by a really good track team today, but we beat a lot of good track teams to come in second here today. We're really proud of our kids. All year we've been working hard, and it paid off today. I can't say enough. Masyn Alexa broke two school records in the 200 and 400 dashes. She kind of carried us through this thing. We had a lot of young girls that worked their tails off and scraped up enough points to get runner-up. We're really proud of that."
Alexa, a junior, won and set a school record in the 400 with a time of 1:00.86. She held the previous record from last year.
"I've been working to get that record for a long time," she said. "I ran high 1:01 three different times last year and once again this year. In practice two days ago I was three hundredths of a second away from getting it. I was hoping today I could get it, and I ended up getting it. My coach was at the 200 mark, marking my time as I came across. Then I knew what I was at so I could finish strong.
"I wasn't sure if I had it or not. I knew I was close. I heard all the cheers as I went across. I didn't know whether I had it or not. When I looked, my mom was nodding so I knew I had it."
Alexa also set a new record in the 200, improved by 13 hundredths of a second.
Alexa barely edged Stephenson's Amanda Starzynski to win the 200, by nine hundredths of a second. She was also the fourth leg of the 400 relay that took second behind Lake Linden-Hubbell.
The Nordics also took second in the 800 and 1,600 relays. Hannah Clark placed fourth in the pole vault. Briana Smith was third in the long jump. Skye Ledzian was third in shot put and fifth in discus.
Starzynski leaned forward while crossing the finish line to edge Alexa in the 100 dash by a hundredth of a second. She also anchored the Eagles' 400 relay team that took fifth, and won the long jump.
Baraga's Jaylyn Lindemann won the shot put at 31 feet, 3.5 inches.
PHOTOS: (Top) Rock Mid-Peninsula's Camryn Croadsell, left, and Lake Linden-Hubbell's Joslyn Perala charge toward the finish in the 400 relay. (Middle) North Dickinson's Sophie Mattson runs the 3,200. (Photos by Cara Kamps.)