Mid Peninsula Pair Push Each Other to More Finals Success
June 22, 2021
ST. NICHOLAS — Daisy Englund and Landry Koski have been training partners for the past six years.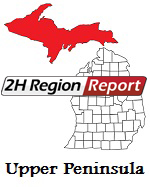 Things will be different this fall, however, as Englund begins her collegiate running career at Ferris State University and Koski enters her senior year at Rock Mid Peninsula High School.
"It's definitely going to be different without Daisy here," said Koski. "It's definitely going to be a change, and it was really a big change without (2020 grads) Kennedy (Englund) and Chevy (Koski). Although, it's a good feeling to have the team. That just makes everything better. It helps you mentally because it's nice to have friends to experience that with you."
Englund was in seventh grade when she and Koski became teammates.
"I ran cross country in sixth grade," said Englund. "My seventh grade year is when we started running together. We pushed each other and made each other better, and Chevy and Kennedy weren't all that far behind us. I didn't start out the best, but when I got into eighth grade I was on varsity and my times improved."
Koski also recalls what the early days were like.
"I just loved running," she said. "In my first year of cross country the races were only 1½  miles, but it was hard to stay with Kennedy. I didn't know how to pace myself, then I kind of learned as I went on. I didn't know what I was capable of doing."
Both have come a long way, which was evident during the Upper Peninsula Division 3 Finals on June 5 at Kingsford.
Englund was crowned 800-meter champion for the first time in two minutes, 30.75 seconds, but had won other races at the Finals.
"You only get to experience the U.P. Finals a few times in your life, and I think it makes you hard-working," she said. "It felt great to finally get the 800 title. I honestly didn't think I'd get it. The Ontonagon girl (sophomore Makennah Uotila) was a lot taller than me.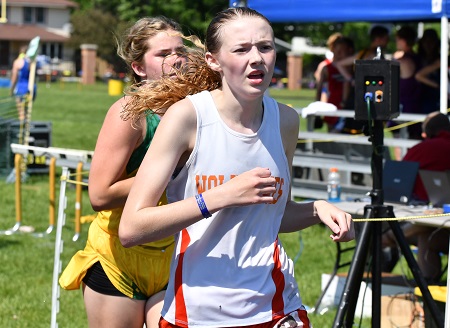 "It didn't feel like those were my last high school races, and it still doesn't feel that way. It's so stressful. You know what kind of ability you have, but it can be disappointing if you don't perform the way you want."
Koski was seeded eighth going into the 1,600, but came from behind to win it in a season-best 5:39.89 on a very hot and humid day.
"It always gets so nerve-wracking in the end," said Koski. "You don't know what everybody else has left. In my freshman year I won the 1,600 and 3,200. I didn't think I'd win those because Danika Walters (of Superior Central) was real good. You never know what's going to happen. At the Finals, you see so many schools you don't see during the regular season, especially this year without having the (Superior) Dome meets."
Englund was crowned UPD3 cross country champion in 2018 and 2020, with Koski gaining top honors in 2019.
"It was always our goal to get Mid Pen's name out there," said Englund. "I always liked running against the bigger schools."
"Many people think 'you're just Division 3,'" Koski added. "It makes you want to go out there and prove yourself."
Englund was awaiting a training schedule from Ferris State as she prepares for her first collegiate season.
"It's going to be different," she said. "I'm not going to have Landry down there. I've been running by myself, although we'll probably be running together this summer. August 22 is moving-in day and practices start in late August. It will be more intense training. We'll probably run about 15-20 miles a week."

John Vrancic has covered high school sports in the Upper Peninsula since joining the Escanaba Daily Press staff in 1985. He is known most prominently across the peninsula for his extensive coverage of cross country and track & field that frequently appears in newspapers from the Wisconsin border to Lake Huron. He received the James Trethewey Award for Distinguished Service in 2015 from the Upper Peninsula Sportswriters and Sportscasters Association.
PHOTOS: (Top) Rock Mid Peninsula's Daisy Englund leads the 800 on the way to winning the race during the Upper Peninsula Division 3 Finals on June 5 at Kingsford High School. (Middle) Teammate Landry Koski races one of her three individual events during the championship meet. (Photos by Cara Kamps.)