Oak Park Makes Up for Lost Time with Another Championship
June 5, 2021
KENTWOOD – Nonah Waldron has run in all kinds of challenging conditions, but nothing like this.
The Oak Park sophomore pushed aside tough headwinds which all runners struggled with to win a pair of events at Saturday's Lower Peninsula Division 1 Girls Track & Field Finals at East Kentwood.
Waldron said she's run in heat, freezing cold and soaking rain, but never has she met up with the strong winds that buffeted Falcons Stadium. The conditions didn't seem to detract from the results, however, as she swept to victories the 100 hurdles (13.72) and 300 hurdles (43.17). The 100 hurdles time was seventh-best in state history.
"I fought them the whole races," Waldron said of the wind. "It was more mental than physical. My mind was where it was supposed to be – focused and believing in myself. But it was harder, a challenge."
Waldron said the wind wasn't going to keep her from success.
"It was definitely my goal," she said of winning twice. "I ran a 13.4 at nationals in Oregon, so I knew I had a chance."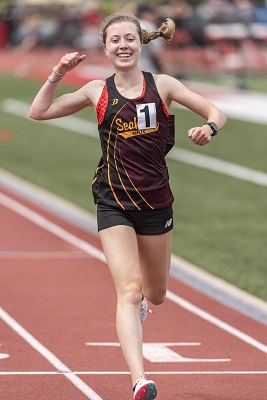 Waldron helped Oak Park to the team championship with 86 points. Detroit Renaissance was runner-up with 62 points, and Ann Arbor Huron third with 45.
Oak Park coach Brandon Jiles said his team has been eyeing Saturday's championship for months. Last season was canceled due to COVID-19, but Saturday's win ran Oak Park's title streak to three and six over the last seven seasons.
"Excellence is part of our tradition, and the kids work hard. We put a lot of work into this," he said. "We battled through adversity and made up for missing last year. We've been tough and resilient, and I think that improved our chances this year."
While the conditions were rugged for all runners, Birmingham Seaholm senior Audrey DaDamio had a fantastic meet in winning the 800 (2:11.95), 1,600 (4:44.38) and 3,200 (10:22.11). She now owns school records in the 1,600 and 3,200 and is second in the 800.
DaDamio, headed to Stanford this fall, said a clean sweep of all three events has been a goal since a successful  indoor season.
"It's been something I've been looking to do all season. I thought, 'Why not?'" she said. "My season has had some ups and downs since I came off the indoor season (and indoor state record) which blew my mind. But I didn't feel like I have been able to showcase my talent in some races (this spring). That's been tough."
DaDamio said she felt strong after the 1,600 and despite temperatures in the high 80s, winning two more events seemed possible.
"I thought the bigger the risk, the bigger the reward," she said. "If I lead in a race, fine. If not, I just relax. I had confidence."
Kaila Jackson of Detroit Renaissance was also a double winner, capturing the 100 (11.70) and 200 (24.01). Jackson said she doesn't necessarily have an opinion as to which race is stronger for her.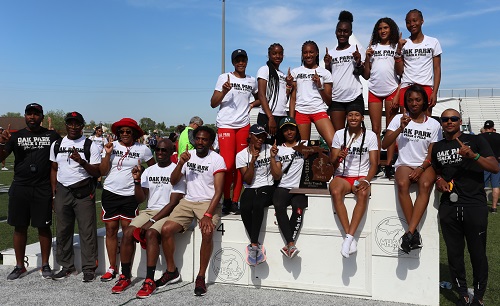 "They are pretty much the same," she said. "The wind held me back, but you've still got to be out there pumping your arms. Considering the wind, times weren't as fast, but it was still tough. I train hard in both events and I'm pretty strong. It's a challenge.
"I thought I had a chance because I've trained so hard. I looked at the times and thought I could do well."
Among the other winners were Lincoln Park's Karrington Gordon, who won the high jump in 5-7. Gordon, who will play basketball next season at Central Michigan, was only a ninth seed in the high jump – which she said prompted extra effort.
"I wanted to prove them wrong," she said. "I did 5-7 and a quarter three weeks ago, so I knew I wasn't far off. I knew there was good competition, and I knew I had to be ready."
Among the other individual champions were Traverse City's Leah Doezema in the discus (145-4), Sophia Mettes of Dexter in the pole vault (12-6), Opal Jackson of Macomb L'Anse Creuse North in the shot put (47-3), Alaina Diaz of Hudsonville in the long jump (19-9) and Jada Roundtree of Oak Park in the 400 (55.13).
Among the relays, Renaissance won the  800 (1:36.99) and the 400 (45.56) while Ann Arbor Pioneer won the 3,200 (9:09.43) and Oak Park the 1,600 (3:46.63).
PHOTOS: (Top) Oak Park, led by double winner Nonah Waldron (far right) dominated both hurdles races Saturday at East Kentwood. (Middle) Birmingham Seaholm's Audrey DaDamio celebrates one of her three championships. (Below) Oak Park climbs the champion's podium for the third straight season. (Action photos by Ike Lea; team photos by John Brabbs/RunMichigan.com.)