Ontonagon's Team Effort Nets 3 Relay Wins, 3rd Team Title in 6 Seasons
KINGSFORD — The Ontonagon girls withstood the challenge of retaining the Upper Peninsula Division 3 track & field title here Saturday, winning for the second straight year with 74 points.
Stephenson edged Munising 62-60 for the runner-up trophy.
"When you come to the Finals, everybody can do something special," said Ontonagon coach Brian Amos. "This is our third title in six years. We have a bunch of good kids who do what's asked of them. We're super proud of the girls. That's a team effort."
The Gladiators won the 400-meter relay in 52.84 seconds, 800 (1:52.68) and 1,600 (4:28.41) on a sunny and warm day.
"We're pretty excited right now," said senior Kiirsa Kolpack, who anchored the 400 relay. "Our handoffs and chemistry are real good. Being in sync with each other makes a big difference. We had a breeze kind of drifting on the south end of the field, which kind of cooled us off a little."
Ontonagon's Lilly McIntyre won the 100-meter dash in 13.7 seconds, edging Dollar Bay's Ashlea Datto by one tenth of a second.
Kolpack was runner-up in the 100 hurdles (17.36), and Violet Amos placed second in the 400 (1:01.58).
Stephenson's Jada Kuntze took high jump at 4 feet, 10 inches, and second in the 800 (2:34.99), and Daisy Grinsteiner added a first in pole vault (8-0).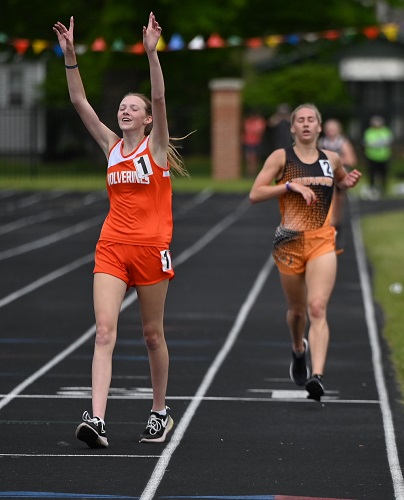 "This is our first U.P. trophy since 1993," said Stephenson coach Kate Kuntze. "This is a young team, and these girls like winning. Hopefully, we can take the next step next year. We have work to do."
Munising opened with a victory in the 3,200 relay (11:23.25), and Monique Brisson took second in the 3,200 (13:15.72).
Purdue Northwest recruit and Rock Mid Peninsula senior Landry Koski gained her third straight 1,600 title in a season-best 5:31.74 and added firsts in the 800 (2:32.19) and 3,200 (12:52.73).
"The weather was nice all day, then it got hot in the 3,200," she said. "The wind definitely swirled throughout the day – although, I'm real happy with how today turned out. The 400 could have been a little better. That's not really my race, but it's good speedwork. I'll take the three firsts any day, and my times were real good. This is a good stepping stone for collegiate running. Running is such a mind game. It can be so stressful."
Lake Linden-Hubbell freshman Emily Jokela won the 400 in a school-record 1:00.45 and 300 hurdles (47.78), and placed third in the 100 (13.78).
Teammate Abi Codere added a first in the 100 hurdles (17.19) and second in pole vault (8-0).
Brimley's Grace Hill took shot put (34-10) and second in disc (101-1).
PHOTOS (Top) Ontonagon's Alli Bobula approaches the finish line first in the 800 relay Saturday. Other members of the winning team were Lilly McIntrye, Kiirsa Kolpack, and Senia Kolpack. (Middle) Rock Mid-Peninsula's Landry Koski celebrates crossing the finish line just ahead of Rudyard's Tristin Smith in the 1,600. (Click for more from Cara Kamps/Run Michigan.)