Performance: East Kentwood's Sekayi Bracey
June 9, 2016
Sekayi Bracey
East Kentwood senior – Track & Field
Bracey capped off one of the most celebrated careers in MHSAA track & field history Saturday with two more individual championships at the Lower Peninsula Division 1 Finals at Hudsonville. Bracey won the long jump (18 feet, 10 inches) and 100-meter dash (12.08) to give her 10 championships total over her four-season high school career and earn her the Michigan National Guard "Performance of the Week." 
Bracey has come a long way since catching a gym teacher's attention at elementary school field day and then running her first kids track meet in a leotard and water shoes. The 100 title was her fourth at MHSAA Finals, and the long jump victory – by 4½ inches – was her third straight. Bracey also won the 200 as a freshman, sophomore and junior before finishing fourth this time as that race was won by Northville's Chloe Abbott, Bracey's future teammate at Purdue University.

East Kentwood finished fourth as a team and also took third twice and runner-up once at MHSAA Finals during Bracey's championship-laden career. She finished with five school records: long jump (19-6½), 100 (11.68 seconds), 200 (23.98), 400 (56.4) and as part of the 400 relay (47.62).
Coach Stephanie Stephenson said: "Sekayi is obviously an exceptional athlete. We will miss her performances during meets, but more than that she is a wonderful person. She is humble and kind. She is very coachable. She has developed great leadership skills over the last four years. She is just a joy to be around. We will miss her presence much more than her performances." 
Performance Point: I got out fast (in the 200). I'm the type of person who gets tired, so I try to burn out all my energy completely. I don't even know what happened. I was so frustrated when they were all coming up on me. I'm like, 'What's going on?' I never had that in my life. It was confusing. … (But) I had a good day, great competition. The 200 was the best competition. Pretty much, I had a great last state meet, honestly. Taking home two state titles is a blessing, even though I wanted better. It was good."
Great start … great finish: "I didn't really understand it (when I was a freshman). I was just running. I'm like, 'Oh yeah, I'm doing good.' I wasn't paying attention. I just got state titles. I was just running because it was something I love to do. … (Ten titles) means a lot. I'm just really thankful and grateful for it."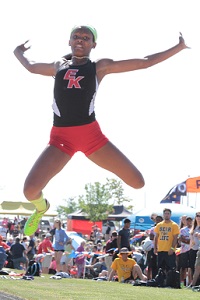 Opponent, now teammate: "(Chloe Abbott) is going to be my roommate. We're going to Purdue together. We've raced our whole lives pretty much. Chloe is a great runner. I've seen her become great over time and her fighting through."
Be the example: "I really started to focus on my grades (in high school), because that's what was going to get me into the college I wanted to get into. I'm the oldest of all my siblings, and I want to leave an example on the track and academically to show them how important it is."
Just like Flo Jo: I really look up to Flo Jo (late Olympian Florence Griffith Joyner, who died in 1998), even though she died. I'm inspired by her. I watch her videos all the time, just because she motivates me so much the way she runs. … Long term, my goal is to go to the Olympics. I'm going to work hard to do that. Hopefully in college, with training, I'll see great improvement."
– Geoff Kimmerly, Second Half editor,
and Bill KIhan, correspondent
Every week during the 2015-16 school year, Second Half and the Michigan National Guard will recognize a "Performance of the Week" from among the MHSAA's 750 member high schools.
The Michigan Army National Guard provides trained and ready forces in support of the National Military Strategy, and responds as needed to state, local, and regional emergencies to ensure peace, order, and public safety. The Guard adds value to our communities through continuous interaction. National Guard soldiers are part of the local community. Guardsmen typically train one weekend per month and two weeks in the summer. This training maintains readiness when needed, be it either to defend our nation's freedom, or protecting lives and property of Michigan citizens during a local natural disaster. 
Previous 2015-16 honorees
June 1: Anna Jefferson, Oak Park girls track & field - Read
May 25: Connor Bandel, Oxford boys track & field - Read 
May 18: Kalyn Breckenridge, Birch Run girls soccer - Read 
May 11: Morgan Beadlescomb, Algonac boys track & field - Read
May 4: Abby Krzywiecki, Farmington Hills Mercy softball - Read
April 27: Mike Mokma, Holland Christian baseball - Read
April 20: Abby Divozzo, Cadillac girls soccer - Read
March 30: Cassius Winston, Detroit U-D Jesuit boys basketball - Read
March 23: Kierra Fletcher, Warren Cousino girls basketball - Read
March 16: Jacob Montague, Grosse Pointe South swimming & diving - Read
March 9: Kyle Tuttle, St. Charles boys bowling - Read
March 2: Brittney Schnicke, Caledonia girls bowling - Read
Feb. 24: Kamari Newman, Detroit East English boys basketball - Read
Feb. 17: Jason Whitens, Powers North Central boys basketball - Read 
Feb. 10: Rachel Hogan, Grand Ledge gymnastics - Read
Feb. 3: Nehemiah Mork, Midland Dow swimming & diving - Read
Jan. 27: Mardrekia Cook, Muskegon girls basketball - Read
Jan. 20: Sage Castillo, Hartland wrestling - Read
Jan. 13: Rob Zofchak, Dexter swimming & diving - Read
Jan. 6: Tyler Deming, Caro wrestling – Read
Dec. 15: Jordan Weber, East Jordan boys basketball – Read
Dec. 8: Kaitlyn Geers, Kent City girls basketball – Read
PHOTOS: (Top) Sekayi Bracey holds off the pack during the 100 at Saturday's Lower Peninsula Division 1 Final. (Middle) Bracey launches during the long jump competition. (Photos by RunMichigan.com.)