Performance: Shepherd's Amber Gall
April 27, 2017
Amber Gall
Shepherd sophomore – Track & Field
Midway through her high school career, Gall already is nearly the fastest cross country runner in Shepherd history, and she's also on the cusp of rewriting the Bluejays' track & field record book as well. She achieved her first all-time best on April 19, running the 800 meters is 2:14.83 on her home track to break the former school record, set in 1980, by more than a second – earning the Michigan Army National Guard "Performance of the Week."
Shepherd's girls won both duals that day, against Alma and Standish-Sterling, and Gall also won the 1,600 (5:36.64), 3,200 (13:20.37) and was part of the winning 1,600 relay (4:15.16) with seniors Rachel Mathers, Kylie Hutchinson and Katelyn Hutchinson. Two days later, on Friday, Gall again won the 800 1,600 and as part of the 1,600 and 3,200 relays at Ithaca's Blue and Gold Invitational, posting a 5:15.28 in the individual 1,600. She's won every race she's competed in this season but two, taking second in a 400 and also as part of the 1,600 relay on Wednesday in a league quad meet.

Gall finished third and then fifth, respectively, at the Lower Peninsula Division 3 Finals for cross country her first two seasons, and her personal-best time of 17:50 in the fall is only two seconds shy of Nora Green's school record run from 1978. Gall finished LP Division 3 Track & Field Finals runner-up in the 3,200 last spring, running 10:52 to approach another school record run by Green (10:48). Gall also is the third-fastest 1,600 runner in school history with a best of 5:05, seven seconds off the record set in 2013 by Kaylie Rhynard – and both track milestones could be hers by the end of this spring. Last week's success gave Gall some ideas about how the 800 might fit into her plans – the time she ran to break the record would've put her second in that race at the Division 3 Finals last season. Gall also carries a 4.0 grade-point average, serves on her school's student council and is active in a number of other school and church activities.
Coach Carey Hammel said: "She is a super kid who works extremely hard and is also a great student. She is very determined to be the best she can be and is a huge running fan. Getting to coach an athlete like that for two seasons (Hammel also coaches girls cross country) is very special because you always know what you are going to get out of her. She is also an incredible teammate in both sports and encourages both the boys and girls on our team to be their best. This year she is on the 3,200 relay with three seniors, and they are very close and she is very proud of what they are able to accomplish in that relay."
Performance Point: "Beforehand, I was like OK, I want to go after this. I'll run as hard as possible," Gall said. "I started out the first lap a little slower than I normally do in 800s, and I was pretty nervous going into the second lap. But with 300 to go, I heard a voice, like God almost, that said, 'Hey, you can do this. Just push.' From there, I gave everything I had. I planned on starting faster; I don't know if my legs were tight that first lap. I was nervous. I knew at a lap that I was slow, and when I finished I was a little shocked."
Plenty of motivation: "I think that in the offseason, and even last year coming so close in the top five in cross country, being so close in track, it motivates me to work as hard as possible to get (to first). I'm gunning for one, a title, and I'll work as hard as possible. My teammates motivate me so much. They're always there right beside me, helping me with everything and the ups and downs of running."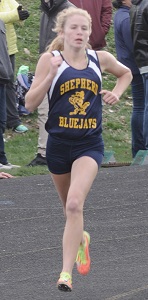 Following faith: "I believe I don't do any of this by myself. I believe God is right there helping me though this. I wouldn't be running, I wouldn't be doing all of the things I'm doing if not for the gifts given me when I was born."
Finding inspiration: "I'm one who loves motivational quotes, motivational videos, all of that. I decided one day to try to write a motivational essay for myself; I wanted to see if I could do it. I started writing those, and I actually really like it, just to read, by myself. The 2015 cross season, (I thought) maybe I'll share this for the team. On overnights I'd always print one off, share it with the team, give them extra motivation to get through races. It was pretty nerve-wracking the first time – I thought maybe they wouldn't be OK with a freshman doing that. I just took the chance, and I think my teammates like them."
Mentoring and mentored: "I know a lot of the middle schoolers. They are speedy, and they're just great people, and I just want them to become the best they can be. Because as a middle schooler, I had as my coach B.J. Tomanek. As a sixth grader, I didn't know what to run, and he took me in. He expects me to do my best all the time, and he continues to motivate me today. We still run together, we talk, and he's super motivational along with (coaches Rick) Cahoon and Hammel. They are strong people in my life I took up to, and (coach Wyatt) LeClear gets me through in tough times."
- Geoff Kimmerly, Second Half editor
Every week during the 2016-17 school year, Second Half and the Michigan Army National Guard will recognize a "Performance of the Week" from among the MHSAA's 750 member high schools.
The Michigan Army National Guard provides trained and ready forces in support of the National Military Strategy, and responds as needed to state, local, and regional emergencies to ensure peace, order, and public safety. The Guard adds value to our communities through continuous interaction. National Guard soldiers are part of the local community. Guardsmen typically train one weekend per month and two weeks in the summer. This training maintains readiness when needed, be it either to defend our nation's freedom or protect lives and property of Michigan citizens during a local natural disaster. 
Previous 2016-17 honorees:
April 20: Sloane Teske, East Grand Rapids tennis – Read
March 30: Romeo Weems, New Haven basketball – Read
March 23: Jaycie Burger and Maddie Clark, Pittsford basketball – Read
March 16: Camden Murphy, Novi swimming & diving – Read
March 9: Ben Freeman, Walled Lake Central wrestling – Read
March 2: Joey Mangner, Chelsea swimming & diving – Read
Feb. 23: Isabelle Nguyen, Grosse Pointe North gymnastics – Read
Feb. 16: Dakota Hurbis, Saline swimming & diving – Read
Feb. 2: Foster Loyer, Clarkston basketball – Read
Jan. 26: Nick Jenkins, Detroit Catholic Central wrestling – Read
Jan. 19: Eileene Naniseni, Mancelona basketball – Read
Jan. 12: Rory Anderson, Calumet hockey – Read
Dec. 15: Demetri Martin, Big Rapids basketball – Read
Dec. 1: Rodney Hall, Detroit Cass Tech football – Read
Nov. 24: Ally Cummings, Novi volleyball – Read
Nov. 17: Chloe Idoni, Fenton volleyball – Read
Nov. 10: Adelyn Ackley, Hart cross country – Read
Nov. 3: Casey Kirkbride, Mattawan soccer – Read
Oct. 27: Colton Yesney, Negaunee cross country – Read
Oct. 20: Varun Shanker, Midland Dow tennis – Read
Oct. 13: Anne Forsyth, Ann Arbor Pioneer cross country – Read
Oct. 6: Shuaib Aljabaly, Coldwater cross country – Read
Sept. 29: Taylor Seaman, Brighton swimming & diving – Read
Sept. 22: Maggie Farrell, Battle Creek Lakeview cross country – Read
Sept. 15: Franki Strefling, Buchanan volleyball – Read
Sept. 8: Noah Jacobs, Corunna cross country – Read
PHOTOS: (Top) Shepherd's Amber Gall surges during one of her races last week against Alma and Standish-Sterling. (Middle) Gall rounds a curve during a race at Friday's Ithaca Invitational. (Click for more from HighSchoolSportsScene.com.)