Saints Make It 4 Straight Championships
KINGSFORD — The St. Ignace girls didn't let anything stand in their way in winning the Upper Peninsula Division 3 track championship Saturday with 121 points.
Two-time defending champion Brimley settled for runner-up honors this time with 57, and third-place Crystal Falls Forest Park scored 47.
St. Ignace senior Sarah Cullip was a triple winner, taking the 800-meter run in 2 minutes, 29.38 seconds, the 1,600 (5:36.43) and 3,200 (12:30.12).
Sophomore teammate Lilly Calcaterra was runner-up in the 800 (2:33.79), third in the 1,600 (5:42.57) and 3,200 (12:55.55) and helped the winning 1,600 relay.
"This wasn't my best time (in the 1,600), but I'm glad to win it as a senior," said Cullip, who plans to run at Grand Valley State University next season. "But I thought Lilly ran well today. She works hard in the summer. I think she's going to be pretty special."
St. Ignace, which captured the D-2 title the past three seasons, scored just two points in the first three events this time. The Saints, however, got on track with a victory in the 400 relay.
Junior Rachel Hetherington, who had a false start in the 100, bounced back to help the winning 800 relay, place third in the 400 (1:04.24) and second in the 200 (27.47).
"We had a few things go wrong early in the meet," said St. Ignace coach Trudy Olsen. "But when Rachel came across (in the 800 relay), I knew we'd be okay. Sarah and Lilly took care of things in the distances. Between the two of them, they scored 50 points which is huge. The girls were supporting each other, and that's what it takes. They were there to pick each other up."
The Saints' 800 relay was clocked at a U.P meet-record 1:51.48, topping the previous best (1:52.31) by Forest Park three years ago.
St. Ignace senior Hailee Brown added a first in the 300 hurdles (49.41) and helped the winning 800 and 1,600 relays.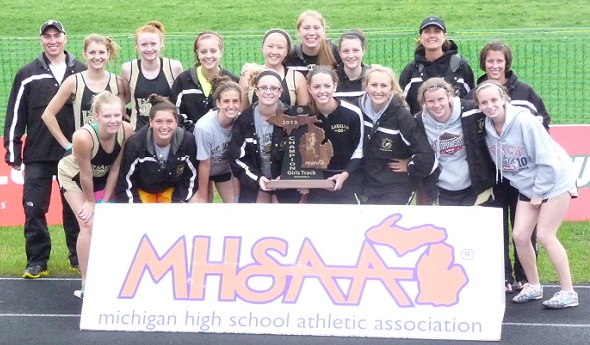 Brimley freshman Kerri Chartrand was runner-up in the 300 hurdles (49.53). Engadine freshman Aspen Hood, the pre-meet favorite in the hurdles races, didn't run in those due to a knee injury.
"I usually have Aspen there to push me, and the Brimley girl and I are usually neck-and-neck," said Brown, who will attend Lansing Community College this fall. "She beat me in the Regional. I didn't have a good 100 hurdles today. I got ahead of everybody and felt I needed to stay there. I got a little too anxious."
Bark River-Harris senior Sydni Petrie set the U.P. Final discus record (116-1), topping the previous standard (115-7 ¾) by Bark River-Harris' Kerrie Meyers set in 2009.
Chassell senior Jamie Dompiere won the 400 in a school-record 1:00.62. She also took the 100 (12.83) and 200 (26.38).
"Three-for-three, that's awesome," Dompiere said. "As crazy as this season was, I had a great season. When we finally had our first outdoor meet (at Lake Linden-Hubbell on May 10), it felt like a season opener all over again because we hadn't had a meet since the one at the Superior Dome (in Marquette on April 18). We just had to fight through all the bad weather.
"I ran a good 100 time today. Only, I didn't do as well as in the Copper Country Conference meet (12.38). We had the false start in our heat, and everybody became more cautious. We didn't want to risk it."
PHOTOS: (Top) St. Ignace's Sarah Cullip, here in the 1,600, won that race and both the 800 and 3,200 on Saturday. (Photo by Paul Gerard. Click to see more photo coverage from RunMichigan.com.)  (Middle) The St. Ignace girls track and field team poses with its fourth-straight MHSAA championship trophy. (Photo courtesy of St. Ignace High School.)