Seaholm Stars, Oak Park Grab Spotlight
May 30, 2015
ROCKFORD – Rachel DaDamio has had to race in the shadow of Birmingham Seaholm teammate Audrey Belf throughout her high school career.
That's OK. They're friends. And don't worry about DaDamio. She found her time to shine through the raindrops at the Lower Peninsula Division 1 Track and Field Final at Rockford High School on Saturday.
DaDamio took her turn in the spotlight as she won the 1,600 run, running first most of the way, with a time of 4:46.05
"It feels so good," DaDamio said. "I'm used to running in this weather. I run cross country. I really didn't have a race plan today. No one really wanted to take the lead, so I did. I felt really strong. If they were going catch me, I was going to run my best. I hardly ever take the (early) lead. I run better form behind.
Belf successfully defended her title in the 3,200-meter run with a time of 10:26.58, won the last two LP Division 1 cross country titles and will be attending Georgetown University in the fall. She also was named high school female Athlete of the Year by the Detroit Athletic Club, so the spotlight has shown brightly on her the last few seasons.
As she noted, DaDamio also was part of the Seaholm cross country team, one of the best in the Midwest recently, and she understands the attention Belf has received.
 "Audrey and I are such good friends. Just being a part of this team … we've had such strong distance teams at Seaholm. It's so cool. My teammates are my best friends."
DaDamio will make new friends in the fall as she'll attend and run for University of Notre Dame.
Some who gathered around DaDamio after her victory joked she could have gone to Notre Dame even without her success in track. She graduated with a 4.0 grade-point average and never received a B for a grade, or an A-minus.  
Belf said running for a program like Seaholm was "so surreal to run with my teammates.
"Rachel ran a great race. I was watching and pulling for her all the way."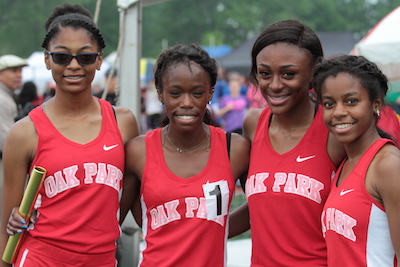 Oak Park finished with 93 points, one more than last year, to win its second consecutive team title. East Kentwood was second with 54.5 points, Northville was next with 43, Rockford placed fourth with 42 points and Ann Arbor Pioneer was fifth with 37.
Oak Park senior Ersula Farrow won the 800 run last year when she attended Grosse Pointe South, and again this year with a time of 2:08.43. The Clemson University recruit also ran on the winning 1,600 and 3,200 relay teams.
Farrow finished among the top five in the 800 all four years of high school.
"I was going for the record," Farrow said of the 800 run. "I knew it would be hard. I'm satisfied."
Brianna Holloway won the 300 hurdles with a time of 43.5 to also help Oak Park's title effort. 
One of the surprise winners was Sammy Cuneo of Rockford in the 400 dash. Cuneo, who will attend Center Michigan University in the fall, just began competing in the event this season. And it wasn't her idea.
"This was like my fifth time (in the 400)," Cuneo said. "I was running the 100 and the 200 but my coach said I was tough and that I could do this. I said, yeah. I'll prove I'm a 100 runner."
Good thing Cuneo listened to her coach.
Cuneo entered the finals with the top time (55.44) in all LP Division 1 Regionals, but had to pass defending MHSAA champion Anna Jefferson of Oak Park in the straightaway.
Cuneo also placed second in the 200.
Junior Sekayi Bracey of East Kentwood placed first in three events, the 100 (11.83), 200 (24.62) and the long jump (17 feet, 5¾ inches). They were Bracey's third consecutive titles in the 100 and the 200.
"I was very tired," Bracey said after the 200, her third of three individual events. "I was tight. I just got done with the long jump. So that's a lot."
 Bracey is undefeated in this state in the 100 and 200. Her only losses have come in national events during the high school offseason.
"I put a lot of pressure on myself," she said. "I've got to learn to relax and just run. I do better that way."
Events like the 200, 3,200 and the 1,600 relay were especially difficult for the athletes. Even though the rain let up, the wind picked up and the temperatures dropped.
"I didn't think about it at all," Farrow said. "I had a feeling it would be hard. I just had to do my best. I'm not sure about my times, but it was tough. The wind is the worst."
PHOTOS: (Top) Seaholm's Rachel DaDamio leads the pack during her title-winning 1,600 run Saturday. (Middle) Oak Park won a pair of relays en route to repeating as LP Division 1 champion. (Click to see more from RunMichigan.com. Photos by John Brabbs.)