Sprint Star Leads Southfield Christian Surge
May 2, 2018
SOUTHFIELD – The village of Grass Lake, located in Jackson County, and the country of Nigeria are worlds apart in many ways.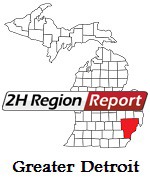 But at Southfield Christian, chance circumstances have brought the two together – and the results have had a positive effect in the classroom and in the sport of track & field.
Todd Crouch ran track at Grass Lake High School and then in college at Spring Arbor before graduating in 2007. Crouch became a substitute teacher at Grass Lake soon after graduation, and he also helped coach the track team.
But securing a full-time teaching position wasn't easy. Remember the times. The recession of the late 2000s left few unscathed.
"I applied, applied and applied," Crouch said. "I graduated in 2007, and the recession followed. It was a situation where people who were working were holding onto their jobs, and art teachers weren't in high demand.
"Then someone, I don't even know who this person was, slipped me a sticky note. There was a message to contact a person. I had no idea what was going on. I'd never been to Southfield, and here I was contacting the superintendent at Southfield Christian, Sue Hoffenbacher, about a possible interview and Sue told me that she had been waiting for my call. I interviewed on a Friday, and on Monday I had the (teaching position)."
That was 2010. Crouch is now in his eighth season also as the girls and boys track & field coach at Southfield Christian and he teaches art classes at the high school level and at the middle school, which is located on the same campus.
In retrospect, Crouch said it was his destiny to coach and teach at a religious school like Southfield Christian.
"It's a good story," he said. "God meant for me to be here."
It gets better. Southfield Christian won its first MHSAA track title last season, when the girls team finished with 62 points, 10 ahead of second-place Fowler at the Lower Peninsula Division 4 Finals held at Houseman Field in Grand Rapids. The program's previous best finish was runner-up in 2007.
Chika Amene and Kaelin Ray, both juniors last season, were the stars on that team. Amene placed first in the three sprints and ran the third leg on the winning 1,600-meter relay team. Ray ran the second leg in that race, placed first in the 300 hurdles and third in the 100 hurdles.
Of the six athletes who qualified for last year's Finals, five were possibilities to return this spring. Two of those five, however, are not competing in track at this time. Crouch said Ray is focusing on club volleyball this spring. Junior Grace Sanders competed in Southfield Christian's first two track meets but suffered an injury also playing club volleyball – she could return to the track before the end of this season and was part of last year's 800 relay that finished third at the Finals.
But Crouch remains optimistic his team can contend for another title. The Chargers have 16 on the girls varsity team, and a number of those athletes have stepped up and shown much improvement over last season – including seniors Grace McFerrin and Shelby Goodson, who both ran on the 800 relay at Houseman last spring as well.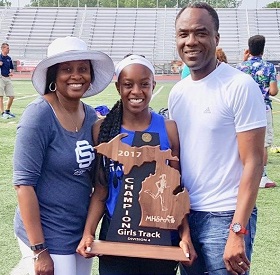 Southfield Christian's chances begin with Amene, the best athlete in Division 4. Her parents, Chinedum and Uchenna, were born in Nigeria, and both competed in sports. Her mother was a track athlete in high school and Uchenna played soccer in college at University of Detroit Mercy. Amene's brother, Dubem, is a sophomore and also runs track.
Physically, Chika Amene is stronger this season and competing at a higher level. If she can match what she did last season, that's 40 points at the Finals, assuming she and three teammates can grab a first in a relay.
Amene has been a sprinter since before junior high. Early on she excelled in the 100 and 200. Gradually, the 400 became her best event. It took Amene until late in her freshman season to approach the 400 seriously, and it took an athlete on the boys team to provide that push.
Blake Washington is a junior at University of Michigan, and his best event is the 400. But it wasn't always his favorite. Like Amene, Washington concentrated on the 100 and 200 early in his high school career.
"It was at the Regionals of his sophomore year," Crouch said. "We had some injuries, and we told (Washington) he had to fill in. He ran so well in the (1,600) relay that I said to him, 'You know, we're going to have you work on that.'"
Washington set the LP Division 4 Finals record in the 400 in 2015 (49.34) that still stands.
"I was a freshman when Blake was a senior," Amene said. "The 200, in my mind, was my best. Blake ran the 100 and 200, and transitioned to the 400. I didn't even think about the 400. In one meet, one of my coaches said to run in the (1,600) relay and my time was really good. So I started training in the 400 as a sophomore. 
"(Washington) was like a mentor. He gave me advice on my classes, my school work and running. He taught me a lot in the 400. He told me to make sure I got out fast, to get out hard. In college he told me to have my priorities straight, and don't get distracted."
Amene's time when she won the 400 last season was 58.83. Her personal best is a 57.6. She ran 57.96 to finish 17th in March at the New Balance Nationals Indoor held in New York.
"I'm slowly getting back into shape," she said. "That indoor season takes a lot out of you."
A goal-setter, Amene said she hopes to run a 55 flat at the MHSAA Finals.   
Amene said she'll likely follow Washington to U-M. Amene's grade-point average is 3.7, and she intends to major in business or economics with an eye on law school. She said she's always been a Michigan fan, and the fact that a second cousin attended U-M doesn't hurt – that cousin being 2012 Ann Arbor Huron grad Cindy Ofili, who won three LP Division 1 individual titles as a high school senior before becoming a Big 10 champion and Olympian representing Great Britain at the 2016 summer games.

Tom Markowski is a columnist and directs website coverage for the State Champs! Sports Network. He previously covered primarily high school sports for the The Detroit News from 1984-2014, focusing on the Detroit area and contributing to statewide coverage of football and basketball. Contact him at tmarkowski@statechampsnetwork.com with story ideas for Oakland, Macomb and Wayne counties.
PHOTOS: (Top) Chika Amene, far right, leads the pack during a sprint. (Middle) Chika, with parents Chinedum and Uchenna at last season's MHSAA Finals. (Photos courtesy of the Amene family.)