Stockford Reigns, Ithaca Earns 1st Title
By Jeff Chaney
Special for Second Half
COMSTOCK PARK – Last year Hailey Stockford came out of nowhere to win a pair of sprinting championships at the MHSAA Lower Peninsula Division 3 Track & Field Finals at Comstock Park High School.
This year, all eyes were on her.
As the reigning champion in the 100 and 200-meter dashes, the Sanford Meridian senior knew everyone at this year's Finals on Saturday, again at Comstock Park, wanted to dethrone here.
That was wishful thinking, as Stockford easily repeated in both events, winning the 100 in 12.27 seconds and the 200 in 25.29.
"It is a little harder to defend, because last year was my first year in track and no one knew who I was," said Stockford, who will be continuing her career at Saginaw Valley State University on a full scholarship. "This year I had the target on my back, and I don't know if I liked that. But I knew I was capable of dealing with it."
Those might have been the last of a long list of defenses for Stockford, but she started running track only last year as she also was a star on her school's softball team.
But her speed could not be ignored.
"In gym class, I ran the 40-yard dash and had a good time, and my coach, Mike Bilina, said I should really go out for track," Stockford said. "I played softball, but decided it was a good idea, and went out. Glad I did; it paid off."
Stockford's were two of many great performances on a perfect day for track and field. But collectively as a group, the day belonged to Ithaca, which won its first MHSAA team title in the sport with  a score of 57.5 points, 3.5 more than runner-up Adrian Madison.
"Our goal coming in was to win," Ithaca coach Gene Lebron said "We scored 38 points last year and finished in fourth, and we didn't lose anybody. I am so proud of these girls, and so proud of the work they put in."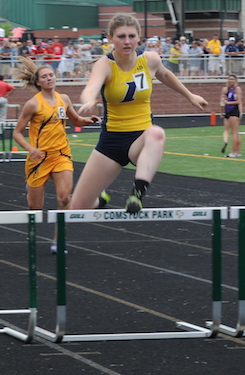 Ithaca was led to its title by senior Erica Sheahan, who repeated in the long jump with a leap of 17-10.25.
When talking about the Bullough family of Traverse City, a word that comes to mind is toughness.
That was never so true than Saturday, as St. Francis' Holly Bullough, younger sister of Max, Byron and Riley Bullough – who all played, or are now playing, football for Michigan State University – ran with a stress fracture in her left foot.
With a foot that requires a walking boot when she is not competing, Bullough won the 1,600 with a meet record time of 4 minutes, 52.63 seconds.
She also won the 800 in a time of 2:12.22 and was a member of the Gladiators' 1,600-meter relay team that took second with a time of 4:03.07.
"When I run, it's not as bad, but it really hurts after," said Bullough, who will be joining Byron and Riley at MSU this fall. "I felt good today. I haven't had a meet in a week and a half, so I have just been cross training. Today I just needed to get back into a rhythm."
Clare's Kasey Staley had a busy 10 minutes in her Finals events, as she ran for her team's 800-meter relay team that set a new school record of 1:46.91 and took third, and then came back to win the pole vault with a vault of 12 feet, 4 inches – a new meet record.
"The adrenaline was pumping," said Staley, a junior. "I did feel nervous because I just ran in the relay and came back to the pit. I made 11-8, and then went for 12-4 and when I made it on my second jump, it was the greatest feeling in the world."
PHOTOS: (Top) Sanford Meridian's Hailey Stockford (far left) is announced as the 100 meter champion Saturday at Comstock Park. (Middle) Ithaca's Emily Foster competes in the 300 hurdles; she finished fifth. (Click to see more from HighSchoolSportsScene.com.)