Tie Nets P-W Girls Repeat, Grass Lake's 1st Title Since 1978
June 6, 2021
JENISON — Grass Lake coach Anthony Cole and Pewamo-Westphalia mentor Scott Werner had a dilemma after their teams tied for the Lower Peninsula Division 3 team championship Saturday.
It boiled down to this: Co-champions, but only one trophy available.
They settled it in a classic fashion: Rock, Paper, Scissors.
Even though there was a bit of orientation, first "We had to figure out how to do it," Werner said. "We had to get into sync first, and it came down to best two out of three. And, fittingly, it came down to the last one."
In this case, Werner's paper covered Cole's rock, and the Pirates went home with the trophy.
It was about the only disappointment the Grass Lake team suffered on the day as the Warriors also won the boys title.
Pewamo-Westphalia led most of Saturday, but the Warriors forged the tie when its 1,600 relay team, anchored by Lexie Bargesser, finished second in that event.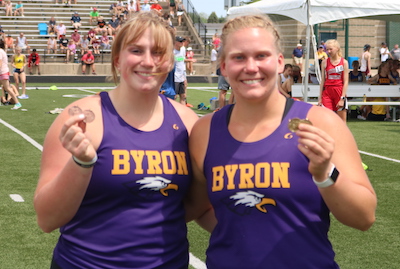 It was Grass Lake's first MHSAA title in girls track & field since winning back-to-back Class D championships in 1977 and 1978, while it was the second in a row for the Pirates, who won the team title in 2019.
"We're so happy to be back," Werner said. "We had a team we thought was good enough to win it last year, too."
It was the fifth girls title overall for Pewamo-Westphalia, which has finished first or second at five of the last eight Division 3 state meets.
"We like being on that podium," Werner said, grinning.
Depth played a role for the Pirates.
Senior Sophie Thelen finished third in the 100, second in the 200, third in the pole vault and was on the 800 relay that finished fourth. Freshman Saige Martin had a big day, taking second in the 100 hurdles and third in the 300 hurdles.
"We also scored in some relays," Werner said. "It was all over the board. Everyone stepped up."
Cole was pleased and a little surprised by his team's performance.
"If you had told me (Friday) that we would do this today and our kids would perform the way they did, I would have probably laughed," Cole said. "It was a nice surprise. We knew it would be close. The girls took care of business all day, and sure enough, we were there. Co-champs isn't bad."
The Warriors were happy to share, and Bargesser played a key role Saturday, winning the 100, 200, and the 400 (in record time) while also anchoring the 1,600 relay that finished second.
Kailee Sandoval also had a big day,
"She ran an outstanding 800 in this heat, and ran a great leg to start the 4x400 relay," Cole said. "She ran her butt off. It was her senior meet, and she left it all out there. I'm so happy for her."
Byron finished third on the strength of record-setting performances by senior Sarah Marvin and a strong performance by fraternal twin Becky, both in the throwing events.
Sarah Marvin set a Lower Peninsula Division 3 mark in the discus at 160 feet even and set an all-Finals record in the shot put with a throw of 50 feet, 9½ inches, making her the first high school girl in Michigan to throw for 50 or more feet at the state meet. She missed setting an all-meet record in the discus by 3 feet, 9 inches.
"I would have liked to have broken the MHSAA record," she said. "But I'm so happy to have (the Division 3) record."
She was just as happy for her sister, who had personal bests in the shot and discus.
"She wanted a second (place) and a second, but all you can do is be better than yourself, and she did that in both events," Sarah Marvin said of her twin. "I think it was a fantastic day for her."
It also was a fantastic day for Ithaca junior Lani Bloom, who won the 800 in 2:13.67 and the 1,600 in a meet record 4:48.89. Mason County Central's Nyah Tyron swept the hurdles races with a 15.36 in the 100 and 45.01 in the 300.
But as for regrets, Cole had one on what was a pretty good day for his team.
"I'm pretty hyper-competitive," he said, grinning. "I should not have thrown rock that third time. I'm usually a scissors guy, but I went rock and (Werner) threw paper for the third time. I just couldn't believe it."
And then he joined his team, beaming at their accomplishment.
PHOTOS: (Top) Grass Lake's Lexie Bargesser crosses first with Pewamo-Westphalia's Sophie Thelen right behind in one of their races together Saturday. (Middle) Byron's Becky and Sarah Marvin show their medals after dominating the throws. (Photos by Tim Robinson.)