Truckey Paces Marquette's Run in UP Division 1
June 6, 2021
KINGSFORD — Sophomore Baux Truckey had a hand in four firsts Saturday at Kingsford, helping the Marquette girls retain their Upper Peninsula Division 1 track title with 120 points.
They were followed by Sault Ste. Marie with 94 points and Menominee with 71 on a hot and humid day at Flivver Field.
Truckey anchored the 400-meter relay which set the UPD1 Finals record at 50.11 seconds, topping the previous best (51.22) by Gladstone in 2007.
She also anchored the 800 relay (1:47.14), won the 100 (12.79) and edged teammate Julia Ott on a lean in the 200 (26.58).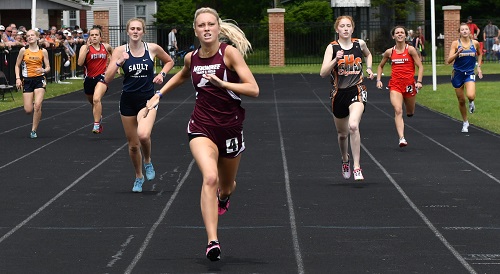 "Our handoffs went real well," said Truckey. "Going 1-2 in the 200 was fun, but the heat was a factor. It was a relief to get done today. We have a lot of competition in practice, which I think is very helpful."
Ott won high jump at five feet and was clocked in 13.1 and 26.6 in the 100 and 200, respectively.
Kali McDonough captured pole vault (10-1), and Olivia Moffitt added a first in the 3,200 (12:00.03).
Sault senior Emily McLean set the UPD1 shot put record again, at 42-8½, topping her own mark (39-2) from two years ago.
The Central Michigan University recruit was crowned Straits Area Conference champion May 24 with a school-record toss of 46-8, then won at Tuesday's Northern Michigan Meet of Champions at Gaylord (43-4).
"The heat was a factor," she said. "It was kind of crazy. We were in the sun quite a while, although today's weather forecast helped us mentally prepare for the heat. We knew what was coming.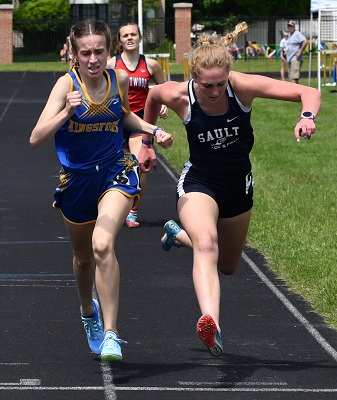 "I had kind of an off day in discus, but Joanne (Arbic, of Sault Ste. Marie) had a nice throw. I'm definitely excited for her and about going to Central."
Houghton's Lillian Williston won discus (116-10). Arbic placed second (114-7) and McLean was fourth (106-3).
Menominee senior Makenzie Wellner became a four-event winner, taking the 100 hurdles (15.7), 300s (46.7), long jump (16-8) and anchoring the winning 1,600 relay (4:11.6), which previously had set the school record at 4:09.01 in Marinette, Wis., on May 25.
"Our coach (Scott Melchoir) helped me with my approach and helped me jump a little further," said Wellner, who plans to run track at Wayne State next season. "I was feeling good today. It was hard to find space under the bleachers today (due to the heat)."
Hayden Buck added a first in the 400 in a school-record 59.77 seconds.
In the 1,600, Houghton sophomore Ingrid Seagren ran second nearly the whole race before sneaking past Marquette's Guinn Wuorinen for the victory. Seagren was clocked in 5:34.49 with Wuorinen at 5:34.59.
In another tight race, Kingsford's Melanie Wenzel won the 800 (2:29.55), edging Sault senior Haleigh Knowles on a lean.
PHOTOS: (Top) Marquette's Baux Truckey anchors the 400 relay and crosses the finish line first Saturday at Kingsford. (Middle) Menominee's Hayden Buck crosses the finish line first in the 400. (Below) Kingsford's Melanie Wenzel, left, beats Sault Ste. Marie's Haleigh Knowles to the finish line. (Photos by Cara Kamps. Click to see more at RunMichigan.com.)