West Iron County Clinches with Win in Final Relay
June 6, 2021
KINGSFORD — The race for the Upper Peninsula Division 2 championship came down to the wire Saturday as West Iron County edged Ishpeming 108-104½ for its first title in eight years.
Bark River-Harris placed third with 80 points, followed by three-time reigning champion St. Ignace with 71.
"We kind of knew it'd be close," said West Iron coach Kristi Berutti. "We had to change some relays to maximize our points."
The Wykons secured the decision by winning the 1,600-meter relay in four minutes, 27.04 seconds. Ishpeming placed second at 4:39.92.
"It's awesome to win it all, and we wouldn't have done it without my sister Danica," said senior Jordan Shamion. "She's the one who pushed us over the edge."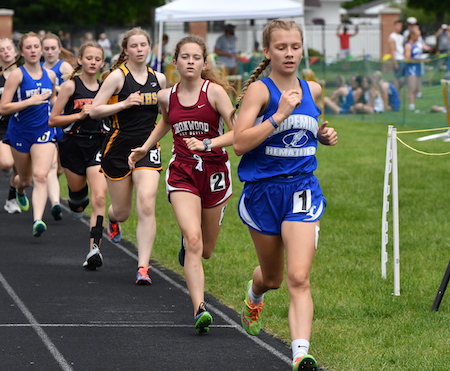 Jordan won the 100-meter hurdles at 16.99 seconds, 300s in a personal-best 48.72, anchored the 1,600 relay and took second in shot put at 31 feet, eight inches.
"I stumbled on a hurdle and still got a PR, and I'm happy with second in shot," she said.
Danica Shamion, a freshman, added victories in the 100 (13.07), 200 (27.35) and 400 (1:01.48).
"I think my starts have improved," said Danica. "If you have a bad start, you have a bad race."
West Iron's Avery Bociek placed second in the 800 (2:40.08).
Ishpeming freshman Lola Korpi took the 800 (2:34.90), 1,600 (5:41.32) and 3,200 (12:26.93) and anchored the winning 3,200 relay (10:56.42).
Division 1 and 2 runners ran together in the open 3,200, and Korpi paced with eventual Division 1 champion Olivia Moffitt of Marquette and runner-up Ingrid Seagren from Houghton.
"Olivia did awesome. She's a senior and she deserves it," Korpi said. "I just wanted to separate from the girls behind me. Olivia was a quarter track ahead of me, and I knew I wasn't going to catch her. She really surprised me. She and Ingrid were my competition."
Teammate Rebekah Loman swept the weight events, taking shot (32-4¾) and discus (104-3).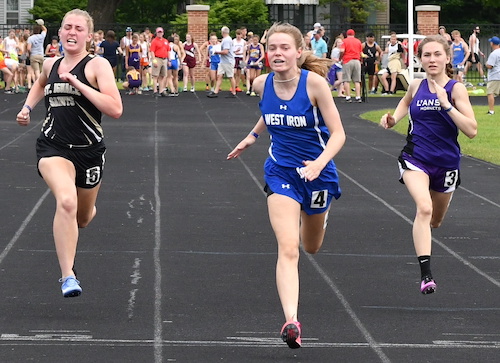 BR-H freshman Mckenzie Hoffmeyer captured long jump (15-5) and was runner-up in the 100 (13.38) and 200 (27.56).
Iron Mountain won the sprint relays and Chloe Maycroft the high jump (4-11), and Lexi Hagen won pole vault (8-6).
"Our third handoff (by Emma Ellis) went real well," said Mountaineers junior Abbygayle Richer, who anchored the winning 800 relay (1:52.86). "That was our fastest time all year. The competition pushed us to do better. We knew we had to run well to beat Bark River-Harris.
"I'm just glad we had a chance to run this year. Last year we didn't get to do this (because of COVID-19)."
The Mountaineers were clocked at 53.88 in the 400 relay.
BR-H was runner-up in the 400 relay (55.39) and 800 (1:53.48), and sophomore Hazel Conklin was second in the 300 hurdles (51.53).
PHOTOS: West Iron County's Jordan Shamion celebrates her team's finish in the 1,600 relay Saturday. (Middle) Ishpeming's Lola Korpi leads the open 1,600. (Below) West Iron's Danica Shamion, middle, crosses first in the 100. (Photos by Cara Kamps. Click to see more at RunMichigan.com.)