Title IX at 50: Taylor Kennedy Gymnasts Earn Fame as 1st Champions
The date was March 11, 1972. The host site was Hillsdale High School. A total of 276 gymnasts from 33 schools took the mat. And Taylor Kennedy earned the first Finals championship in MHSAA girls sports history.
The Eagles scored 216.35 points over the six events, edging runner-up East Lansing by 1.35. Amy Balogh was the most awarded individual for Kennedy, as she earned first places in the uneven parallel bars and balance beam and finished second on vault. The Eagles were coached by Jean Barlow, who would lead them to a repeat championship – again just ahead of runner-up East Lansing – in 1973.
A month earlier, over Feb. 17-18, the MHSAA had conducted its first girls tournament events with four Ski Regionals across the state – but this Girls Gymnastics Final was the first to award a champion from a statewide girls division. The Girls Gymnastics Final was the product of an MHSAA Girls Athletics Advisory Committee recommendation the previous October and Representative Council approval that December of 1971, and was joined during the 1972-73 school year by additional MHSAA girls state competitions in golf, tennis and track & field.
That day at Hillsdale, Balogh would finish second all-around only to East Lansing's Merry Jo Hill – who would go on to compete at Arizona State University. Kennedy would close after the 2017-18 school year and merge with the former Taylor Truman into the present-day Taylor High School. Below are the results from that first championship meet published in the May 1972 "MHSAA Bulletin" sent to member schools.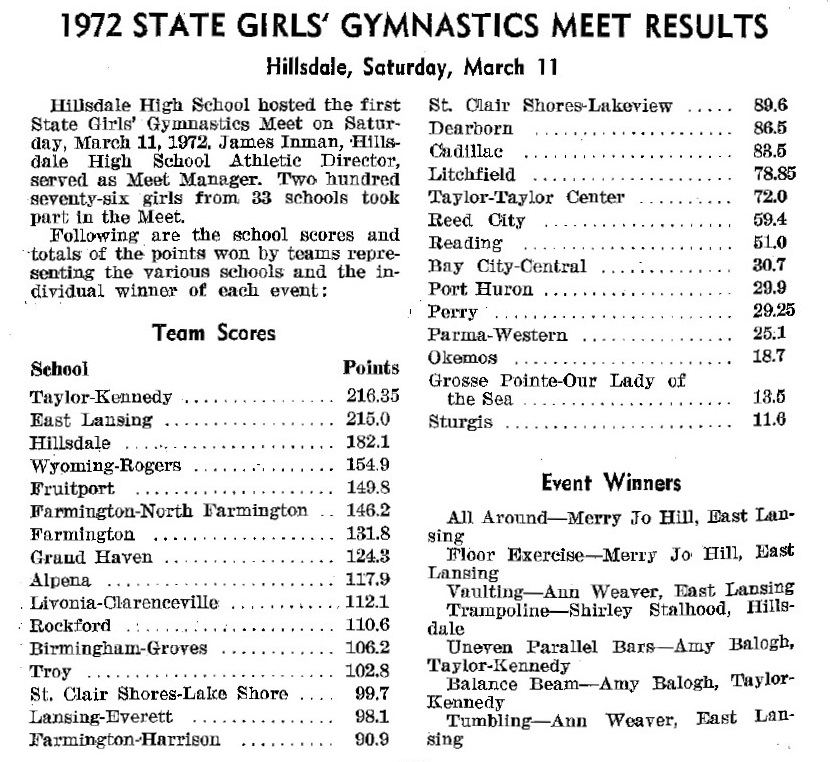 Second Half's weekly Title IX Celebration posts are sponsored by Michigan Army National Guard.
Previous Title IX at 50 Spotlights
Sept. 21: Portage Northern Star Byington Becomes Play-by-Play Pioneer - Read
Sept. 14: Guerra/Groat Legacy Continues to Serve St. Philip Well - Read
Sept. 7: Best-Ever Conversation Must Include Leland's Glass - Read
Aug. 31: We Will Celebrate Many Who Paved the Way - Read