Performance of the Week: Petoskey's Christopher Kavanaugh
Christopher Kavanaugh ♦ Petoskey
Hockey ♦ Senior
Petoskey is enjoying arguably its best season in program history, and Kavanaugh is playing a massive role. He had a goal and two assists in the Northmen's 5-2 win over Traverse City West on Feb. 9 as the team clinched its first Big North Conference championship, and he's scored in three straight games adding a goal and an assist Friday in a 4-3 win at Grand Rapids Forest Hills Central and a goal and three assists Saturday as Petoskey defeated East Kentwood 9-0.
The Northmen are 21-4 and in the midst of a team-record nine-game winning streak for the second time this season. Kavanaugh has 24 goals and 20 assists, trailing only Dylan Robinson for the team leads in both categories. Kavanaugh also pitches and plays outfield for Petoskey's baseball team and enjoys the outdoors; he is considering studying biology in college with an interest in working for the Department of Natural Resources.
Follow the MHSAA on TikTok.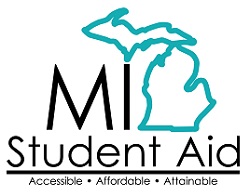 Second Half's "Performance of the Week" features are powered by MI Student Aid, a part of the Office of Postsecondary Financial Planning located within the Michigan Department of Treasury. MI Student Aid encourages students to pursue postsecondary education by providing access to student financial resources and information. MI Student Aid administers the state's 529 college savings programs (MET/MESP), as well as scholarship and grant programs that help make college Accessible, Affordable and Attainable for you. Connect with MI Student Aid at www.michigan.gov/mistudentaid and find more information on Facebook and Twitter @mistudentaid.
2021-22 Honorees
Feb. 10: Ira Jenkins, Whitehall wrestling - Report
Feb. 3: Emma Stewart, Salem gymnastics - Report
Jan. 28: Tyler Ray, Pinckney swimming - Report
Jan. 21: Elle Craven, Traverse City Central skiing - Report
Jan. 14: Nevaeh Williams, Mount Clemens basketball - Report
Dec. 2: Lucas Dunn, Chelsea football - Report
Nov. 25: Riley Nugent, Plainwell swimming - Report
Nov. 18: Harper Murray, Ann Arbor Skyline volleyball - Report
Nov. 11: Abby VanderKooi, Muskegon Western Michigan Christian cross country - Report
Nov. 4: Arianne Olson, Holland West Ottawa cross country - Report
Oct. 28: Jack Guggemos, Okemos soccer - Report
Oct. 21: Sachiv Kumar, Northville tennis - Report
Oct. 14: Kate Brody, Grand Blanc golf - Report
Oct. 7: Lilly Nelson, Negaunee tennis - Report
Sept. 30: Stella Chapman, Ann Arbor Pioneer swimming - Report
Sept. 23: Riley Hough, Hartland cross country - Report
Sept. 16: Josie Bloom, Pontiac Notre Dame Prep volleyball - Report
(Photos courtesy of the Petoskey hockey program.)