Softball Stars Finish as Record Breakers
By Geoff Kimmerly
Second Half editor
This spring saw the final high school games for a number of Michigan's softball standouts – including a pair of hitters who now sit atop categories in the MHSAA record book.
Mount Pleasant Sacred Heart's Sara Hansen finished with single-season records for runs scored and hits, the career hits record and the consecutive game hits record with 91 straight dating back to her freshman season. New Lothrop's Morgan Rombach crushed the former single-season doubles record and also tied the career record for doubles set in 2010.
Hansen finished with 305 hits, and the game her hitting streak ended – the second of a doubleheader on April 22 – was the only game over her final three seasons that she didn't hit safely at least once. Hansen also finished second in MHSAA history with 252 runs after setting the single-season runs record of 82 in 2012. Her career batting average of .567 sits eighth on the MHSAA list, and she received the Miss Softball position player award as the top senior non-pitcher this spring. She will begin her softball career at Central Michigan University this fall.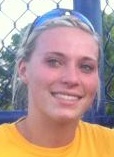 Rombach finished this season with 35 doubles – including three doubles in four games this spring – to break the former single-season record of 27. 
Her 78 doubles tied the career mark set by North Branch's Tonya Nicole Calkins, a 2010 graduate. Rombach will play next season at Mott Community College.
Read on for the rest of this week's MHSAA record book additions, and click on each heading to see the entire record book for that sport.
Fenton's 37-5 finish this spring was keyed in part by a number of strong hitters who are now listed. Ellie Cowger's name was added eight times – for season runs (71), career runs (203), season hits (78), career hits (240), season doubles (16), season stolen bases (62), career stolen bases (213) and consecutive game hitting streak (35). The hitting streak is tied for third longest and her career stolen bases are tied for fourth in MHSAA history. Teammate Katey Cairnduff was added for 71 hits this season including 19 doubles, and she's on the career doubles list with 34 with one more season to play. Emma Brant also was added for 73 hits this season. As a team, Fenton set an MHSAA record with 512 hits, ranked third with a .434 batting average and also posted high-ranking totals of 91 doubles, 321 RBI and 408 runs along with its 37 wins.
Caledonia's 36-3 season saw a number of entries make the MHSAA record listings. The Fighting Scots set an MHSAA record with 107 team doubles – with Ashley Cross (21), McKenzie Butgereit (18) and Andrea Gerloski (17) all making the individual record listing. Caledonia's wins, team hits (470) and team batting average (.424) also made lists, with the average ranking fourth all-time and the hits ranking sixth.
Holt's Olivia Cottom also reached the single-season doubles list with 16 this spring. She hit .455 overall for the Rams.
Vicksburg's Shaidan Knapp made the single-season runs list with 68 as a freshman. She finished her first varsity season with a .511 average, five home runs and 35 RBI.
A pair of Jackson standouts graduated this spring with a number of totals that made MHSAA lists. Tyler Kyro finished his four-year career with 179 hits and 119 stolen bases, while Nathan Bethel had 47 doubles and scored 150 runs over four seasons. Bethel also made the single-season doubles list with 19 this year. As a team, Jackson made the team stolen bases list for the second straight season, this time with 171 to go with 196 steals in 2013. 
Ann Arbor Skyline's 6-foot-9 Tristan Wilson finished his career this winter with 106 blocked shots, good to make that single-season list. He averaged 14.9 points, 7.9 rebounds and 4.2 blocked shots per game in leading Skyline to a Class A Quarterfinal. He's signed with Wayne State University for next season.
Teagan Reeves capped her four-season career at Three Rivers by making the career lists for free throws (346), rebounds (1,058) and blocked shots (355) after posting 322 rebounds and 117 blocks this winter. Her career free throws rank 17th, her rebounds rank 11th and her career blocks rank ninth. She finished third in the Miss Basketball vote this season and will play at Western Michigan University.
A number of top contributors put up record-list totals in leading Detroit Country Day to this season's Division 2 championship. Emilio Sosa was added for eight goals in a game against Clarkston on May 6, plus 76 goals total this season and 82 points. Cooper Belanger made the single-season assists list with 46 and the points list with 85, while Jack Bergmann graduated with 117 career assists and 241 career points. As a team, Detroit Country Day totaled the most goals in the MHSAA boys record book, 295. 
PHOTOS: (Top) Mount Pleasant Sacred Heart's Sara Hansen, here in 2013, graduated with four MHSAA offensive records. (Middle) New Lothrop's Morgan Rombach set the single-season and tied the career doubles records this spring.