Battle of the Fans II: Vote Now
February 19, 2013
By Geoff Kimmerly
Second Half editor
The five finalists for this year's Battle of the Fans II championship have had their opportunities to show us what's exceptional about their student cheering sections.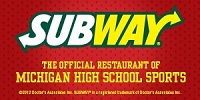 Over the next three days, we want you to tell us which you think is most deserving of claiming this season's championship banner. 
Vote today through Thursday on your favorite of these five – Ann Arbor Gabriel Richard, Buchanan, Frankenmuth, Vandercook Lake and Zeeland East – by clicking the poll link on the right side of this screen.

But before you do, take a few minutes to watch all five videos and read all five stories behind the section by clicking the links below. 
The contest is sponsored by the MHSAA Student Advisory Council, which will have the final vote on the champion. SAC members will use all resources available to make their decision(s) – one being the public Facebook vote. Votes will be valued proportionate to the size of the school receiving them (for example, one vote for Class C Vandercook Lake will mean more than one vote for much larger Class A Zeeland East). 
The champion will be announced Friday on Second Half. Video of all five finalists will be compiled and shown on the main scoreboard during the Girls and Boys Basketball Finals in March at Michigan State's Breslin Student Events Center.
And now, the finalists, in alphabetical order:
Ann Arbor Gabriel Richard
Read all about it: "Fighting Irish Stand Together" 
---
Buchanan
Read all about it: "Welcome to the Woods: Small Town, Big Hearts" 
---
Frankenmuth
Read all about it: "Champions Back to Grow 'Battle' Legacy"
---
Vandercook Lake
Read all about it: "Jayhawk Seniors Nesting for the Future" 
---
Zeeland East
Read all about it: "Coopology: The Study of Being Rowdy"
---
Subway is sponsor of this season's Battle of the Fans II contest.