Among State's Best in Both, Johnston Has Almont Climbing in Softball, Track
It's been quite a spring for Almont girls athletics.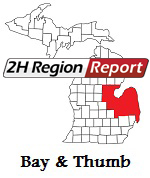 The softball team finished the Blue Water Area Conference season 10-4, its best-ever mark in the league, which features three top-10 teams and 2021 Division 3 champion Richmond.
Almont's girls track & field team also had its best finish in the BWAC, placing third at Tuesday's league meet.
A major reason for both? Devin Johnston.
The Almont junior is a record-setting third baseman for the softball team and a record-setting sprinter for the track team.
"Devin is such a great kid," Almont softball coach Erik Johnson said. "She's a hard-working athlete, and she puts so much time into both. You can see it in the way she plays the game and the way she runs her events. She doesn't miss much practice, she juggles both and she's a great student."
Johnston was a first-team all-state selection in softball as a sophomore, and has followed that up with a masterful junior campaign. She was hitting .550 with a .589 on-base percentage, four home runs, 10 doubles and a school-record eight triples heading into Wednesday's doubleheader against Yale. She's approaching the single-season hits record (63), which she set as a sophomore. Her .930 slugging percentage is also on pace to set a school record.
On the track, she has qualified for the Lower Peninsula Division 3 Finals in three events: 100 meters, 200 meters and the 400-meter relay. Her 200 time of 25.49 broke an 18-year-old Almont school record and is the second-fastest time in LPD3 this season. She's ranked fifth in the 100 with her personal best of 12.63.
Being that good at two things during the same season can make for a lot of long days. But Johnston doesn't mind.
"I enjoy doing both," she said. "It doesn't seem like a burden. I don't see it as a struggle. I chose to do that. At the end of the week, yes, I'm exhausted every single week. But both of my coaches are very supportive. If I need to sit out of a certain thing on a certain day, or if I need to skip out on running in softball for that day, they understand."
This level of individual and team success does, unfortunately, leaves Johnston with a difficult choice, as Almont's Division 3 Softball District at Richmond is June 4, the same day as the Division 3 Track & Field Finals in Kent City.
She knows what she will be doing, and while she has told those who need to know, she is not ready to divulge that publicly.
"I want to help both teams, but I have to choose one or the other," she said. "It's really difficult, but it's something that, going in, I knew I would have to do eventually."
A year ago, Johnston chose the softball District. Although, at that time, she was Almont's lone Finals qualifier in track and did not rank as highly as she does this year. The realization it was a choice she was going to have to make also hit her later, as she wasn't expecting to see a ton of track success in her first year as a serious competitor in the sport.
"I didn't even expect to qualify for states; especially that year in our region, there were some pretty good girls," she said. "When I found out, I cried over it, actually. I didn't know if I would have the chance to go to states again. When it did hit me, it was not good. I realized how big of a decision it was."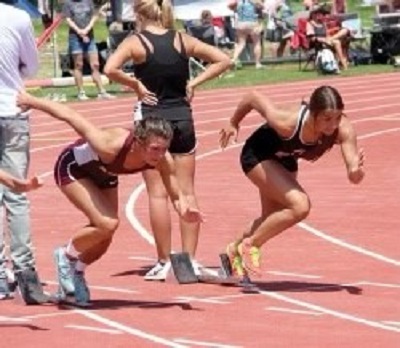 This year, she was more aware of the chance. A campaign to move the District softball tournament to Friday, which is allowed, didn't come to fruition. (All schools in the bracket must approve a switch.)
Moving things around is something Johnson has become used to as Almont's softball coach, as getting one team to agree to a change in schedule is easier than having multiple track teams adjust a quad meet.
"I worked really hard to look at schedules ahead of time and anything in my power to make adjustments that would fit and allow her to do both," he said. "I learned a lot from last year, when we did what we could last minute. This season, I got well ahead of it. My perspective is that I want to do anything I can for my girls. When you have someone like Devin who puts an immense amount of time into both track and softball, I'm going to do what I can for her. When I share that with other coaches, they're like, 'Yeah, OK.'"
Johnson and track coach James Wade have worked together for a decade with Almont's girls basketball program, as Johnson is the varsity coach and Wade has been a JV coach and varsity assistant. That, combined with Johnston's commitment to both, makes things a bit easier.
"I think she wants to succeed in both," Wade said. "I don't think she wants to let either of us down. That puts us in a position where we want to do what we can to help her. She's committed to both, and she lets us know when she can't be there for a practice. She does what she needs to do to make it work."
Johnston appreciates that level of support.
"Them allowing me to do this and being lenient allows me to succeed so much more because I don't have to worry about making a coach mad," she said. "Their support contributes to my success, and I can just play freely. It means a lot."
All of this could lead to another decision down the road – and not just this with same possible scenario a year from now. Johnston has spent the majority of her life playing softball, and continuing that collegiately always seemed to be her most likely path. That changes a bit, though, each time she steps on the track.
"I've played softball my whole life, and we've spent so much time and money on that," she said. "My parents (who are assistant coaches on the Almont softball team) love track now. They don't care which one I choose. In my mind, if I put a ton of time into track, and just worked and worked at it, I feel like my times will get even better. That is an opportunity that is really intriguing. That's a decision that I'll have to make next year."
The support of her softball coach parents, who have become massive track fans, takes some pressure off of Johnston.
That's becoming a trend, as the people closest to her continue to back her as she chases all of her dreams.
"This year, I think she's probably going to run track," Johnson said. "And rightly so, because she has a chance to be a state champion. I'll support her 100 percent, and the kids will, too. Hopefully we can make it through to the Regional, and she can join us the next weekend."

Paul Costanzo served as a sportswriter at The Port Huron Times Herald from 2006-15, including three years as lead sportswriter, and prior to that as sports editor at the Hillsdale Daily News from 2005-06. He can be reached at paulcostanzo3@gmail.com with story ideas for Genesee, Lapeer, St. Clair, Sanilac, Huron, Tuscola, Saginaw, Bay, Arenac, Midland and Gladwin counties.
PHOTOS (Top) Almont's Devin Johnston focuses on receiving a pitch during a rare appearance behind the plate this season. (Middle) Johnston, right, emerges from the blocks during a race. (Photos courtesy of the Johnston family.)