Grand Blanc Enjoying Every Minute of Softball Success
May 19, 2021
The Grand Blanc softball team has made having fun a priority this season.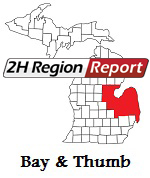 Whether that's led to more wins, or the wins have simply made having fun that much easier, one thing is clear: They're connected, and the Bobcats are enjoying both in abundance.
"Our motto this year is finish, family and focus," senior pitcher Kendall Klochack said. "We hit all three of those hard in practice, especially family. We're like sisters, so if you see us having fun in any pictures, it's because we truly enjoy being around one another."
Grand Blanc is 24-1 on the season following a doubleheader sweep Monday of Mount Pleasant, and has risen to No. 2 in the Michigan High School Softball Coaches Association Division 1 rankings. 
"We're having a blast," Grand Blanc coach Jami Neubecker said. "We hit culture really hard right at the beginning. They came together as a team, and they're having a good time. They trust and believe in one another, and they just have fun."
Grand Blanc has big goals, led by playing during the final weekend of the season at Michigan State University. But the team is making a point to celebrate each victory, and perhaps more importantly, celebrate each other after every victory. 
After each game, players take part in a verbal bouquet, where they praise each other for everything from getting a big hit to keeping the scorebook. As players are shouted out, the coaching staff tosses them beads.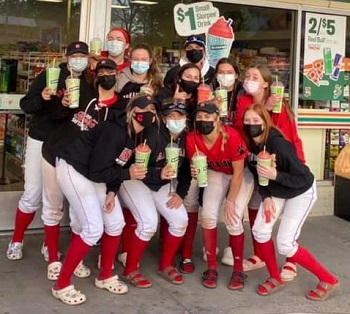 Beyond that, three players receive a Gamechanger Chain -- a dollar sign necklace – for coming through for the team. They're awarded each day by the players who had won the game before.
"We've done a variation of it for a while," Neubecker said. "One of my first years coaching, I found this little figurine, it was a warrior princess with a sword and a shield that we gave out. There's always been a rendition of it, we've just kind of taken it up a notch with the blinged-out chain. It's to bring us together as a team and recognize what each other can contribute to the game, even during the loss. I'd rather they focus on the positive, and I like to promote what's going well so more of it happens."
With the beads, the message of positivity and teamwork is getting through, as freshman middle infielder Audrey Kranz said it's shown her and her teammates that everyone is contributing to the victory, even by doing the smaller, often unnoticed things. 
And the fact that teammates are the ones giving the praise makes it even more meaningful.
"I would say it definitely means more coming from your teammates," senior first baseman Rebecca Oetting said. "Especially when it's something that other people don't recognize but you did something that changed the game. When a teammate sees that, it's even more special than when a coach does."
Grand Blanc is doing plenty of the things that are usually noticed, as well, hitting over .400 as a team and dominating with pitching and defense.
Klochack, who has signed with Purdue, is leading the way in both areas, as she carried a .557 batting average into Monday's games against Mount Pleasant, and has been nearly unhittable in the circle. Through 71 innings, she had allowed just 22 hits, four walks and one earned run while striking out 146. Her earned-run average sat at 0.099, as she had racked up 14 shutouts, three no-hitters and four one-hitters.
"It definitely helps a lot knowing we have someone that can pitch that well," said Oetting, who has signed to play at Northwood. "Even if our bats aren't going, we still have a chance to win with Kendall on the mound."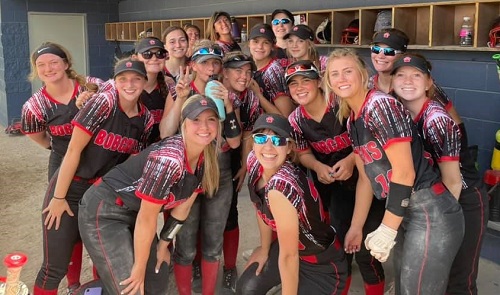 The bats are typically going well, too, though. Sophomore Carson Kuhlmann (.524), junior Summer Brady (.471), sophomore Sydney Long (.470) and freshman Katelyn DeWitt (.468) are all hitting above .450 on the season, while Klochack (.622 on-base percentage), Kuhlmann (.592), DeWitt (.547), Brady (.526) and senior Annabelle Morningstar (.500) are getting on base in at least half of their plate appearances.
"There's been times in the past where we've been in a really tight game and it feels like I can't miss any pitches," Klochack said. "But when you're able to bat one through nine, you can open up some big leads. You can pitch a little looser when you have a big cushion. You're able to pitch better knowing that your bats will come through."
It's the type of season the Bobcats thought was possible a year ago, as they were bringing back a strong group that had come off a stellar 2019 which ended with a walk-off loss in the Regional. So now that it's happening, they're enjoying every minute of it. 
"Missing last season was very heartbreaking," Klochack said. "Especially because it was such a special and talented group of girls. But we're trying not to focus on what could have been, because what's in front of us is so bright and so special. You never really appreciate something until it's gone, so this season, every single practice, it's not that I have to go to practice today – it's that I get to practice today. I get to see my teammates."

Paul Costanzo served as a sportswriter at The Port Huron Times Herald from 2006-15, including three years as lead sportswriter, and prior to that as sports editor at the Hillsdale Daily News from 2005-06. He can be reached at paulcostanzo3@gmail.com with story ideas for Genesee, Lapeer, St. Clair, Sanilac, Huron, Tuscola, Saginaw, Bay, Arenac, Midland and Gladwin counties.
PHOTOS: (Top) From left: Annalise Anderson, Carson Kuhlmann and Rebecca Oetting show off the "Gamechanger Chains" they earned during a recent game. (Middle) The Bobcats enjoy a Slurpee run this spring. (Below) Focuses on fun and family atmosphere are driving Grand Blanc's 24-1 start. (Photos courtesy of the Grand Blanc softball program.)