Millington Finishes Championship Run with 2nd-Straight Walk-Off Win
EAST LANSING – Dylan Holmes arrived at second base and crumbled to her knees as her teammate, Trinity Fessler, crossed the plate.
In a matter of an inning, the Millington senior's emotions went from devastation to jubilation.
Holmes delivered a walk-off double as the Cardinals defeated Evart 3-2 in eight innings in a thrilling Division 3 Final at Secchia Stadium.
It was the second straight walk-off victory for Millington, which defeated Algonac in the Semifinal on Friday by scoring three runs in the bottom of the seventh inning.
"We've worked for this since we were 8 years old," Holmes said. "It's awesome to finally have it pay off. When I got to second base, I was just shook. It was over, and we did it. We won a state championship."
Holmes, a shortstop, made a crucial error with two outs in the top of the seventh inning that allowed Evart to score the game-tying run and send it to extra innings.
She quickly made amends with the big knock that gave Millington its second Division 3 title over the last four years.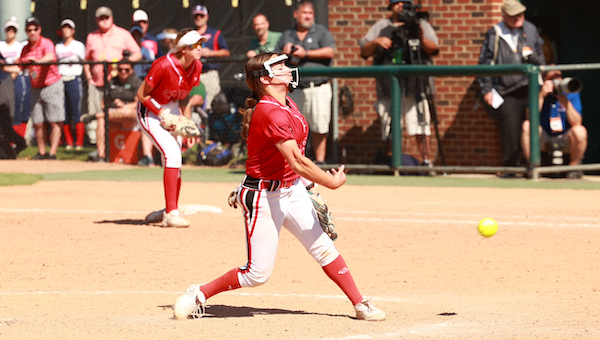 "It was a great feeling to know that even though I did make those errors that my team was behind me cheering me on," Holmes said. "It was awesome to do that for my team, and I went up there knowing that I needed to get a base hit for my team and advance the runner."
Fessler, a senior, led off the inning with a single and scored from first base on Holmes' key hit.
"I was sending her no matter what, and I didn't care where the ball was," Cardinals coach Greg Hudie said. "Trinity is the fastest girl on the team, and it was a chance I was willing to take.  I was going to make them make a great throw.
"Dylan had two costly errors, and I'm very grateful that she was able to come through and help the team out in a positive way and win the game."
Senior Ashley Ziel picked up the win after striking out nine in eight innings of work.
"This just means everything," said Ziel, who also had two hits. "Two straight walkoffs on two separate days just shows the grit and determination of our team and how we pulled it together and got the win today."
Ziel was one of Holmes' biggest supporters.
"She had a tough go in the field, but I told her, 'You're going to get this right now,' and she did," Ziel said. "She hit that base hit and saved the day."
Millington won despite committing an uncharacteristic five errors. 
"Obviously, not our best game," Hudie said. "I don't think we had a game this year where we had three or more errors, so we didn't play clean ball. But we played together and finished it out somehow." 
Millington struck first in the bottom of the third inning when Kendall Payne scored on a sacrifice fly from Lilia Sherman.
Evart tied it in the fifth inning on a sacrifice fly and throwing error that scored Brooklyn Decker, who walked to open the inning.
Fessler singled to open the sixth inning and then scored the go-ahead run on a double by senior Emma Dickie.
Evart rallied to tie it in a wild top of the seventh inning.
"They just worked their tails off and persevered," said Wildcats coach Amanda Brown, whose team was searching for its first Finals title. 
"We were down, then we were tied and it was amazing. They kept their grit, and they did a great job. I'm really proud of them, and it was a fun game to watch. It was competitive, and that's all you can ask for."
PHOTOS (Top) Millington catcher Trinity Fessler puts the tag on Evart's Calli Duncan during Saturday's Division 3 Final. (Middle) Ashley Ziel fires a pitch for the Cardinals.