Richmond Finds Stride, Brings Championship End to 2021
June 19, 2021
EAST LANSING — Richmond senior Makayla Revord did what she's been taught since first lacing up the cleats as a young ball player.
Keep your head down and run hard. 
So when she blooped a double down the right field line during the sixth inning of her team's Division 3 Final against Buchanan on Saturday, she missed all the exciting action.
"I saw the ball land, and I kept going. I didn't look at anybody else running. I just wanted to keep going to get more runs," said Revord, whose hit drove in what turned out to be the game-winning run in her team's 2-1 victory over the Bucks. "When I popped up (at second base), I had no worries anymore. I knew that we had this."
Indeed they did. The Blue Devils scored twice in that sixth inning to rally from a run down and capture the second Finals championship in school history. The first came back in 2016 — also under current head coach Howard Stuart.
Richmond struggled against Buchanan starting pitcher Sophia Lozmack for the better part of six innings. The senior allowed just four hits while striking out six through five innings.
"She's a great pitcher. You can't take that away from her," said Revord, speaking of Lozmack. "She's got a great rise ball. She hits outside corners like nobody's business. We don't see a lot of that, so it took us a minute to catch up to that."
Eventually, the Blue Devils did catch up in the sixth. Sophomore Piper Clark started things off with a one-out double and moved over to third on a single by junior Lauren Creon. Senior Jaelyn Amhdar then singled down the left field line, scoring Clark and tying the game up at 1-1. One out later, Revord came up with the eventual game-winner.
"The first half of the game, we were scared to death, which is not like us at all," Stuart said. "(Revord) was shaking, she made two errors. It just wasn't us. Finally, we got our act together and said, 'Hey, we're Richmond. Let's do something.'"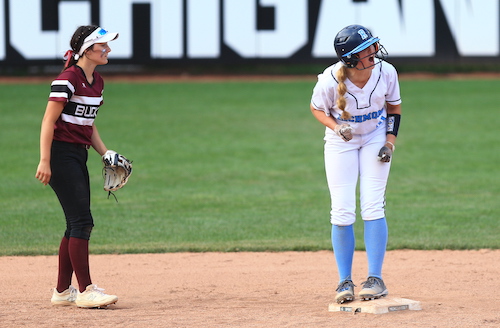 Buchanan scored the first run of the game in the bottom of the second inning. Freshman first baseman Hailee Kara took a 1-2 pitch deep to right, clearing the fence while hitting the fair pole to give her team an early 1-0 lead. But from that point on, hits were hard to come by for the Bucks.
Richmond senior Shea VanScoter locked things down, retiring eight of the next nine Buchanan batters and 10 of the last 11 she faced. She had a complete game, allowing just one run on three hits while collecting nine strikeouts.
"She stymied us for seven innings, and that hasn't really happened all year," said Buchanan head coach Rachel Carlson, whose team finished with a 36-5 record. "So congratulations to her. She pitched great."
Offensively, Clark led Richmond with three hits, including a double. She also had a stolen base.
"She's a star. She's a great sophomore who can run like the wind," Stuart said. "And she's a great pitcher too. She's just a great kid."
Stuart said Saturday's win was a great way to cap off a season that may not have started off exactly the way he had hoped. It took a few weeks for the Blue Devils to get things going.
"The first week, I was like, 'We're terrible.' We were making six errors a game. We were pathetic," Stuart said. "All of a sudden we went from a fielding percentage of .700 to a fielding percentage of .900, which is just huge. I felt like in the middle of the season we had a really good team. We didn't show it that first week, but we started getting better, and better and better." 
Buchanan was making its first appearance in an MHSAA Final game. The Bucks were coming off a 9-4 win over Standish-Sterling in Friday's Semifinal. Carlson said she couldn't be any more proud of the way her team competed this season.
"They made a commitment to play as a team and as a unit. That's what I'm most proud of today," said the fourth-year head coach. "They cheered each other on all day. They never stopped. That is a success in itself."
PHOTOS: (Top) Richmond's Olivia Theut pulls in a fly ball during the Division 3 championship game Saturday evening. (Middle) The Blue Devils' Piper Clark (10) shows some excitement after reaching second base.